Politicians, student demonstrators turn out for ISEC opening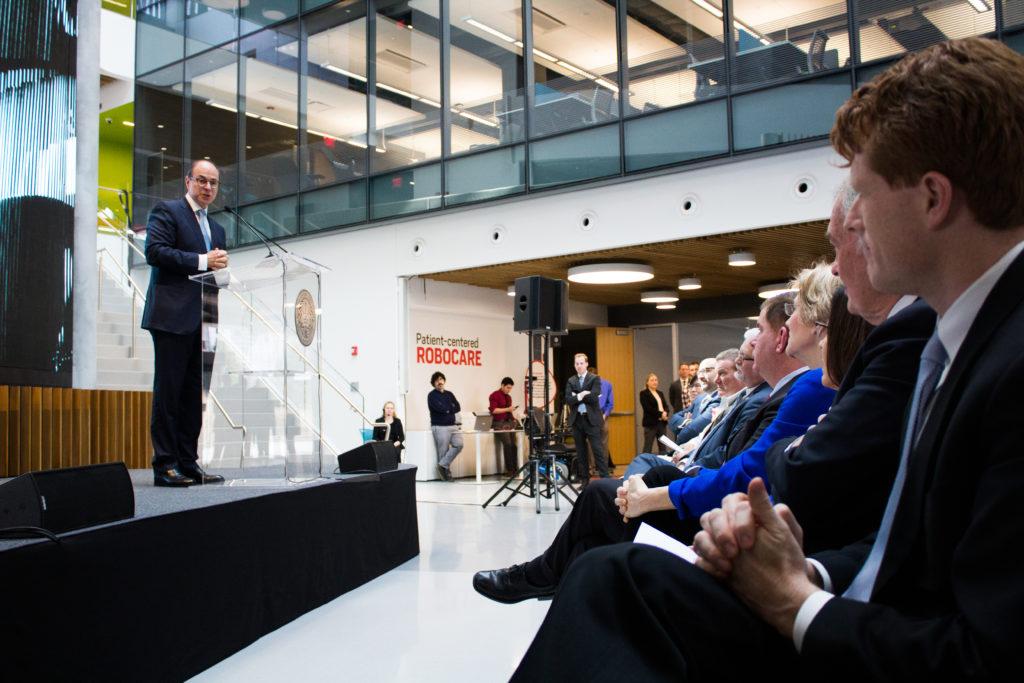 The grand opening of Northeastern University's newest research and academic building brought speeches from prominent leaders in scientific research and Massachusetts politicians, along with protests from a student environmental group.
Hundreds of researchers, students, faculty, administrators and executives of various research institutes gathered at 9:30 a.m. in the atrium of the Interdisciplinary Science and Engineering Complex (ISEC) on Columbus Avenue Monday morning to hear opening speeches by guest speakers, talks by Northeastern faculty about innovation across disciplines, a panel discussion on the future of interdisciplinary research and a closing networking session and project showcase featuring student and faculty research.
Guest speakers included Northeastern President Joseph E. Aoun, bioengineering doctoral student Jaclyn Lock, National Science Foundation Director France Córdova and prominent Massachusetts politicians Mayor Martin J. Walsh, Sen. Elizabeth Warren (D-Mass.), Sen. Ed Markey (D-Mass.) and Rep. Joseph P. Kennedy III (D-Mass.).
"This here is not my vision; it is the vision of scores and scores of people who worked on it," Aoun said to the audience. "We wanted a statement. Our first statement is that we wanted it in Roxbury. We didn't want it elsewhere. And we wanted this building to be open to the community in Roxbury and to the future students who are going to be in our labs."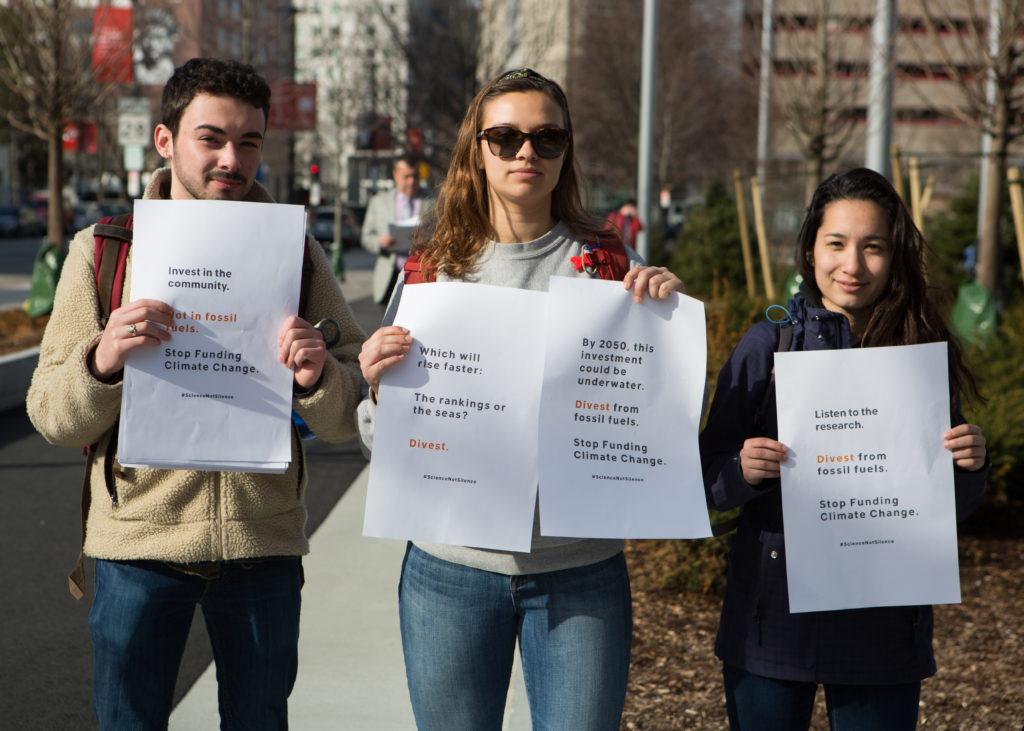 DivestNU, a student organization that advocates for Northeastern administration to divest the university's endowments from the fossil fuel industry, protested outside the building prior to the opening statements and during the closing session to highlight the hypocrisy of the administration when it comes to climate change.
"We wanted to point out how in conjunction with the opening of this building where there is going to be research on climate change going on, that they still refuse to divest from the fossil fuel industry," said DivestNU member Gaby Thurston, a junior psychology major.
During their outdoor demonstrations, DivestNU members held up a tube symbolic of an oil pipeline and a sign that read "Northeastern profits from climate violence." The group shouted chants like, "I-S-E-C we don't want hypocrisy, I-S-E-C make our holdings fossil free."
A Northeastern University Police Department (NUPD) officer outside the building told the student protesters they could go inside as long as they did not hand out any flyers, but once the group was inside, another officer told them they could not have their posters inside and had to put them away or leave the building. Members of the group were asked to leave ISEC at approximately 9:40 a.m.
While the university does not hold any direct investments in the fossil fuel industry, much of the school's endowment is invested in commingled funds, which include some holdings in energy-related companies.
The ISEC opening celebration corresponded with the completion of the first-floor cafe, Caffè Strega. The complex opened in spring 2017 and currently hosts several science classes. The building features four classrooms, an auditorium and five additional floors of research offices, labs, kitchens and common areas with couches and flatscreens.
Walsh said it was important to retain federal funding that goes into the research that happens within complexes such as the ISEC.
"We need to continue to push the envelope because what's on the other side of the envelope is what happens in this space," Walsh said. "Look around this building. This is a beautiful building, but what's really beautiful about this building are the young minds that are going to walk through all these doors every single day, and they're going to go on to do incredible things."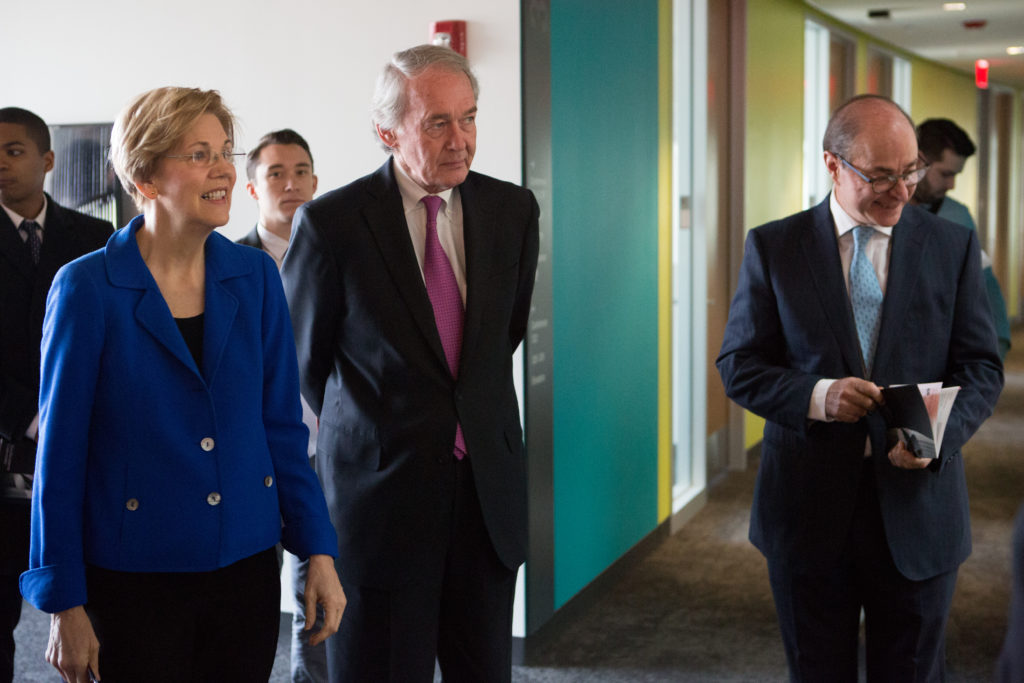 Warren talked about the discrepancies between the amount that the United States spends taking care of those who struggle from diseases and the amount it spends on researching these diseases.
"It is staggeringly stupid not to invest in research," Warren said. "When this administration calls for 20 percent cuts to funding basic research, when they want to cut $1 billion out of this year's research expenditures, they are saying loud and clear that they don't know how to build a strong future for this country. They are saying, 'Let's warm up short-term profits by burning down our children's future.'"
Throughout the event, students demonstrated the abilities of Valkyrie—a robot built by NASA—by making it lift cardboard boxes. Northeastern and Massachusetts Institute of Technology faculty and students are programming Valkyrie to exit an airlock, gather rocks and repair equipment on Mars before human explorers begin to colonize the red planet.
"The building will be home to groundbreaking technological breakthroughs in robotics, like the Valkyrie robot that debuted last year," Markey said. "The Valkyrie aims to play a key role in future deep space exploration and could be sent to Mars as part of our research there. Because of Northeastern's excellence, that galaxy far, far away is only as far as the Ruggles T station. That is what will be made possible here."
The ceremony also brought together a panel of health and cybersecurity executives and academics to discuss the future of interdisciplinary research. The panel was moderated by the director of the National Institute of Biomedical Engineering Roderic I. Pettigrew, and panelists were: Jonas Svedlund, head of Legal & Transactions at General Electric Ventures; John Manferdelli, executive director of the Cybersecurity and Privacy Institute; James Bradner, the president of the Novartis Institutes of BioMedical Research in Cambridge, Massachusetts; and Beth Stevens, a MacArthur Fellow and associate professor of neurology at Harvard Medical School.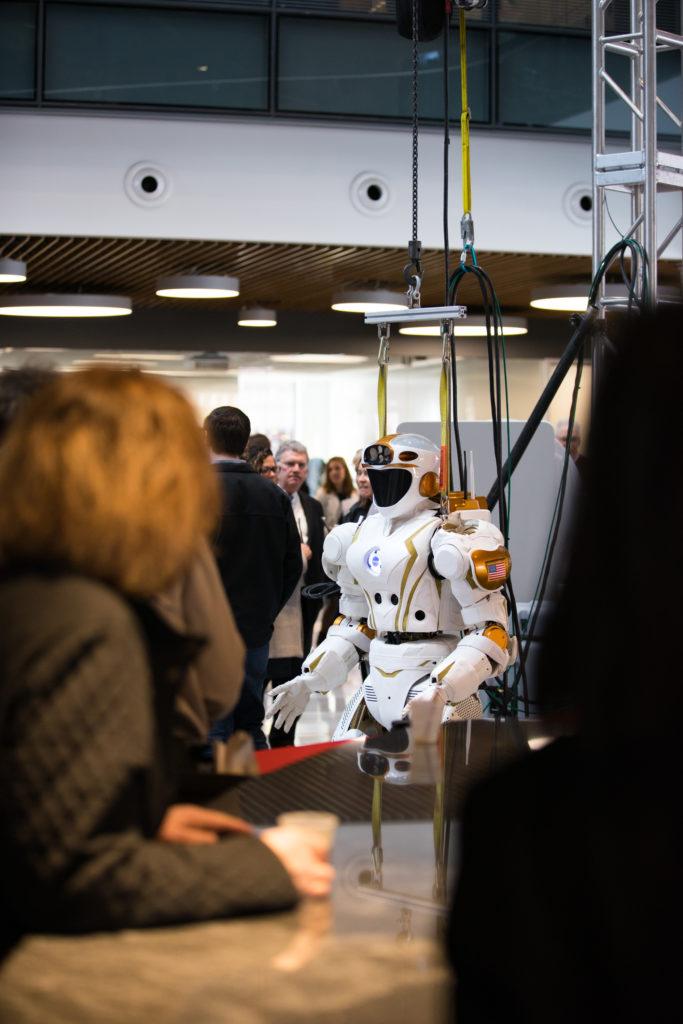 Panelists focused on the importance of use-inspired research—multidisciplinary research that applies to concrete problems—and combining areas of knowledge to spark innovation. Bradner said he admired ISEC's interconnectivity.
"The future of interdisciplinary research is non-disciplinary research," Bradner said. "In your extraordinary facility, there are robots in the lobby, biology on floor four, cybersecurity on floor six. This is what the future of training environments will look like."
Stevens, who is a Northeastern alumnus, said interdisciplinary methods were important in solving problems such as diseases because there are no distinct disciplines in nature. Stevens said the most productive way to find creative solutions to complex problems is by connecting experts from different fields.
"Northeastern and this building and this community is an example of how that can work," Stevens said. "When you actually put everyone together as this building is designed to do […] you can start to see rapid progress because all these people will be able to interact."
Markey, among other speakers at the event, said he was grateful for the future life-saving research that will be conducted at the ISEC.
"Great universities start with great students and Northeastern has some of the best students in the world who will be doing their research right here in this building," Markey said. "It is an honor to be here at the opening of this historic complex that promises to be the hub of scientific breakthroughs and innovative research for years to come."