Men's basketball endures tough PK80 Invitational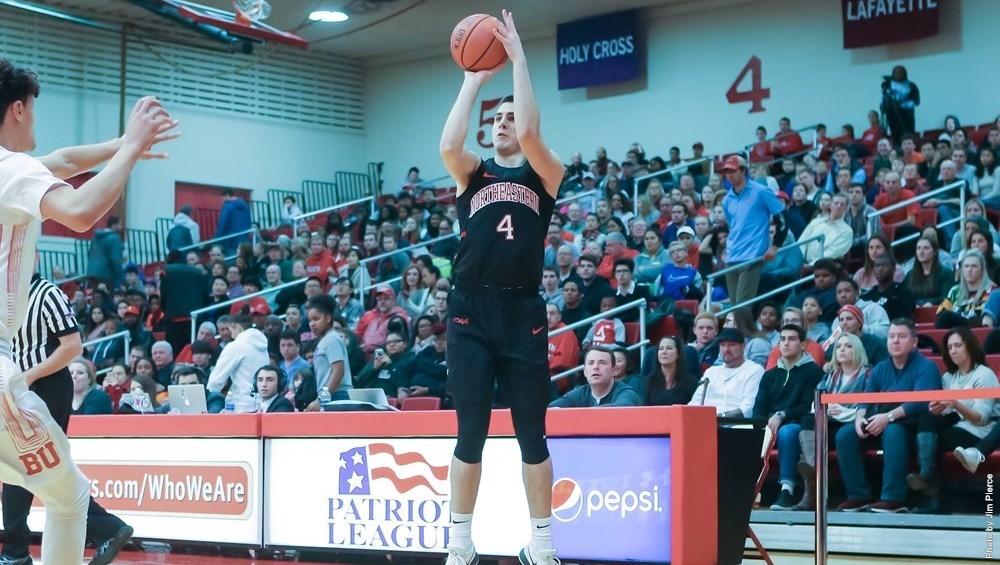 "For me, a loss is only a loss if you don't learn from it," Bill Coen said in a phone call from the airport in Columbus, Ohio, Nov. 19, awaiting his team's flight back to Boston after a rough weekend on the road.
Coen, head coach of the Northeastern men's basketball team, likely has a busy week ahead of him, helping his squad learn from their misadventures on a road trip that took them to California and Ohio. They lost a game Nov. 17 that was close until the dying seconds, 73-59 at Stanford. They were walloped by Ohio State in Columbus Nov. 19, 80-55, in a game that wasn't even as close as the final score suggests.
The Stanford game goes down as an "L," both Coen and Donnell Gresham Jr. said, but there are positives to take out of it as the team tries to find their identity moving toward conference play.
"We're not happy with the result," said Gresham, a second-year guard. "But I believe we showed that we can compete with Stanford. We expected to win the game, though. A few plays down the stretch didn't work out in our favor."
The Huskies trailed by 19 with 10:43 remaining in Friday's game, but they battled back to within two points with 5:42 left on the clock. After that, though, they couldn't hold off the Cardinal any longer.
"We really needed one more stop," Coen said. "I thought we had the momentum going our way. Unfortunately, we didn't get it. They had a three and we mishandled the last two possessions down the stretch. They escaped with the victory."
Coen said he was proud of the way his team performed, though, and he praised the six-minute stretch that saw them nearly mount a remarkable comeback.
Gresham led Northeastern in scoring with 15 points. Second-year guard Bolden Brace notched 13 points, grabbed eight rebounds and delivered three assists. Second-year guard Shawn Occeus, coming off of a strong game Nov. 12 against Wentworth, only scored four points.
As they took on Ohio State in their second power-five matchup in three days, Northeastern had the look of a team physically outmanned. Size has been a lingering problem this season; the Huskies only have just three players 6'8" or taller, and one of them, first-year forward Jason Strong, hasn't contributed many minutes to this point. At some points during last weekend's game, Division-III Wentworth had their way with the Huskies in the paint.
Ohio State scored around the rim early and often, and there seemed to be little Northeastern could do to slow them in the early going. OSU shot 63 percent from the floor in the first half, and they led 47-17 at the break. NU switched to a zone defense to start the second half, which Coen said was meant to minimize their size disadvantage, but the Buckeyes still cruised to a 25-point win.
The Huskies were outscored 48-26 in the paint. In the first half, in particular, this was a key factor in the hole they dug for themselves: They were outscored 30-6 in the paint in the first half.
"They're very big," Gresham  said. "They shot the ball well. They also rebounded. They're a big team."
While Northeastern's issues with size on the inside are evident, Coen chalks some of the early season struggles up to the process of figuring out what kind of team they are.
"We have to figure out rotations, we have to figure out style of play," Coen said. "What ways we can win and what are the best ways for us to play. That's the challenge in our non-conference schedule. We built the schedule in a way that prepares us for CAA play. For us, it's a learning process. Sometimes you like what you learn, sometimes you don't."
Gresham was one of few bright spots on the scoresheet for NU Sunday, scoring 16 and bringing down five rebounds. Third-year center Anthony Green and third-year guard Vasa Pusica scored eight points apiece. Green also led the team in rebounds with nine, and minutes with 29.
As they prepare for another weekend away from home, Coen doesn't expect the previous weekend's losses to get his team down during practice this week. He plans to use the week to guide them in learning from the Stanford and Ohio State defeats.
"We'll address that," he said. "We have a young squad. We only have one senior. Playing at this level, you have to be consistent. I think the silver lining is that this level of competition holds you to a higher degree of accountability. That's where the learning's going to take place."