By John Hagerty, deputy sports editor
After competing at Barletta Natatorium for her final time, fourth-year swimmer Christine Leong could not help but reflect on her college career and the current state of the Northeastern swimming and diving program.
"This season and this team of girls has been one of the best that I have been on in my four years," Leong said. "We get along really well. The coach-athlete relationship is strong and the dynamics on this team are amazing. To end it this way, I couldn't ask for anything better."
The Huskies won their final home meet of the season, 164-117, against Central Connecticut State Saturday.
The team's seven seniors, three divers and four swimmers, were recognized prior to the meet with flowers, balloons and posters made by their teammates.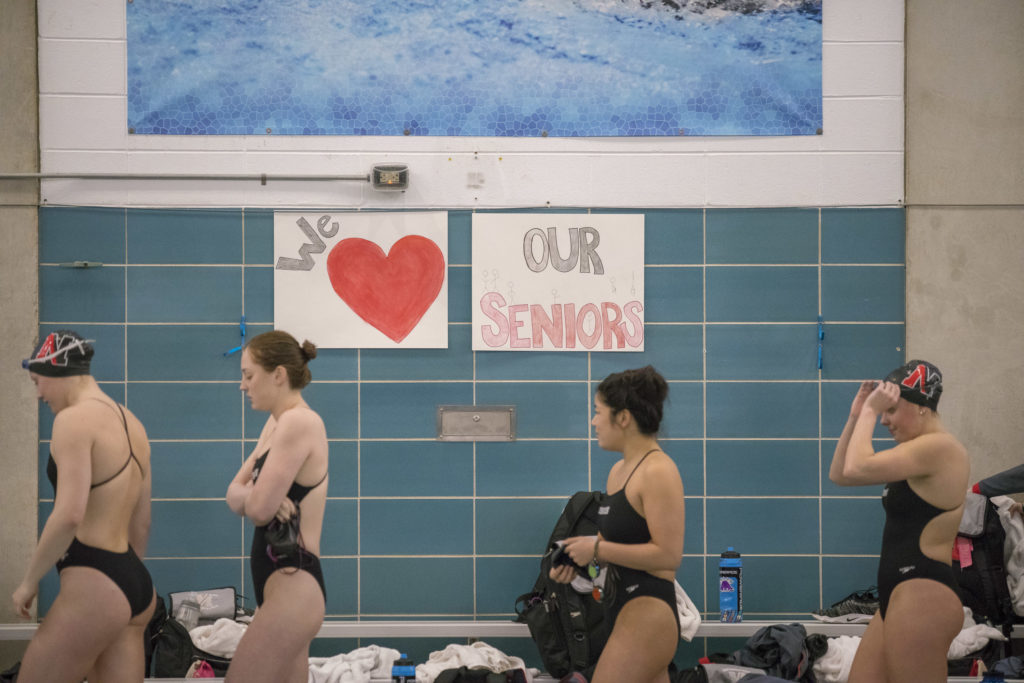 "Our underclassmen did a great job — we felt really special," fourth-year diver Alyssa Seales said. "It was a great way to end our season."
The meet's final event was the 200 freestyle relay, in which all of the senior swimmers were in a relay together for the first time in their career.
"I had a lot of fun," fourth-year Sara Touchette-McGowan said. "We never get to compete together as seniors. To be out together for the first time was really exciting."
The festivities for the seniors set an energetic tone for the entire meet. Seales said the positive atmosphere gave the team a boost.
"Everyone being so positive just ricochets off one person to another," Seales said. "The energy is just constantly building. We all know we compete the best when we're just having fun and we're not worrying about the times or our dives."
Fun translated into strong results for the Huskies, as they took first in 10 of the first 13 events, clinching the meet and leading them to swim the last three events as exhibitions.
Reflecting on his senior class' departure, head coach Roy Coates noted that it not only affects the results, but also the team's dynamic.
"It'll be a huge loss," Coates said. "We lose a lot of talent and depth both in swimming and diving and a lot of great personalities. It's hard to replace."
The divers now shift their focus to the Duke Dog Diving Invitational February 3-4 at James Madison University, which poses an important test for them.
"It's going to be really great for us to gauge and see how we are against JMU and Towson, who are in our conference," Seales said. "I'm really excited and I know Lauren [Colby] has a lot of confidence in us that we're going to do well."
The swimmers will be back to practice this week as they prepare for their second to last meet of the season at the BU Open Feb 9-10 at Boston University.
"I think for now is just to put hard work in and remain positive," Touchette-McGowan said. "A few people are getting ready for the BU Open and a few people are competing for spots at CAA's."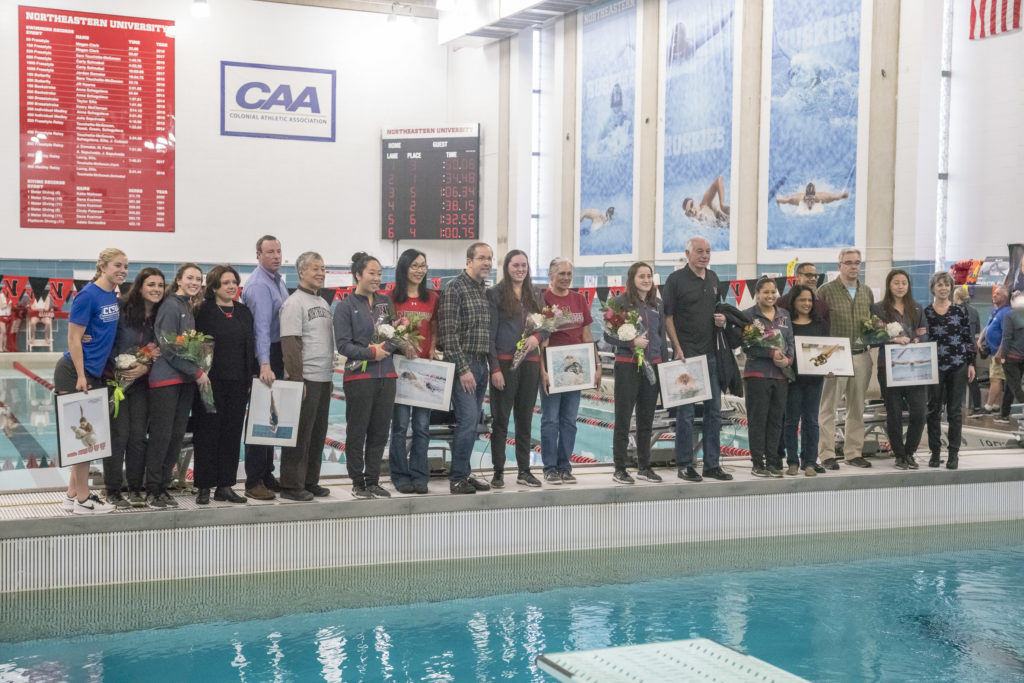 In the midst of the team's preparation for their last meets and the CAA championships, Coates found it important to celebrate the seniors' contributions.
"We take the moment today to thank them and recognize them for all that they've done because they've done a lot for our program," Coates said. "We're really appreciative of that and we know that they are going to be successful in whatever they choose."