Northeastern battles back to tie Providence, ties BC atop Hockey East
When you need a goal, you go to your best players. When Northeastern needed a goal to tie with under a minute left in regulation Friday, they went to their two Hobey Baker candidates.
With their netminder pulled, fourth-year winger Dylan Sikura whizzed a pass across the ice to third-year center Adam Gaudette, who one-timed it in from the backdoor to knot the game at four with 40 ticks left on the clock. NU overcame deficits of 3-1 and 4-2 in the third and ultimately tied the Providence College Friars at Matthews Arena to take their record to 15-6-4 (11-4-2 in Hockey East).
The tie, along with Boston College's Friday loss at UMass Lowell, pushed Northeastern to the top of the Hockey East standings alongside BC with 10 games left in the regular season.
"It was great to get that tie," Gaudette said. "I mean, we always want the win, but we showed great resilience. It was great how the whole team responded as one."
The teams played remarkably evenly until the last minutes of the second period.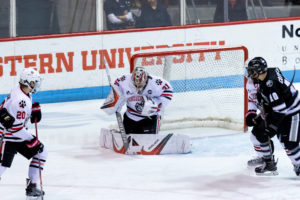 The first period was played to a 1-1 tie. Providence center Scott Conway popped a rebound into an open cage at 9:58 of the period after a gruesome turnover in the corner. Northeastern made amends for that with a power play goal with less than two minutes left in the frame; second-year defender Zach Davies slapped a one-timer from the point off a feed from Gaudette.
Aside from two blips — the Huskies' gaffe and the Friars' penalty — the game stayed air-tight through most of the second period. That changed when a Davies penalty and a lack of composure allowed Providence to take control of the game.
Northeastern was buzzing in the offensive zone moments before Davies tripped a Friar at the other end, but a failed keep-in at the blue line precipitated an odd-man rush for Providence and the penalty. Conway took a feed from the point and slapped a one-timer from the right half-wall; it went through a screen and past NU first-year netminder Cayden Primeau, who likely never saw the puck.
Less than two minutes later, Friar defenseman Ben Mirageas laid a heavy wrister that seemed to catch Primeau off guard, and it clanked off some iron and into the goal. The Providence bench was fired up and the Northeastern bench and fans on-hand were stunned. Several penalties filled the short remainder of the period, and the two teams went to the dressing rooms: one on a strong road performance and one reeling after a putrid second period on its home ice.
Nu head coach Jim Madigan said the end of the middle period came "at the right time."
"We got to regroup a little bit," he said. "There's believability in that room, there's some older guys in that room who spoke up. In the room was just gaining composure, and I throw myself into that bucket as well. It's 1-1 with two minutes left in the period and we gave up two. That's not the sign of a veteran team like I think we are."
The Huskies, seeking a third-period comeback, had to start the final frame killing a penalty. They did so, but couldn't find much offense until the 8:04 mark when Gaudette found a pocket in the Providence defense and scored from in close on the right side with a wrist shot.
Providence's head coach, Nate Leaman, said his team's failed power play to start the third was a turning point in the game.
"We just didn't have the urgency to go attack on that," Leaman said.
Madigan concurred that the penalty kill to open the third was pivotal.
"After the second, we talked to our guys and said 'It's a 4-on-3 for a minute or so, if we can kill this off we can get some momentum off the penalty kill,'" Madigan said. "I thought we just did a tremendous job killing the penalty and it gave us a little momentum."
Unlike Providence in the second period, though, Northeastern didn't take advantage of momentum stemming from their goal. Providence restored their two-goal lead just 26 seconds later. Their fourth-line center Vimal Sukuman pushed a puck past Primeau, who left the goal to challenge, and the puck ended up in an empty Northeastern cage. Any energy that had been injected into the Huskies' bench and home crowd was zapped.
The goal was the consequence of a failed challenge, aggressive on the part of Primeau. Madigan took no issue with the goalie's decision to leave the net, though.
"He came out because there was a game a few games ago where he didn't come out and he probably should have," Madigan said. "He saw this situation and he leaned with the one hand and their guy beat him to it. Those are judgement calls by the goalie. I'm never going to question the goalie for making an aggressive move like that. He thought he could get there and he just missed."
Primeau allowed four goals on the night, an uncharacteristic total for the netminder enjoying a stellar rookie season. Hayden Hawkey, his Providence counterpart and member of the Great Hockey Names Pantheon, allowed the same number of goals on nine fewer shots.
Gaudette said his team kept their resolve after what could have been a crushing blow.
"It was a tough bounce," he said. "What are you going to do but get back at it? It went in. It's not going to change. We just got right back at it. The shift after a goal is a huge shift, no matter if it's a goal for or a goal against. We knew what we had to do and we executed it."
They made it close again, though, at 11:27 of the third when third-year defender Eric Williams scored from the right circle to make it 4-3.
The Huskies couldn't find many quality chances until there was less than a minute to go between them and their fourth home loss of the season. They pulled Primeau for the extra attacker with around 90 seconds to go, and controlled the puck in the Friars' end almost continuously until the 19:20 mark, when a Sikura pass and a Gaudette goal sent the hearty Matthews Arena crowd into a frenzy.
"They clog up the middle really well," Gaudette said. "I just kind of hung out in my spot there. I knew Sikky would find me, like he did. I saw the goalie go down so I knew all I had to do was hit the net. I just put it home. Good play by Sik to find me there."
Madigan was pleased with how his team pushed in the last nine minutes, even after Providence scored a fourth goal to reverse a comeback attempt by the Huskies.
"I just like that last eight minutes or so," he said. "I thought our guys were really resilient. They continued to go at them. Getting the pucks out and controlling in the neutral zone, we had to get pucks in deep and we did. I credit our guys for not giving up."
Providence got the better of the play in overtime — except for an eye-popping chance for a Husky forward from point-blank range that shot straight into Hawkey's chest — and a final horn ended the game and dealt a point to each team.
"Unfortunately it ended up in a tie," Madigan said, "but probably the game should have ended in a tie. Both teams competed hard."
Leaman echoed the thoughts of likely everybody in the red seats, players' benches and the press box at Matthews.
"I thought it was a really good college hockey game," he said.