Charleston wins thrilling game at Matthews to pass NU for top CAA spot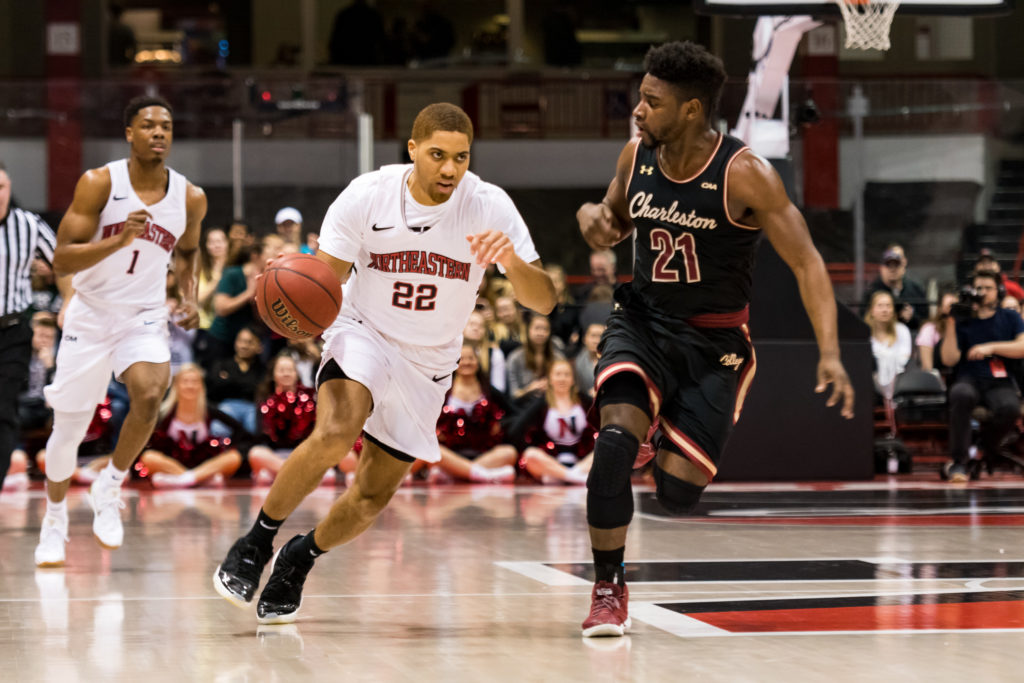 If any league officials are looking to sell basketball fans on CAA hoops, they'd do well to include Thursday's game between Northeastern and the College of Charleston in their pitch. The two conference leaders went at it at Matthews Arena in a game crammed with dueling runs, momentum-swinging and-ones and a thrilling final five minutes. Northeastern came up just short, and the red and black-clad players and fans at Matthews Arena left disappointed in the end.
"[Charleston] are a veteran team, but we made a run at them with our effort there at the end," said Northeastern head coach Bill Coen. "There was a little bit too much of Joe Chealey."
69-64 was the final, and Charleston passed Northeastern in the CAA standings — Charleston and William & Mary are tied for first, and NU sits in second.
Two veterans for Charleston, Chealey and Jarrell Brantley, proved too much for the Huskies. Chealey dropped 23 points and Brantley found 13, including two big and-ones. Second-year guard Donnell Gresham Jr.'s 18 points weren't enough for NU.
The game threatened to balloon into a more comfortable win for Charleston on a couple occasions — one midway through the first half and one late in the second — but spirited bursts from the Huskies brought the home team back, fired up the building and made for one of the most compelling ballgames of the year.
NU trailed by nine with under nine minutes left in the opening half, but a 12-2 run spurred by a Tomas Murphy dunk and capped by a Shawn Occeus free throw made it clear that the young Huskies were going to give the more experienced Cougars a game, and gave them their first lead of the night at 26-25.
Coen was happy with the way his team dug in and rose to a challenge against a large team.
"We spotted them a few points early, but we went toe-to-toe with them after that," he said. "They were aggressive going right to Brantley. He's got a physical advantage. We don't have anyone that size or shape."
Brantley, a six-foot-seven-inch, 250-pound forward, attacked the rim all night. The Huskies, despite their best efforts, couldn't contain him when it mattered most.
"He's a tough guard," Coen said. "That's why he's a pre-season first-team all-conference guy."
After Charleston took halftime with a 31-29 lead, Northeastern came out looking composed and determined; a Gresham three and two points from second-year guard Maxime Boursiquot helped them to a three-point lead.
Gresham was the principal reason NU made a game of it Thursday; his nine field goals each came when his team sorely needed one.
"He's got a cool demeanor about him. The pressure of the game doesn't get to him," Coen said. "He made shots for us tonight."
Charleston tempered a fierce second-half effort from the Huskies, who led through the first nine minutes of the half. It looked like the Cougars took a stranglehold when they climbed to a seven-point advantage with five minutes left, but a frenzied closing sequence made the end suspenseful.
A 3-ball by Gresham, his fourth of the night, closed the gap to two with under four minutes left, but Charleston responded like they did all night long. This time it was second-year guard Grant Riller, their second leading scorer this year, who made a layup to restore a two-possession lead.
The Cougars' lead lingered at five until second-year guard Bolden Brace injected a glimmer of hope into the home crowd with a 3-pointer with 25 seconds left, but Charleston diligently closed out the game, sinking their free-throws and forcing Northeastern to burn clock.
Brace made two big plays to keep his team viable toward the end — that three plus a crucial offensive rebound earlier.
"He comes in [off the bench] and impacts the game right away," Coen said. "He gets us out in transition pretty good. I thought, tonight, he gave us everything he had."
Chealey would be the Cougars' most valuable player on this night; his 7-14 shooting game (plus eight free-throw makes) gave his team a boost whenever they needed it.
"He's got quickness and shiftiness with the ball," Coen said. "He's got a great pull-up game. He's got great pump-fakes and it gets him to the line an awful lot."
This has been a season of youth and learning for Northeastern, and Coen and his players have had to designate roles and grow into new systems on the fly. They found themselves up against a veteran team Thursday with the conference lead on the line, but Coen wasn't too discouraged despite the loss.
"We just came up a stop or two short," he said. "We had a couple missed conversions on the other end. Overall our execution was pretty good, but they're a tough team to play against. They can go small, and play four guards and Brantley and still be physical enough to rebound."
Coen said if his team is to overtake Charleston and win the CAA, they'll have to improve their execution.
"We're going to have to beat them," he said. "They're not going to beat themselves."
Northeastern is now a game behind William & Mary and Charleston in the standings with seven games left in the regular season. W&M comes to Matthews Arena on Feb. 17 for what will likely be a key game in CAA Tournament seeding. NU beat W&M by 20 on the road Jan. 18; Thursday's win gave Charleston the season sweep over Northeastern.