Primeau adds to impressive first season with Beanpot shutout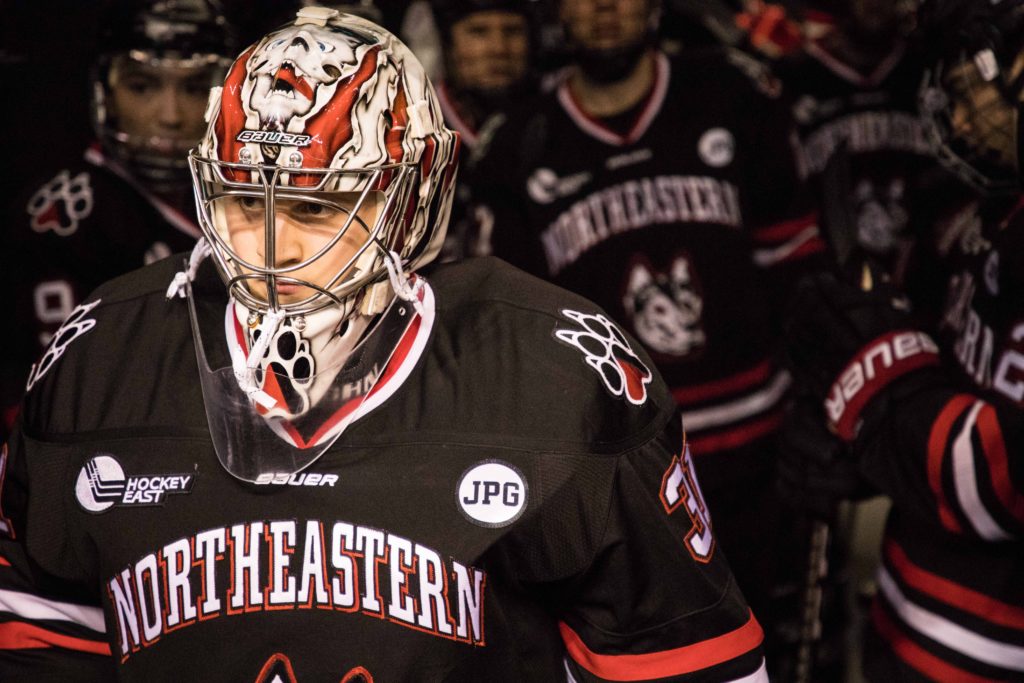 Northeastern clinched a trip to the Beanpot final with a 3-0 win over Boston College Monday, and first-year goalie Cayden Primeau was perhaps the biggest reason his team will have a chance next week to end a 30-year Beanpot title drought.
He stopped all 37 shots he faced, in the process being NU's best penalty killer on four PKs, foiling a BC push to open the scoring early in the first period and a push to get back in the game in the third. And, when Northeastern head coach Jim Madigan refers to a player as "the cat's meow," it's worth noting.
"It's obviously really impressive the way he played, but he's been like that all year," said Dylan Sikura, a fourth-year winger who scored his 50th career goal Monday. "It starts in practice. He's by far our best goalie in practice. He takes care of himself and does all the right things off the ice."
Primeau, 18, is new to Northeastern, but it didn't take him long to understand the significance the Beanpot holds on campus.
"I was lucky to commit to Northeastern a couple years ago, so over the years, just knowing about the tournament I gained the significance of it," Primeau said. "As soon as I got to campus, people started talking about the Beanpot. 'Are you going to win this year?'"
Primeau had a unique upbringing in the sport of hockey. Son of former Philadelphia Flyers captain Keith Primeau and nephew of former NHLer Wayne Primeau, the 18-year-old was groomed by their professional disposition early on.
"He's the son of an NHL player, so the pedigree has been good," Madigan said. "Dad's worked with him on the mental part of the game."
Of his 37 saves Monday, his finest moment may have been during a penalty kill in the third period as BC tried to cut a 2-0 deficit in half. A sharp, accurate pass was zipped across the ice, right into the wheelhouse of a waiting Eagle in the opposite circle. The BC forward got a one-timer off, with some elevation, but Primeau came sliding across and somehow managed to fight it off.
"Cayden Primeau is like this," Madigan said, as he gestured a straight line with his hand. "He's balanced … He never goes high or low. He just stays the course."
Primeau has a 12-5-5 record, a .925 save percentage and a sparkling 1.92 goals against average — an impressive stat line for any NCAA goalie, let alone a Hockey East goalie, let alone a rookie. His first collegiate start, against Sacred Heart Oct. 7, was a shutout. He was named the Hockey Commissioners' Assocation Goalie of the Month for December.
Primeau wasn't NU's top goalie coming into the season; Ryan Ruck carried his starter role from last year into this one, but Primeau stepped in when Ruck was sidelined with a concussion. Ruck hasn't appeared in a game since Nov. 20, and Primeau has seized the opportunity.
"Unfortunately, Ryan got hurt," Madigan said. "At that point, Primeau saw the opportunity. He grabbed it and ran with the ball. When you see Nolan Stevens and Dylan Sikura hang out with him, and they say, 'Hey, this kid's the cat's meow,' it shows you he's got a confidence and the trust of our core."
He'll face Boston University for the Beanpot crown; He recorded his second highest save total against BU on Nov. 10 when he stopped 33 of 34 shots.
"They have a great, great young goalie," said David Quinn, BU's head coach after Monday's semi-finals.