Pusica beats buzzer, gives NU crucial CAA win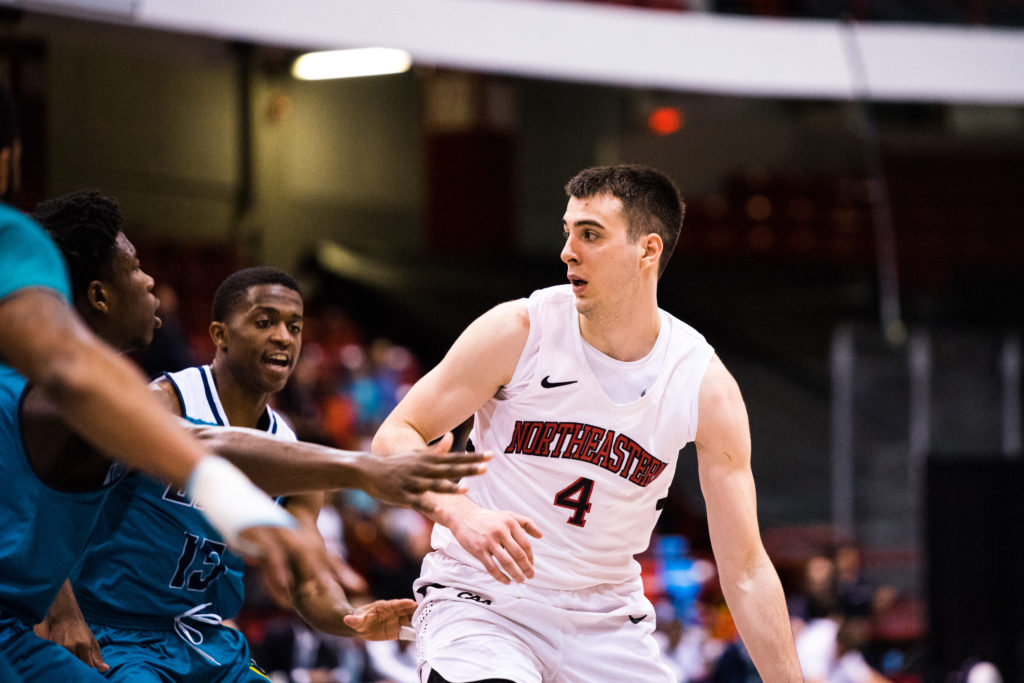 Vasa Pusica has had plenty of MVP moments for Northeastern this season. He regularly records 20-point games, he usually plays almost all of the game and the offense runs through him on most every possession. The last two of his 19 points Saturday were perhaps his finest, and most important, of the year.
"Just another boring CAA finish," head coach Bill Coen deadpanned.
With 5.3 seconds left in a crucial late-season matchup with the College of William & Mary and the score tied 67-67, there was little doubt who the ball would go to for the game's last shot. The inbound pass went to Pusica in the backcourt; he carried it up swiftly but not frantically, drove to the hoop past multiple late William & Mary defenders and laid it off the glass and in as the clock rolled to 0:00.
Video by Charlie Wolfson
The win moved NU to 12-4 in the CAA as they continue to chase first-place Charleston. The teams could be tied at the end of play Saturday if Charleston loses Saturday night.
"I wanted to get to the rim," said Pusica, the Serbian third-year guard. "I had a good defender on me, and coach made a great play. I saw their outside help was a little late."
Coen said the play was designed to create a diversion to give Pusica a lane to the rim, despite most everyone in Matthews Arena knowing he'd be the shot taker.
"We put two guys at the free throw line to draw guys off the baseline and give him some space to operate," Coen said. "We're in the bonus, so we wanted to make sure we attacked the rim. We wanted to put the ball in our playmaker's hand where he can either shoot it or pass it. He made a great read. He's not afraid of the moment at all."
Seconds earlier, the Tribe's guard Matt Milon (having a fine day himself, with 21 points) found an open look from three-point range with under 10 seconds left. He'd already made three triples in the game, and Matthews Arena's collective breath was held until the ball clanked off the inside of the rim and out. An inch in another direction and the Huskies would've been all but finished.
But the ball fell harmlessly into the hands of NU guard Donnell Gresham Jr., and Coen called a quick timeout to draw his play.
Second-year forward Maxime Boursiquot enjoyed perhaps his finest game of the season, scoring 13 points on 6-7 shooting. He played 27 minutes, almost tying his season-high of 29 in the season opener.
NU led for most of the game, but W&M pulled ahead late in the second half on the strength of Milon, fourth-year guard Connor Burchfield and second-year forward Nathan Knight. Knight is the team's leading scorer and had 14 points Saturday. The Tribe led by as many as five in the last few minutes of the game, but Boursiquot made a critical three-pointer with 1:25 to go, putting the Huskies up by two.
"Max [Boursiquot] has been practicing really, really hard," Coen said, "and there are certain games that set up for him. He's been patient. He's been keeping his nose to the grindstone. He and Anthony [Green] really set the tone early on when they were playing man to man. They kind of drove them to the zone. Then he stepped up and made the huge three late in the game when we desperately needed it."
Northeastern beat the Tribe handily, 90-70, on the road earlier this season. Pusica said the two styles of wins against the same opponent speaks to his team's overall fortitude.
"I think that says that we're a championship team," he said. "We won way too many close games like this. I think that's a good characteristic of a championship team."
Coen didn't criticize his point guard for the comment, but said it may be "a little premature."
"I like his attitude," Coen said. "There are so many good teams in this league, and that's what it comes down to. Charleston's going to be fantastic. We're just looking to get our next game."
Next is Northeastern's final game at Matthews Arena, where they're 11-2. Towson will try to stop NU's five-game winning streak Thursday. Maybe instead of calling it senior night, they'll call it Devon Begley night — Begley is Northeastern's only fourth-year player.
"He's a player who's been with us for four years," Coen said. "He's been on an NCAA [Tournament] team before and he desperately wants to get back there this year. I know the guys will go out and play hard for him."