NU Jewish community responds to Pittsburgh shooting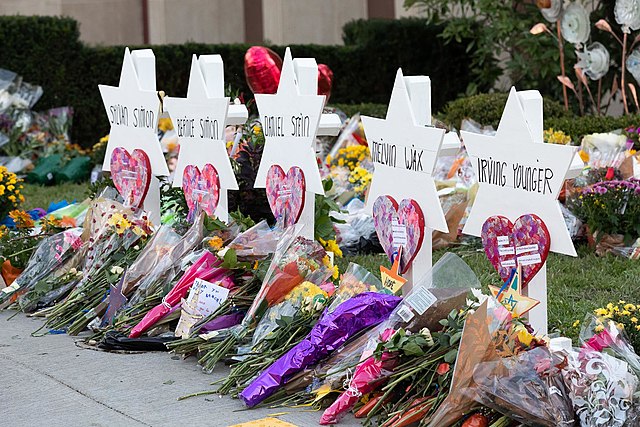 In the wake of an anti-Semitic terrorist attack, the Jewish community at Northeastern came together to mourn and call for unity.
The Pittsburgh shooting occurred on Oct. 27 when a gunman walked in to the Tree of Life synagogue during Shabbat services, killing 11 people and wounding seven. In 2018, mass shootings with more than 10 deaths have occurred in Parkland, Florida, Thousand Oaks, California and Santa Fe, Texas. The shooting in Pittsburgh distinguishes itself from those events with its anti-Semitic motivation.
Professor Lori Lefkovitz, director of Northeastern's Jewish studies program, said anti-Semitic tragedies tend to unify Jewish communities.
"You have a tragedy that affects the whole Jewish community, that touches a nerve in the Jewish community, that activates our fears, that reminds us of anti-Semitism, and when that happens there's an impulse to unify; like we're in this together, we're Jews, we've been attacked as a whole community."
Northeastern's Office of the President and Center for Spirituality, Dialogue and Service held a vigil for the victims of the Tree of Life shooting on Oct. 30. President Joseph E. Aoun invited all members of the Northeastern community to attend in an effort to promote solidarity with the Jewish community.
The vigil was held in the Sacred Space in Ell Hall with more than 100 people in attendance. Aoun, religious and spiritual leaders, students and staff spoke and prayed.
"I think the university response was actually very good, that the program was moving and powerful and ecumenical and a call to conscience and an acknowledgment by the president that anti-Semitism is not something we tolerate here," Lefkowitz said. "I think they did a beautiful job."
Ellis James, a first-year undeclared major student and Pittsburgh native, was two blocks away from the shooting when it happened and said his grandmother regularly attends service at Tree of Life.
"It doesn't feel like it was just my neighborhood, it's all of our neighborhoods. Together we can use that to fight hate," James said while speaking at the vigil. "So be sad, be angry but do not hate. Do not let fear paralyze you into doing nothing. Fight hate with love, and let the memories of those who are lost always be a blessing."
Sophie Cole, whose family attends Tree of Life, is a second year health science major who attended the vigil and felt an enduring sense of support despite not being involved in Jewish organizations on campus.
"It was incredible to sit with people of all faiths during such an emotional time." Cole said. "No one knew that Tree of Life is my family's synagogue but there were people checking in on me and expressing their condolences anyway. While it feels like the whole country is divided, it's important for us to remain united with people from all walks of life, not just the Jewish community."
Rabbi Mendy Posner from Chabad at Northeastern University spoke about the need for positivity and action in response to terrorism.
"This is the Jewish response to terror. We do more, we build more, we pray more and we sing more. A little bit of light dispels a lot of darkness," Posner said. "We don't sweep away darkness with brooms, we chase it away with lighting lights. We all have the power and ability to change darkness into light."
Despite a strong showing of unity in the Sacred Space, the rollout of the vigil troubled some members of the Jewish community on campus. More students were asked to come prepared to speak at the vigil, but upon arrival found that their time was cut. This led to some discomfort with the university's response among members of the community, who questioned why more Jewish voices on campus were not heard.
Deena Notowich, a third-year international affairs and cultural anthropology combined major and the interfaith faith chair of the Jewish Student Union, talked about how the University could have done better.
"I felt like it was the university doing its best to try and be there but didn't really know how to and didn't ask, and that's where the issue fell from."
Notowich also talked about what individuals can do to show support for the Jewish community.
"Ask your Jewish friends how they are and what they need, donate to Jewish organizations and shut down anti-Semitism even when there aren't Jews in the room," Notowich said. "Call it out when you see it, check it in yourself if you see it, and understand that we all make mistakes and can come back from it."
Cole also offered advice as to how people can respond to anti-Semitic attacks.
"The best way to express solidarity with the Jewish community is to practice tolerance and love for all people. Check up on your friends and let them know you care about them. Don't write off anybody's identity, including your own. Tragedies like this hit hard, even without having a personal connection to any of the victims,." Cole said, "Do not become jaded about what is going on in this country and do not fall victim to the 24-hour news cycle. Remember their names."