Men's hockey hosts 'Mustaches for MacLeod'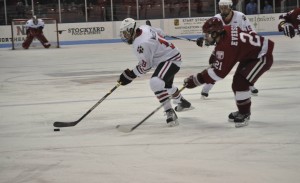 Hang on for a minute...we're trying to find some more stories you might like.
It was 2013 when Wade MacLeod's life changed forever. While playing for the American Hockey League's Springfield Falcons, MacLeod had a seizure on the ice, symptomatic of his later diagnosis of brain cancer.
MacLeod, a 2011 Northeastern graduate, has now had brain surgeries for his stage three glioblastoma tumor. This November the Northeastern hockey community showed support for their alumnus by raising awareness for his GoFundMe page through "Mustaches for MacLeod."
One of the traditions of the hockey team is to participate in "Movember," in which everyone grows a mustache in support of men's health issues. Sophomore defender Billy Carrabino and a couple of his friends decided to use this platform to support MacLeod.
"Since we have done 'Movember' for a couple of years now, I thought we might as well do it for a good cause," Carrabino said. "We wanted to support a former teammate who is going through some hard times."
The hockey team had an alumni game on Oct. 20 in which they had a record amount of players come out to play and support. The community ended up raising $1500 in support of MacLeod and his GoFundMe goal has been surpassed by almost $22,000.
"People were willing to come forward and support Wade because he was so well-liked," said NU men's hockey coach Jim Madigan. "He was the epitome of a student-athlete at Northeastern and he always did the right thing."
Though Carrabino did not know MacLeod personally, he was still eager to support him because of the closeness of the Northeastern hockey community.
"The Northeastern hockey community is one big family," Madigan said. "We take care of each other, and always help each other out."
MacLeod set the school record for games played and he led the team in scoring his second, third and fourth years on the team. He was named team MVP as a senior and was a two time All-Hockey East honoree.
"[MacLeod] was the type of guy to always be on the ice," said Mike McLaughlin, current director of operations and former teammate of MacLeod. "He was the go-to guy from the start and was a very skilled player."
Over the past three months, 863 people have donated to MacLeod's cause.
Carrabino said he connected to MacLeod's story naturally.
"It was the fact that he has a young family," Carrabino said. "I lost a friend to brain cancer in the fifth grade and I wanted to give his daughter the best chance to have a father growing up. He gave so much to the hockey community and the least we could do was show support."
Due to his seizures in 2013, MacLeod temporarily lost his speech and went through three months of therapy. Each time a challenge occured or his tumor reemerged, he was always back on the ice within a couple of months.
"He has always been a happy-go-lucky guy and he was in the gym right before his chemo treatment," McLaughlin said. "In his mind he is going to play hockey again, which is great to see."
Before his last seizure in August, MacLeod was playing for Löwen Frankfurt, a professional in Germany. He planned to be on the ice this season, but his condition stopped him and he had to go in for another surgery and more chemotherapy.
"Wade was someone who advanced throughout the hockey community and even played in the minor professional leagues," Madigan said. "It was so great to see current players jump on board in supporting Wade's GoFundMe page. When we come together to support someone struggling health wise, that's where we are at our best."
Currently, MacLeod is spending his time travelling with his family and is the owner of a professional training and development camp called Headway Hockey.
"I think it says a lot about a guy who is in the weight room before chemo," McLaughlin said. "It says a lot about a guy's character and that is who Wade is."