Shorthanded men's basketball earns dominant wins over Bucknell, Eastern Michigan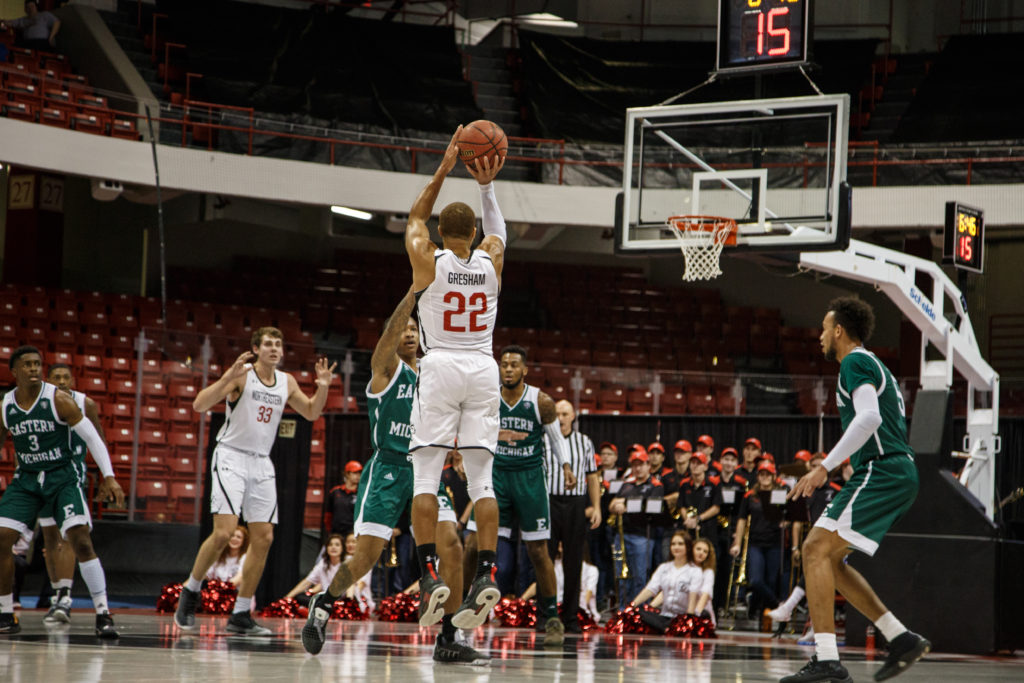 The Northeastern men's basketball team cruised to a 96-78 victory over the Bucknell Bison in their first action since wrapping up play in the Gildan Charleston Classic, aided by five double-digit scorers and a career-high tying 21-point performance from sophomore forward Tomas Murphy.
Junior guard Jordan Roland led the way for the Huskies the next night out at home against Eastern Michigan, totalling 24 points and propelling Northeastern to a 81-67 victory.
The Huskies were dominant from the opening tip at Bucknell, and their overall intensity propelled them to a 23-7 lead early in the first half. Ball movement seemed to be an emphasis with their recent loss to Virginia Tech in mind, a game in which the Huskies failed to generate many good looks inside the 3-point arc. The ball flowed freely on the offensive end this time around and Northeastern reaped the benefits of their unselfish play, as they managed to connect on 70 percent of their attempts while garnering 15 assists on 21 made shots.
"I just think everybody came with energy and ready to play," junior guard Donnell Gresham Jr. said after the game. "It was good that we were hitting shots, moving the ball, sharing it with each other."
Gresham had big shoes to fill in Wednesday night's game as he filled in for senior guard Vasa Pusica. Pusica is still sidelined by a wrist injury picked up in Northeastern's game against Alabama.
In the star guard's absence, Gresham was pivotal in an efficient offensive performance for the Huskies as he dished out 11 assists with 16 points on 5-9 shooting. Murphy joined Gresham in the double-double category, leading the team in scoring with 21 and adding 12 rebounds in just 24 minutes.
Redshirt freshman forward Jason Strong also put on a strong display against Bucknell, scoring 16 points despite being limited to 16 minutes of play due to foul trouble. Roland and senior center Anthony Green also finished in double digits by the end of the night, adding 17 and 11 respectively as Northeastern traded baskets with the Bison for most of the second half to take the game 96-78.
A well-rounded effort was necessary for the hampered Huskies. With Pusica joining junior guard Shawn Occeus and junior guard/forward Maxime Boursiquot on the injury list, the Huskies are now without three starters from last year's team. For a squad that returned 90.4 percent of its offense from the previous season and was voted to finish first in the CAA preseason poll, developing chemistry quickly will be imperative to a successful season.
The win over Eastern Michigan, Saturday at Matthews Arena, wasn't of the wire-to-wire variety.
The Huskies have been averse to slow starts so far this season, but a suffocating zone defense from Eastern Michigan set the tone for the better part of the first half. Northeastern aggressively looked to push the ball into the paint, but the Eagles refused to let anyone get by them on the perimeter as smart double teams in the corners greatly complicated the offense.
Eastern Michigan's offense was equally formidable to start the game, connecting on 13 of its first 14 shots and creating a commanding 30-16 lead with 7:07 remaining in the first half. However, the opportunistic Huskies switched to a 2-3 zone anchored by Green to spark an 11-0 run of their own. The adjustments, along with some easy transition looks thanks to Northeastern's stout defense, helped the Huskies climb their way back into the game as they cut the deficit to 37-34 heading into halftime.
The momentum continued to swing in favor of the Huskies after halftime as their midcourt press made things difficult for Eastern Michigan on the offensive end. A block from Green led to a Gresham 3-pointer, and Northeastern took their first lead of the game, 41-38.
Roland added a pair of crucial threes during this stretch, and finished the game with a team-high 24 points on 8-13 shooting (5-9 from three). An equally strong performance from Gresham (24 points, 5 rebounds, 4 assists) helped the Huskies maintain their second-half dominance, and Murphy's stat-sheet-stuffing effort down low (10p, 7a, 6r) was crucial in penetrating Eastern Michigan's disciplined zone defense. Strong free throw shooting down the stretch put the game on ice, and Northeastern cruised to a dominant 81-67 victory to improve to 4-4 on the year.