Women's hockey completes home-and-home sweep of UConn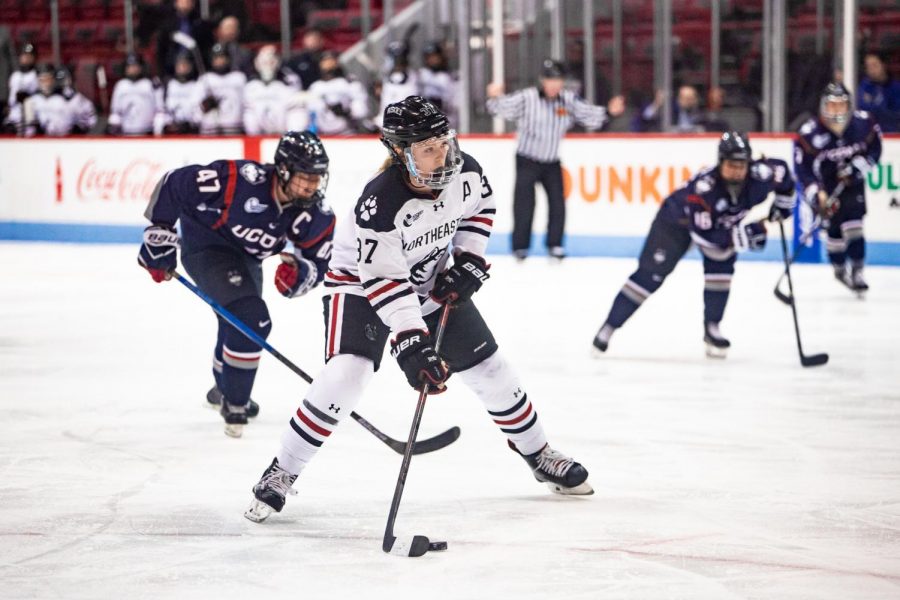 Northeastern rode a three-goal first period to victory on Saturday, beating Connecticut 4-1 to cap off a home-and-home sweep of their Husky rivals, and clinch a Hockey East playoff berth.
After beating UConn (13-11-1, 8-9-1 Hockey East) 5-2 on Friday night in Matthews Arena, Northeastern (17-3-3, 15-2-2 Hockey East) traveled down to Storrs, Connecticut to take on their opponents from last year's Hockey East championship game, which Northeastern won 2-1.
Sophomore defender Skylar Fontaine was the first to score for NU Saturday afternoon, striking with an unassisted goal at 11:02 in the first. She picked up a loose puck on the left side and took it down the wing, skated in on UConn goalkeeper Megan Fisher and finished off the move at the right pipe.
Late in the period, junior forward Andrea Renner made it two with a neat redirect. Renner won a faceoff, and eventually the puck found its way to junior defender Codie Cross at the point. Cross let fly with a shot, and Renner was able to flick the puck past Fisher and in at 18:15.
With only a few seconds left in the first period, senior forward Kasidy Anderson was able to give Northeastern a three-goal lead heading into the first break. Freshman forward Alina Mueller intercepted a pass then hit Anderson who took her shot. The shot was saved by Fisher, but the netminder's clearance hit off a UConn defender and rebounded into the net.
With that goal, two remarkable streaks were extended. Anderson extended her goal-scoring run to seven consecutive games, while Mueller continued her program-best point streak, making it 22 straight thanks to her assist.
Early in the second period, sophomore forward Tessa Ward struck with a shorthanded goal to give Northeastern a four-goal cushion. Ward picked off a pass in the neutral zone, which allowed her to skate in on Fisher, placing her shot in at the right pipe.
UConn would get a goal back before the period was over, however, as forward Danika Pasqua took the puck down the left wing and skated in on sophomore goalkeeper Aerin Frankel in net for Northeastern. Pasqua ripped her shot through the legs of Frankel and in to give UConn a fighting chance as they headed into the locker room, but their comeback effort fell well short, as neither team scored in the final period.
UConn outshot Northeastern 26-24, but 25 saves from Frankel allowed NU to push on the offensive end while still keeping the UConn attack in check.
With the win, NU clinched a spot in the Hockey East playoffs. The Huskies are the first team to do so, and did so with ten remaining conference games.
Northeastern remains at the top of Hockey East with a comfortable six-point gap with a game in hand over Boston College. Boston College also swept their set against the University of Vermont, allowing them to keep the margin at six.
The Huskies will look to continue their good run when they take on the University of Vermont in two games at Matthews Arena next Friday and Saturday. In their only prior meeting this season, Northeastern won 4-1 on the road.