Men's Basketball: After slow start, Huskies heating up in CAA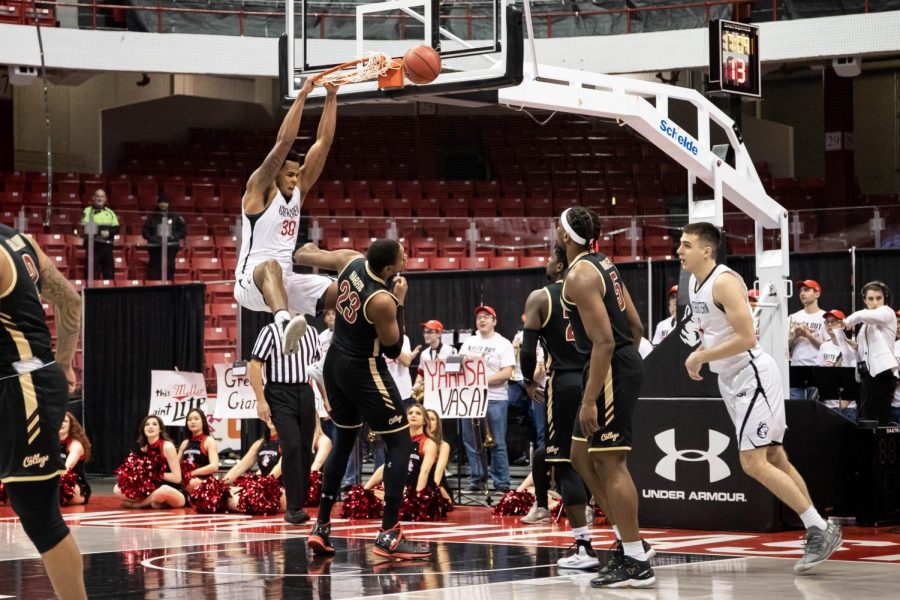 Although recent injuries to key contributors hampered the Huskies' game for what feels like the whole season so far, the pre-season favorites are hitting their stride at the right time.
Stumbling out of the gates
While a 3-4 record was hardly the start Northeastern (11-8, 5-2 CAA) hoped for, there are numerous caveats to consider. Until the Huskies took on Oakland in early December, the squad lacked last year's starter and CAA Defensive Player of the Year, Shawn Occeus. Northeastern opened the season with a disappointing loss on its home court to cross-town rival Boston University in a back-and-forth game that came down to the final shot, but bounced back with a 81-71 victory over Harvard in game two.
The Huskies then traveled south to participate in the Gildan Charleston Classic, in which they got off to an auspicious start by defeating Alabama 68-52 to mark the program's first ever win over an SEC team. Despite the signature victory, senior guard and leading scorer Vasa Pusica (15.5 points per game) picked up an injury to his left wrist that would force him to miss six games.
Missing their star guard and having played just one game at home through seven total, the Huskies finally returned to Matthews Arena on Dec. 1 to take on Eastern Michigan, adding a win to their tally. They're 7-4 since.
Stepping up
In the periodic absences of Occeus and Pusica, perhaps no other player has shined quite like junior guard Jordan Roland. Though Pusica maintains an edge in points per game over Roland (16.3 and 14.6, respectively), it is Roland who leads the team in total points with 257, including six games with 20 or more points. Even more impressively, Roland has been critical to Northeastern's 3-point-oriented offense, shooting an efficient 41.3 percent from beyond the arc this season.
Senior center Anthony Green has been pivotal to the defensive effort, anchoring things down low and racking up 13 blocks and nine steals on the season. Green has consistently made himself available for easy layups and dunks, averaging 9.5 points on a remarkable 68.2 shooting percentage, plus 5.1 rebounds per game.
Junior guard Bolden Brace has also been a consistent presence for the Huskies. Brace is averaging a modest 9.2 points thus far, but is doing so on an impressive 50.8 percent from the field and 41.1 percent from 3-point range. With four games in double-digit scoring in his last six outings, things are trending upward on the offensive end for Brace.
Around the conference
The pre-season CAA favorites currently find themselves second in the conference with an 11-8 overall record and a 5-2 record in conference play. Those conference losses include an 82-80 home defeat to Delaware that took two overtime periods and a 75-72 loss at league-leading Hofstra who benefited from a 42-point explosion from their star Justin Wright-Foreman.
Northeastern also ranks fourth in the conference in offense with an average of 75.6 points per game. Though they rank sixth in defense, conceding an average of 72.7 points, the Huskies remain one of the more balanced teams in the conference. They hold the third-best scoring margin in the conference at plus-2.8.
Though the Huskies aren't breaking any records with their offensive output, their efficiency is something to note as they sit atop the conference (tied with Hofstra) in field goal percentage at 48.7. Northeastern's season-long reliance on the 3-pointer makes this mark all the more impressive, as a higher volume of difficult shots would theoretically keep overall field goal percentage low. However, the Huskies rank third in the conference in 3-point percentage at 37.6, and second in 3-pointers made per game with 9.1.
Head coach Bill Coen finally has a healthy roster on his hands and has seemed to settle into a reliable rotation. The 2018-19 Huskies have already proved themselves to be one of the deepest rosters in the league, and they now have formidable talents such as Roland, sophomore forward Tomas Murphy and senior forward Jeremy Miller available off the bench. It should be no surprise that Northeastern is one of the hottest teams in the conference as they look toward their matchup with Towson on Thursday riding a four game win streak.
Looking ahead
Still remaining are home and away games against Towson and James Madison, with the away legs of both series coming later this week. Northeastern will have an opportunity to get revenge against Hofstra on Feb. 2 in a game that will be crucial in their bid for the first seed in the CAA tournament.The Huskies will face Drexel on March 2 in their final game of the regular season, with the CAA tournament beginning March 9.