NU a cappella groups perform together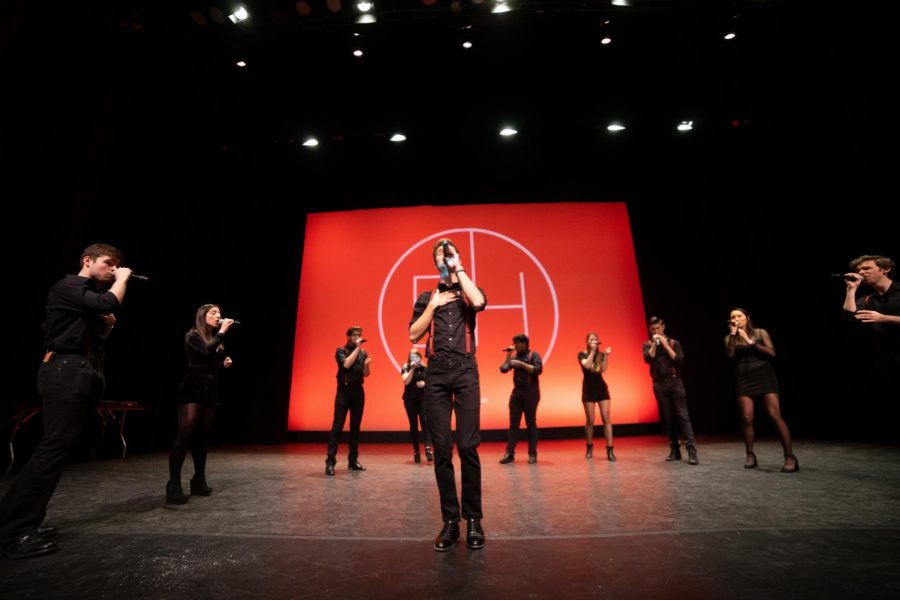 Northeastern's six a cappella groups came together at Blackman Auditorium Friday for the collaborative event, AllCappella. The event was hosted by Distilled Harmony and performed in front of a packed and excited audience. The lines to enter stretched out of Ell Hall and into Krentzman Quad.
The event began with a former Distilled Harmony member, Alejandro Clark, warming up the crowd. He introduced Distilled Harmony, and they kicked off the event with Rachel Platten's "Perfect For You."
Distilled Harmony was followed by the original all-female group on campus, Treble on Huntington. They impressed the crowd with their striking choreography that set them apart. Their performance stood out amongst the other groups by incorporating staggered line formations and movements throughout the whole stage rather than condensing into a circle around a soloist.
The Downbeats were next to take the stage, and their setlist surprised and hyped up the crowd. After performing an original song and introducing three new members of their group, they finished their set with Queen's "Somebody to Love."
The excitement continued when Northeastern's only all-male group, The Unisons, took the stage. Their set brought applause from the audience as they grew more excited with each song, especially with their rendition of Rudimental's "Sun Comes Up." They closed their set with Clark returning to the stage to entertain the crowd before intermission.
The event resumed with national a cappella champions and multiple album producers, the Nor'easters. They welcomed five new members to their group as they finished their set with Ariana Grande's "Breathin."
Founded in 2012 and still the newest of Northeastern's all-female groups, Pitch, Please! took the stage after the Nor'easters, and they wasted no time in engaging the crowd with an emotional and uplifting set. Many of their song choices involved mental health, and the crowd responded positively at the end of their set with Phantogram's "Same Old Blues."
Finally, Distilled Harmony retook the stage and was applauded throughout their performance. Their performance continued with Shawn Mendes' "In My Blood" and finished out the evening with Sigala and Ella Eyre's "Came Here For Love."
Olivia Triplett, the leader of Pitch, Please!, said all the groups were enthusiastic about the event. She had been unable to perform in the previous year's event, so this served as an opportunity for one of the few female groups on campus to "show how much they have improved from previous years."
Triplett described the work that she and her group put into their song selection and the practice they did for this event.
"They say we're too 'emo' a lot, but we're trying to bend what music and a cappella show to people," Triplett said. "Things that really exemplify being human."
Many of their songs now focus on mental health and personal feelings which were on display at Friday's event with their rendition of Bonnie Raitt's "I Can't Make You Love Me."
"We just have this huge desire to prove to both Northeastern and Boston that all-female a cappella is competitive, and we're doing amazing things that people think that only co-ed groups can do," Triplett said.
Triplett went on to mention her excitement to share a stage and perform alongside the other groups.
"Northeastern a capella is really special because there is not one bad group amongst all of us, and you know that they will all showcase such amazing talent at the event," she said.
Distilled Harmony president Ryan Drew also expressed how thrilled he was with the event's outcome. He was "pleased with how the evening went and how all of the groups got this chance to get together."
"I was glad that this event gets to take place as it is a chance for all the groups to come together and build their community. I also admit that the event was stressful with a full audience, but I am incredibly happy with the end result," Drew said.
He was grateful that every member who had performed that night had been putting work into this particular event for a very long time.
"I would like to thank the entire Blackman staff," Drew said.