Second-chance points prove costly for Huskies as win streak ends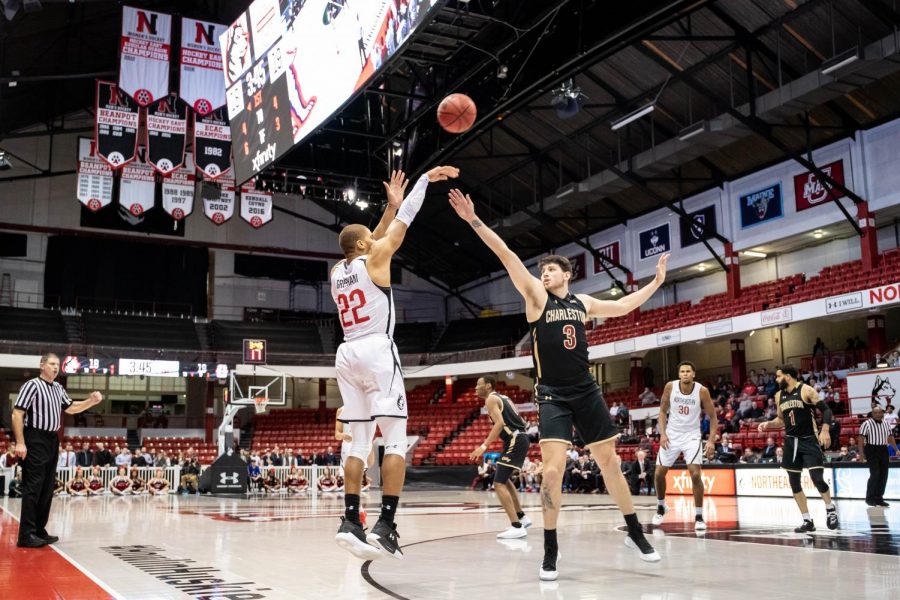 Northeastern's clinical shooting from behind the 3-point line wasn't enough Thursday, as Towson's dominance on the offensive glass dealt the Huskies their first loss since Jan. 5, 75-72.
The Huskies (11-9, 5-3 CAA) rode a four-game win streak into their game at Towson (7-14, 3-5), having scored more than 80 points three times during that stretch. But the offense was slow to get started Thursday night; Northeastern's first points didn't come until the 15:49 minute mark thanks to a putback layup from senior center Anthony Green.
Northeastern led by as many as nine in the opening period when a good mid-range jumper from sophomore forward Tomas Murphy gave the Huskies a 31-22 advantage with 2:30 remaining. A pair of baskets from Towson's Allen Betrand cut the lead to five and Northeastern took a 31-26 edge into the break.
Senior guard Vasa Pusica led the way for the Huskies in the first half, leading the team in scoring with 11 points on 4-6 shooting. Murphy also made his presence felt, scoring six points and four rebounds in just 13 minutes. Though Northeastern was shooting well from deep and locking down Towson on the defensive end, the Tigers entered the break with a 21-13 rebounding advantage that foreshadowed their eventual win.
Both offenses came alive in the second half as Northeastern connected on three of its first four shots, all 3-pointers, extending its advantage to 40-32 with 16:42 remaining. Over the next five minutes, however, the Huskies only managed to add a single point — a free-throw from Green — until a three from junior guard Jordan Roland broke the cold streak to tie the game at 44. Pusica followed that up with a three of his own on the following possession in what would be Northeastern's final lead of the game.
The Huskies cut a deficit down to a single possession but ran out of time to complete the comeback, and Towson earned a 75-72 victory on its home court. Towson held onto their lead thanks to a plethora of second-chance opportunities and composed free-throw shooting down the stretch, as they finished the game with an impressive 17 offensive rebounds. This led to 18 second-chance points compared to only nine for Northeastern, and that discrepancy largely tells the story of the game.
With the loss, Northeastern falls to third in the conference with an 11-9 record (5-3 CAA), just behind Delaware (13-8, 5-3 CAA) due to tiebreakers. The Huskies will try to regain their footing this Saturday at James Madison (9-12, 2-6 CAA).