Men's basketball wins 3rd straight in CAA, 72-60 over W&M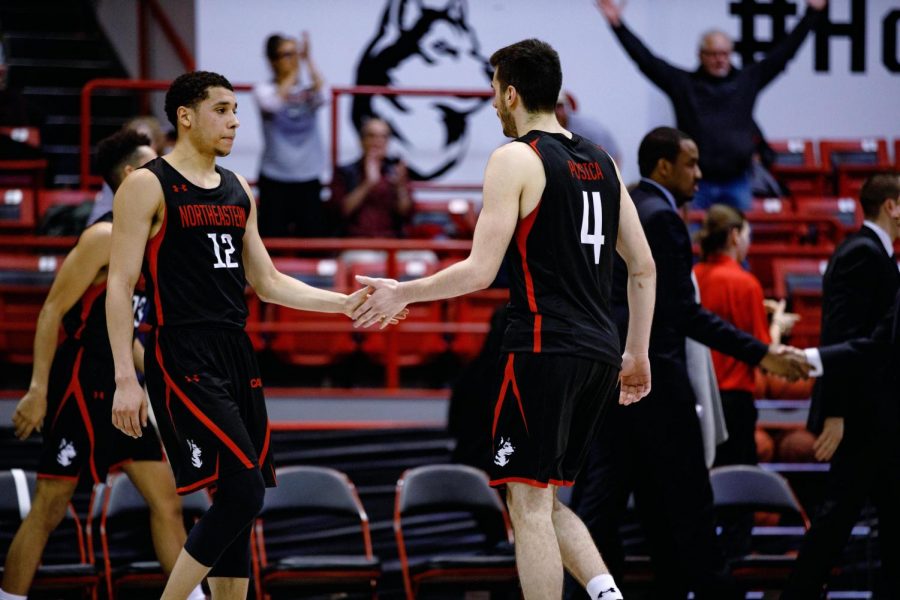 Northeastern's offense ebbed and flowed Thursday night against William & Mary, but another star performance from Vasa Pusica and composed free throw shooting down the stretch earned the Huskies a 72-60 victory over the Tribe.
The Huskies (14-9, 8-3 CAA) couldn't have asked for a better start on either side of the ball, as they forced a shot-clock violation on their first defensive possession and followed it up with an easy layup from senior guard Vasa Pusica.
Pusica earned CAA Player of the Week honors due in large part to his 24-point, eight-rebound performance in a victory over Hofstra on Saturday, and picked up right where he left off this time out. Pusica had the pick and roll working with senior center Anthony Green early on — that partnership isn't there every game, but the pair's chemistry was on full display as Green connected on two lobs in the first few minutes and set multiple effective screens.
Just before Green's second slam, William & Mary's (9-15, 5-7 CAA) star forward Nathan Knight went down holding his ankle. Knight is pivotal to the Tribe's offense, leading them in scoring with 19.2 points per game  with 8.1 rebounds per game. Thankfully, Knight was able to walk off the court on his own, and managed to return later in the half.
The Huskies capitalized on his absence, however, as they were able to find the gaps when William & Mary shifted to a 3-2 zone. Junior guard Jordan Roland connected on back-to-back 3s to push the lead to 26-11 before Knight returned to action.
"We're always looking for the open man, it just happened to be me a couple times and I just knocked them down," Roland said.
Northeastern continued to be aggressive on the offensive end but was held back by some sloppy turnovers. William & Mary broke off a 12-2 run in response — Green was called for a foul on a made layup from Knight, which made it a 28-24 game in favor of Northeastern after he connected on the free throw.
Sophomore forward Tomas Murphy snapped the cold spell after finishing on a composed post move, and from there the levee broke for Northeastern's offense. They connected on three straight 3s, including a rare make from deep from Murphy, and a step-back jumper from Roland at the buzzer completed a 13-0 run giving Northeastern a 41-24 advantage at the half.
"[Murphy] has actually been shooting the ball percentage-wise really well," head coach Bill Coen said. "He doesn't get many attempts … we got secondary action off of that, he felt confident and let it go, so that's good for us."
The second half began with the teams trading buckets — Knight connected on a layup and Green answered with a ferocious dunk. A made 3 from junior guard Bolden Brace extended the lead to 46-28, and the Huskies seemed poised to continue to grow their advantage.
The Tribe would not be dismayed, as they broke off an 8-0 run to cut things to 47-38. Murphy broke the drought again when Pusica found him on the perimeter for an open three. Pusica put on a show yet again for the Matthews Arena crowd, finishing with 19 points to go with seven rebounds, seven assists and three steals.
He did so with some flair as well — with one second remaining on the shot clock on an inbound play, Pusica caught forward Justin Pierce with his back turned and bounced the ball off Pierce to himself, and converted on the layup.
Northeastern went cold late in the half, and only converted two of its final 10 shot attempts. Pierce split a pair of free throws to cut the lead to 63-57, but three consecutive forced turnovers for the Huskies as well as strong free throw shooting kept the Tribe at bay. Though William & Mary outscored Northeastern in the second half, the Huskies walked away with their third straight win, 72-60.
"We were trying to be aggressive because we were in the bonus and double bonus fairly early, and we do have confidence being able to close out games at the free throw line," Coen said. "But with team like William & Mary … momentum can shift quickly because they're a great 3-point shooting team."
With the victory, Northeastern stays put at second in the conference with a record of 14-9 (8-3 CAA). The Huskies host Elon (8-17, 4-8 CAA) this Saturday at Matthews Arena.