Hampered Huskies win 5th-straight with massive second half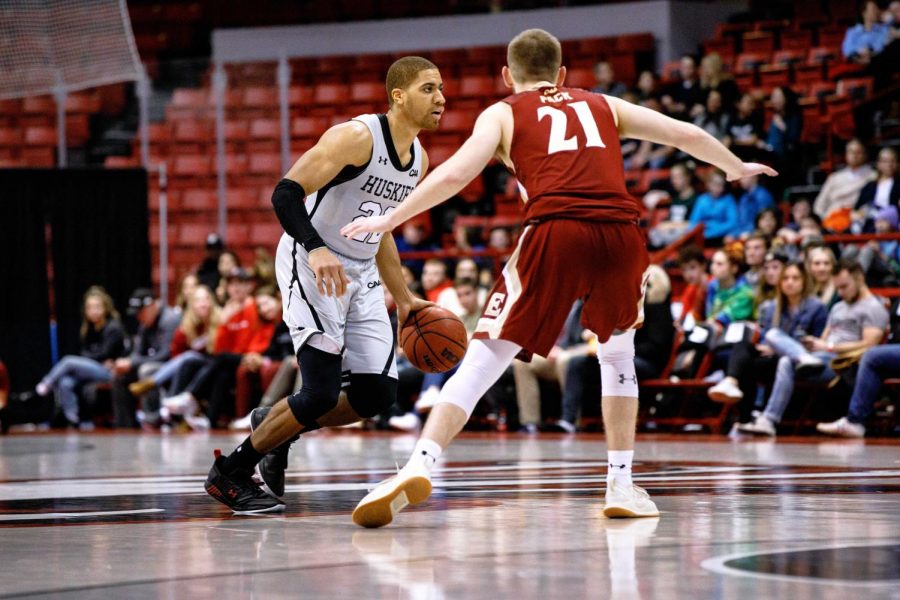 Northeastern's penultimate road trip of the 2018-19 season began ominously when Vasa Pusica was scratched due to illness, but a 48-point second half propelled the Huskies to an 81-77 win over North Carolina Wilmington on Thursday, their ninth win in 10 games.
The Huskies (16-9, 10-3 CAA) fielded a weakened lineup against UNCW (8-19, 4-10 CAA) that consisted of only eight healthy players. Shortly before tip, the valuable senior guard Pusica joined junior guard Shawn Occeus (ankle) on the list of contributors forced to miss time, and freshman forward Jason Strong was thrust into the starting lineup for just the third time this season.
Junior guard Bolden Brace got things started for Northeastern with a 3-pointer on their opening possession, and he went on to lead the team in scoring at the half with seven points on 3-6 shooting. Junior guards Jordan Roland and Donnell Gresham Jr. backed him up with six and five points respectively, and the Huskies tallied a modest 33 points in the opening period in the absence of two of their best scorers.
It was the defensive side of the ball that Northeastern struggled with early on, as UNCW's offense exploded for a 25-3 run over an eight-minute stretch. A 3-pointer from guard Ty Gadsden capped off the half for the Seahawks, giving them a 44-33 lead at the break.
It didn't take long for the tide to turn in favor of the Huskies — Roland connected on back-to-back 3s, and another triple from Roland minutes later cut UNCW's lead to down to three. Northeastern finally took the lead with 9:27 remaining after a fastbreak jumper from Brace gave the Huskies a 61-60 advantage.
The decisive run came with just over six minutes left, kicked off by a layup from Roland which made it 67-66 in favor of the Huskies. Sophomore guard Myles Franklin got a jumper to go after senior center Anthony Green collected an offensive rebound, and Green's effort was rewarded on the following possession when Brace set him up for an easy dunk.
From there, Northeastern was able to put the game to bed behind a 7-8 stretch from the free throw line by Gresham, who finished with 17 points, four rebounds and four assists. Roland led the Huskies in scoring with 19 on 7-15 shooting, and Green notched a double-double with 12 points and 11 rebounds. Brace continued his strong output in conference play adding 16 points, six rebounds and three assists.
With the victory, Northeastern stays in second in the conference with a record of 16-9 (10-3 CAA). The Huskies bring a five-game win streak into Charleston (20-7, 9-5 CAA) this Saturday in a crucial conference matchup.