Men's hockey gets desperately-needed 2 points from Vermont, Primeau stops 32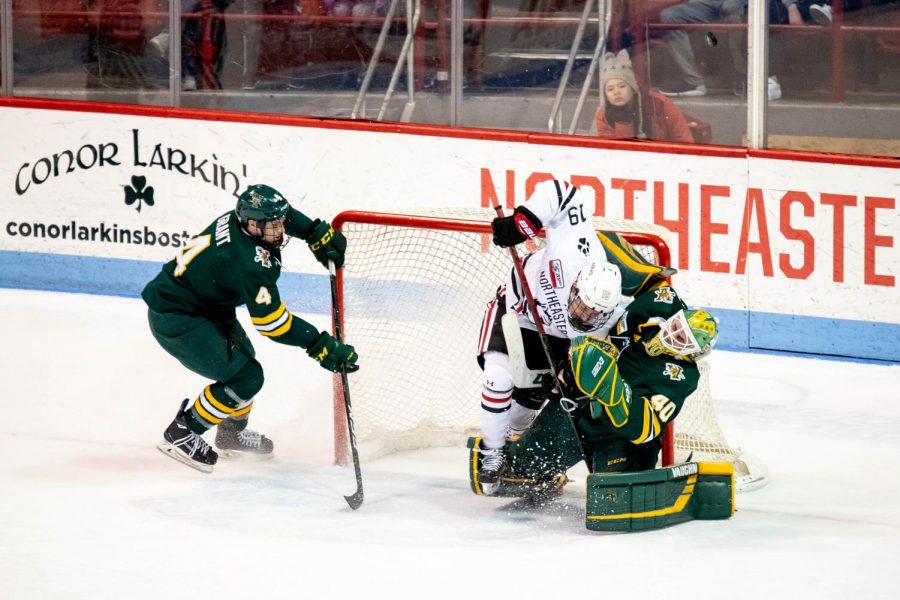 Northeastern badly needed two points out of Friday's game against Vermont, and despite being outshot badly throughout the night, they won the third period, 3-0, and Cayden Primeau turned in another solid game to secure the 4-1 Northeastern win.
Things started slowly for NU in its first game since winning the Beanpot on Monday. The win at TD Garden was an emotional high, but the reality in the standings is a little more serious for the Huskies: After losing at Connecticut last Thursday, NU came into Friday's bout tied for fifth in Hockey East. Friday had the potential to vault them into third or drop them back into a tie for eighth.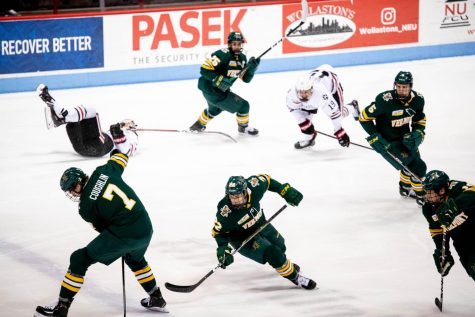 NU went to the locker room for the first intermission after being outshot 16-5 in the opening 20 minutes. After the game, head coach Jim Madigan said his team was "skating in quicksand" during the period. Junior defender Jeremy Davies said they had a sort of reality check at that point.
"We came out flat in the first there, and then we regrouped," Davies said. "It was just realizing what this game meant in the standings and in the Pairwise. You never want to lose in Hockey East this late in the season, and I think that was reflected in our play later on in the game."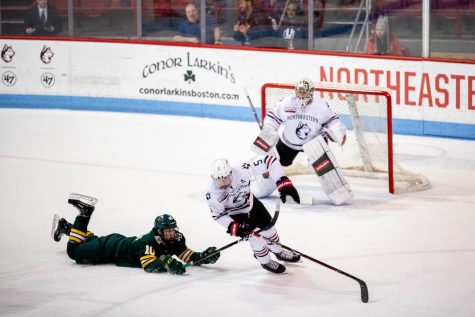 The second period was a closer 8-6 Vermont edge in shots, and NU was able to get a key equalizing goal after UVM opened the scoring early in the period.
At 7:01 of the second, Alex Esposito took a 2-on-1 feed from Liam Coughlin and beat Primeau short side as the sophomore goalie was moving laterally.
It was important for NU to respond before the intermission; scoring has been hard to come by for this team, and UVM had been clogging up passing lanes and blocking shots to frustrate the Huskies all night long.
They got that crucial equalizer at 13:33 of the middle period on a long shot by defenseman Ryan Shea. John Picking found the puck in the corner, turned and made a nice pass out to Shea at the point, who floated a shot through traffic that somehow got past UVM goalie Stefanos Lekkas.
NU took the lead for good in a third period that saw them finally find their legs, as Madigan put it after the game. At 4:21 of the final frame, junior winger Matt Filipe found a loose puck at the side of the net with Lekkas down. He pounced on it and flipped it into the goal for the 2-1 lead.
"We challenged them to find a way to win between the second and third," Madigan said. "We're fighting for a playoff spot, they're fighting for a playoff spot. We stuck to it."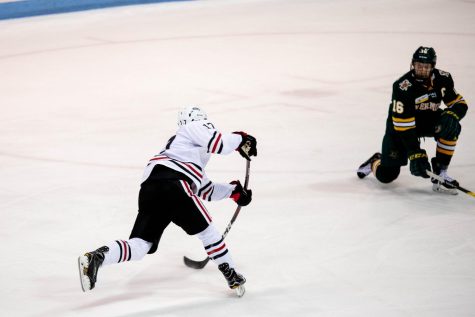 At 17:13, Picking scored on a beautiful shot to to give his team a cushion. He skated down the right wing on a 2-on-1, kept the puck as he drifted toward the middle and shot a laser into the top corner. An empty-netter by Lincoln Griffin at 18:52 to make it 4-1 was more cosmetic than necessary.
Picking notched two points in his first game since January 26th, and Madigan was encouraged by the lack of rust on the fourth-line center.
"I thought he was excellent. He hadn't practiced since January, and his first practice back here was on Tuesday," Madigan said. "He was excellent at the face-off dot, great second effort in the D zone, and he had a big-time shot to create some separation at the end of the game."
Primeau is fresh off a Beanpot MVP award, and bailed out his team again Friday night. His 32 saves were impressive on their own, but the 16 he made in the first period were all-important.
"Without Cayden Primeau in goal, we probably don't get out of the first 0-0. It's probably 2-0 or 3-0," Madigan said.
The Huskies face Vermont again Saturday night with a chance to build off of their critical win Friday.