Anderson leads the way for trophy-hunting Huskies
Northeastern women's hockey is going through a renaissance of sorts: They have made the NCAA Tournament twice in the past four years and look primed to qualify this year. Senior forward Kasidy Anderson has played on all of these teams, and the goal-hungry left-winger has developed into a major threat in front of the net in her final season.
"The support of my teammates and my coaches and putting me in a different role than I've been in the past years has helped me come out every game and try to help lead the team in production," Anderson said.
In the 2015-16 season, Anderson scored seven goals and nine assists for 16 points as a freshman as the Huskies made their first-ever NCAA Tournament appearance.
Her role as a junior in the 2017-18 season was more defined. She finished the year with 27 points on 12 goals and 15 assists. Anderson was third on the team in points, and set a new career high with her assist and point totals (she scored 14 goals in her sophomore year). The team won the Hockey East tournament and made the NCAAs.
Now, Anderson leads the team in goals with a career-high 17 with games still to play. She has also racked up 13 assists for a total of 30 points, which is tied for second on the team.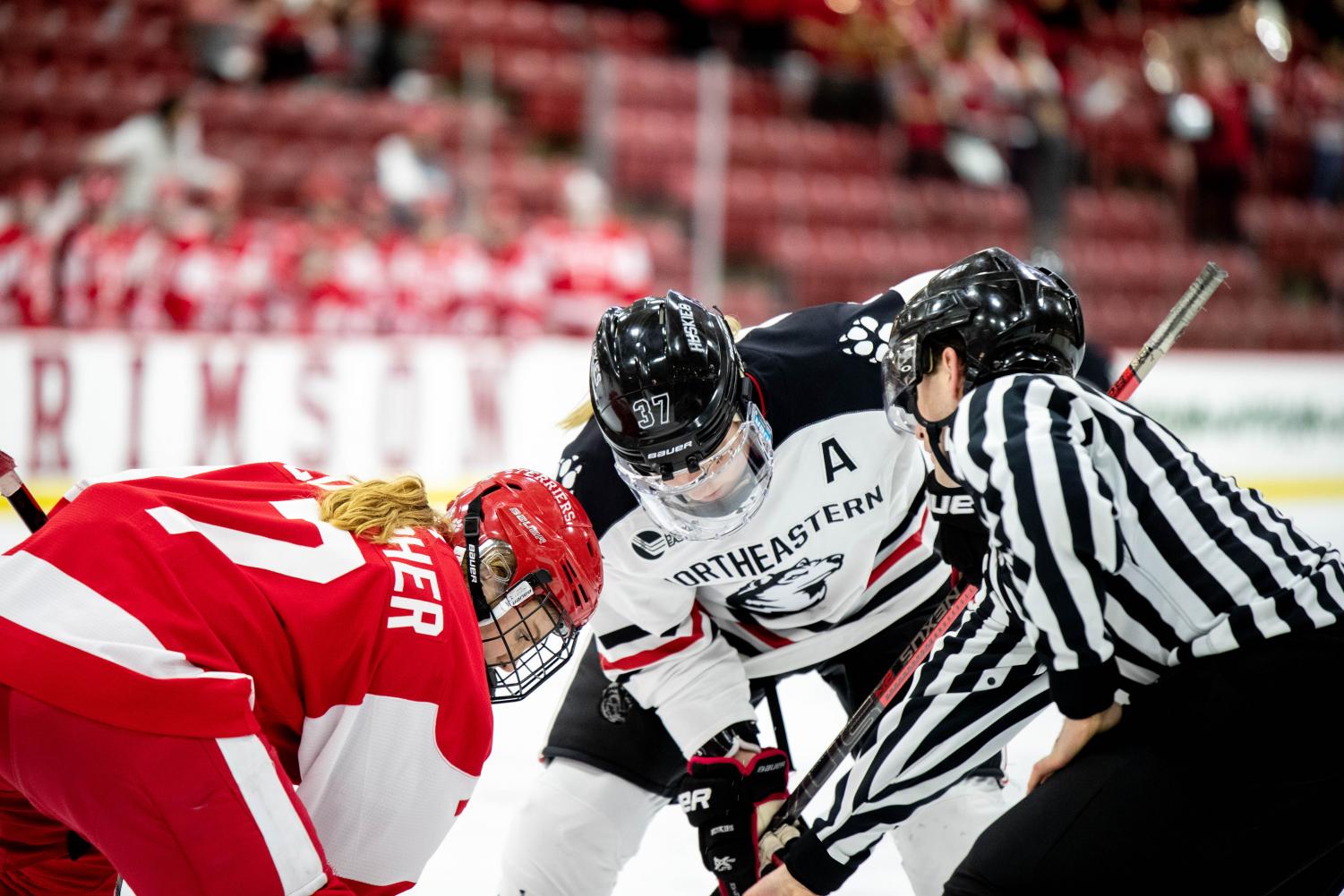 Head coach Dave Flint named Anderson an alternate captain for this season, allowing her to help lead and teach the younger players on the team.
"She's stepped up for us on the ice, and she's serious when she needs to be and funny when she needs to be to loosen the team up," Flint said. "She's taken another step forward this year and been a great leader for us."
Her new role allows her to receive plenty of passes in front of the net from her linemates, putting her in a position where she can shoot immediately. Her linemates this year are freshmen Alina Mueller and Chloe Aurard. The two have provided the team with 70 points combined. Mueller or Aurard have assisted all but five of Anderson's 17 goals.
"Obviously my linemates make it easy for me, getting me the puck and just being able to take a shot makes it easy to finish the play," Anderson said. "They both have incredible hockey I.Q. and they're both very quick with and without the puck. Other than working hard, I don't really have to do much more."
Anderson scored her 50th career goal Feb. 8 against Merrimack, redirecting a shot from Aurard right in front of the net. The goal was originally credited to Aurard, but after looking over the replays, officials determined that Anderson got the final touch.
"The goal itself wasn't ideal, it wasn't very clear that I touched it … Initially it didn't cross my head that it was my 50th goal, and then I got on the bench and everyone started high-fiving me and telling me 'Good job!'" Anderson said. "I've worked hard to do that, so being able to accomplish it is amazing."
Anderson is tied for the conference lead in goals scored while leading (10), and she is tied for fourth in the conference with 14 goals scored in wins. She has also scored 13 of her 17 goals in either the second or third period. The forward has clearly been helpful in finishing off opponents by adding late goals.
"I think I'm a very situational person, so when the pressure's on whether we're down or whether we're up, I think I take that as a positive energy and I think it improves my play," Anderson said. "So when we are up I think all the confidence is there and I'm in the right spot at the right time and I'm able to put it away."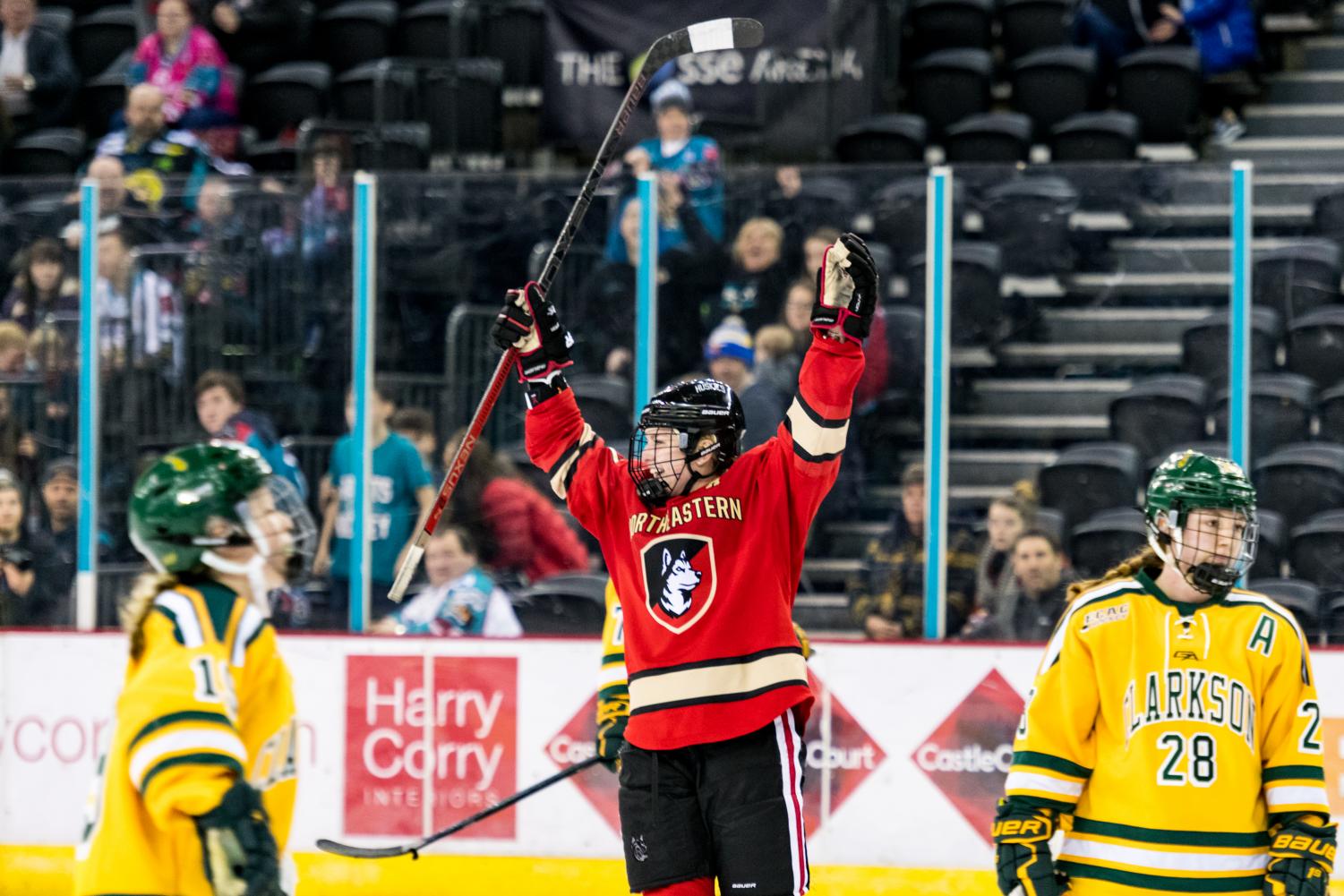 The Huskies' effectiveness on the power play has been a key part of their success this year. Their first power-play unit is only slightly different from their first line at even strength: Anderson, Mueller, Aurard, Veronika Pettey and Brooke Hobson. They roll with a four-forward line to utilize their best scorers. Anderson herself has scored three times on the power play, plus an assist.
"Obviously playing with my linemates every single game, every single shift, obviously makes it easier to go out on the power play and not really have to change much other than Alina being up on the point," Anderson said. "We all complement each other very well and obviously its showing on the stat sheet. [Pettey]'s always in the right spot and I have a pretty easy job of just standing in front."
Flint created the line to try to maximize their efficiency when playing a man up, and it has worked well so far. The unit has scored 15 of the Huskies' 21 power-play goals on the season.
"I'm a fan of power plays where you run four forwards, one D, and we just started messing around with some stuff," Flint said. "You try to get as many goal-scorers as you can onto the unit. We've changed what we've been doing a little bit, but they've had some success and we're kind of rolling with it."
The team clinched the Hockey East regular season title Feb. 16 with a 3-1 win over Providence, marking only the second time in program history that they have done so. The first regular-season Hockey East championship came in 2002.
"It's awesome to work hard all season and finally see it show in a trophy, even though we haven't seen the trophy," Anderson said. "I think the fact that it's the second time in team history, I don't think that's going to hit us until later on when they win the 10th or 11th and we're looking back at it saying 'Hey, we were the second team to do that.' It'd be nice if we were the first, but the fact that we've won it in [our] history, that's awesome too."
They clinched the title with three games still to play in the regular season, capping off a remarkable run that saw them win two of three games against Boston College, beat Boston University twice and tie them once and win two of three against Providence during conference play. Those three teams make up the rest of the current top four in Hockey East.
"Especially in a league like Hockey East where it's competitive top to bottom, for us to win the regular season championship, it's quite an accomplishment for the girls, and we were definitely excited about it," Flint said.
When comparing the past NCAA-Tournament teams to this year's squad, it is evident that the Huskies are in a better position to make the tournament than ever before. Despite having a worse record at this point in the season compared to the 2015-16 team (22-5-4 vs. 25-6-1), they find themselves ranked No. 3 in the country, and No. 4 in the Pairwise, both of which put them in a solid position for the NCAA tournament should they lose in the Hockey East tournament.
"I think this year we've put ourselves in a position where we've kind of taken pressure off ourselves," Anderson said. "Obviously we want to win Hockey East and we have a great chance of winning it, but if things don't fall our way, we've put ourselves in a good position to make NCAAs, and I don't think we've had that position except for my freshman year, but that was even on edge."
Numbers aside, Anderson has an idea of which of the teams she's been a part of is the best.
"I would say this year's probably been the best, and it's honestly such a great group of girls to do it with," Anderson said.