Huskies protect home court against disruptive Dukes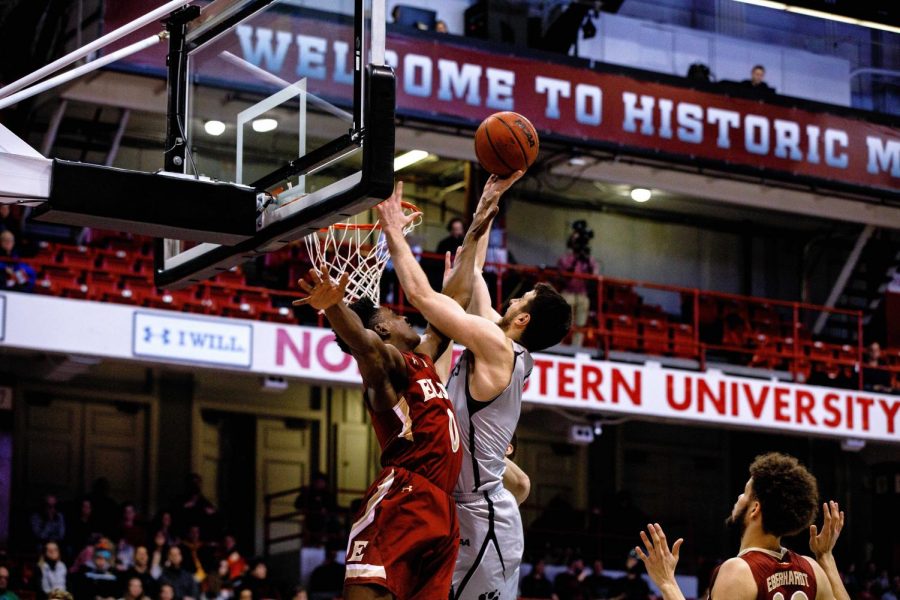 Despite seeing its 21-point lead cut to just one, Northeastern bookended Thursday night's action with a pair of strong runs that proved to be too much for James Madison. The Huskies walked away with a comfortable 76-60 win in their penultimate home game of the season.
Northeastern (17-10, 11-4 CAA) doesn't often hold the size advantage, but it did tonight, and certainly exploited that early on — Northeastern notched a trio of offensive rebounds in the same possession that somehow didn't end in a made basket, and senior center Anthony Green drew a roar from the crowd when he finished off a missed layup from senior guard Vasa Pusica.
Things got even worse for James Madison (12-16 5-10 CAA) when forward Dwight Wilson, who leads the team with 7.8 rebounds per game, was forced to sit after picking up two personal fouls in less than three minutes. This opened up the paint for Northeastern on a night when the 3-pointers weren't falling at their usual rate — the Huskies only managed to connect on two of seven attempts from deep in the first half against the second-best 3-point defense in the conference.
Head coach Bill Coen likely couldn't have asked for a better start on the defensive side of the ball. Junior guard Donnell Gresham Jr. drew the task of slowing down guard Stuckey Mosley, James Madison's leading scorer and fifth-highest scorer in the CAA with 17.6, and managed to hold him to just two points on 1-7 shooting in the first half.
It was a similar story for the rest of the Dukes early on. At one point they trailed Northeastern by 18 before picking up just their second field goal of the night with 10:17 left in the first half.
The tide turned shortly after NU senior guard Vasa Pusica picked up back-to-back fouls on the same defensive possession and went to the bench. The Huskies' offense grinded to a halt and gave James Madison a window to get back into the game after a dreadful start. The Dukes broke off an 8-0 run with Pusica on the bench, prompting the Serb's risky re-entry with 8:10 remaining. It was a scrappy end to the half, but Northeastern maintained a 33-26 advantage at the break despite a poor shooting from beyond the arc.
"I think [James Madison] has got really good size and length on the perimeter," Coen said after the game. "But I also thought [Jordan Roland] missed some open 3s that he normally makes, he's a rhythm guy. [Bolden Brace] had a couple that he normally makes, but we're good shooters."
The start of the second half gave the Huskies the same scares that ended the first. Missed opportunities off of turnovers and offensive rebounds haunted the Huskies, and their lead was cut to just 37-36 after Wilson got a layup and free throw to go. After switching to a bigger lineup, however, Northeastern found some success continuing to attack the paint. Sophomore forward Tomas Murphy found Green after a nice drive and dump-off pass to set up an easy dunk, and Green got another layup to go despite a foul to give the Huskies a 46-38 lead with 11:46 left.
"It's definitely a change-up that I think is good for when we need to go big in there," Green said of his partnership with Murphy, who added 12 points on 5-10 shooting.
Back-to-back 3s from Gresham and Brace gave Northeastern some breathing room, and a layup from Murphy on the fastbreak gave the Huskies a 57-42 advantage with 8:00 to go. After warding off James Madison's formidable push earlier in the second half, the game never looked close again, and the Huskies were able to coast to a comfortable 76-60 victory.
Green picked up his third double-double of the season (and his second in three games) in what was an all-around performance — he ended the night with 17 points on 7-8 shooting, plus 3-5 from the free throw line, and added 11 rebounds.
"[Pusica] and [Roland] were just finding me at the right time and we figured out kind of how [James Madison] were going to play, so I was in the right place at the right time," Green said.
Pusica led the team in scoring once again, racking up 19 on an efficient 7-13 shooting to go with seven assists. Junior guards Gresham and Roland both added eight points on 3-7 and 3-9 shooting respectively.
In conference news, Northeastern will enjoy a small cushion in second place ahead of the College of Charleston, who lost this evening to William & Mary, 86-84. An impressive performance from Towson took first-place Hofstra to double overtime, but fell in the end 91-82, allowing Hofstra to virtually clinch the top seed in the tournament.
With the win, Northeastern moves to 17-10 (11-4 CAA) on the season and sits tight at second in the conference. James Madison falls to 12-16 (5-10 CAA) with the loss. The Huskies will take on Towson Saturday at Matthews Arena for the final home game of the season.