At NU conference, environmentalists stress communication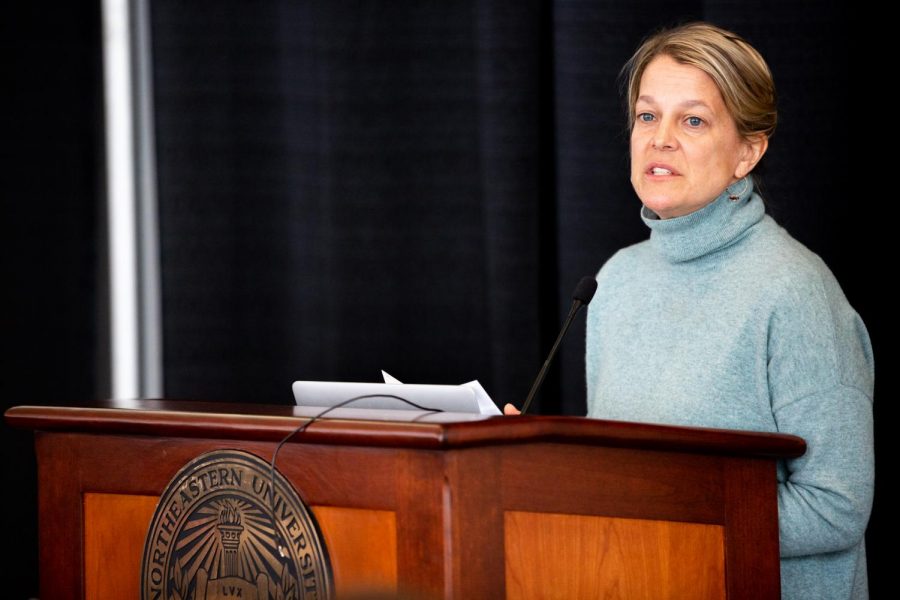 Environmentalism can no longer just be the realm of Yellowstone rangers and marine biologists: Bethany Wiggin, a climate activist who has embraced "transdisciplinary" efforts, said at a Northeastern University climate change conference that academics and advocates concerned about the environment need to learn how to communicate with ordinary people.
Wiggin's "Climate Change and Pedagogy" presentation was the keynote address at the Northeastern University "Climate Change/Crisis/Creativity" conference, organized by NULab. The conference, held in the Raytheon Amphitheater Friday, brought academics from a variety of disciplines together to discuss environmental issues.
Wiggin, who is the founding director of the University of Pennsylvania's environmental humanities program, said that transdisciplinary efforts in environmentalism, exemplified by the mix of science- and humanities-oriented perspectives present in the conference's talks, are becoming more important as environmental issues increasingly threaten to affect the general public.
"The environment is no longer 'out there,'" Wiggin said.
To illustrate her point, she showed the audience a map of Boston's land area in 2100 after a projected sea level rise of 10 to 12 feet. There wasn't much left to see.
The vast majority of the people affected by the catastrophes caused by climate change would not be academics, and ordinary people aren't likely to trust academics completely, according to the Pew Research Center.
In order to convince the general public that change is needed, environmentalists need to stop relying so much on scientific data, Wiggin said. While their efforts should still certainly be staunchly rooted in science, a more human approach to messaging, like art, might better connect with people.
The response to Wiggin's message, and to the conference as a whole, seemed to be positive. Shalanda Baker, a law professor at Northeastern who gave a "lightning talk" toward the beginning of the event on the social justice implications of a transition to renewable energy, said the transdisciplinary representation even among the conference's group of speakers was inspiring.
"We have such a great corps of people doing climate and energy work," Baker said.
The conference highlighted speakers from various Northeastern departments and colleges, along with a few artists unaffiliated with the university.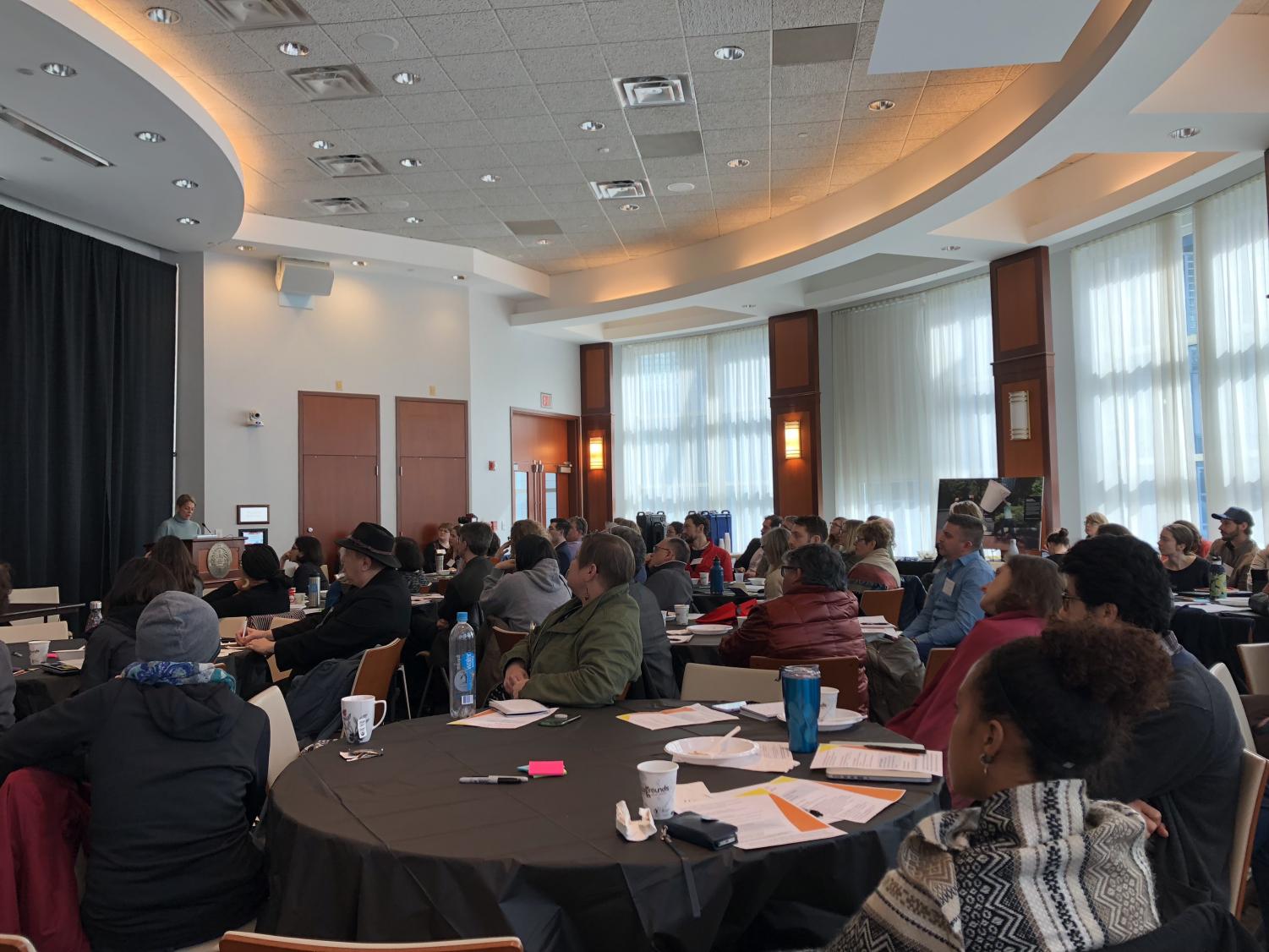 Outside the conference, though, not many activists are eager to pick up their paint brushes in defense of transdisciplinary environmentalism. Wiggin thinks that's a problem.
"If we think about the environment at its most basic, there are so many ways of thinking about it that it's strange we think about it through science exclusively," she said.
Of course, there are concerns raised by this position. In the past, purists have been critical of any shift environmentalism makes away from deep scientific roots. This movement, however, is more an expansion of science than a deviation from it: Communication skills have power, and they can be used to magnify the impact of the scientific field, Wiggin said.
"We need to move away from the assumption that technical skills will fix this problem," Wiggin said. "Sometimes I talk to parents who say, 'Why is my child majoring in English? I'm so worried.' What I always try to say is that communication skills are really valuable […] Rhetorical power is the power to touch hearts."
She went on to discuss her own experience touching hearts for environmentalism, including her collaboration with a group she referred to as "the real EPA" — she later explained they called themselves the Environmental Performance Agency. She also described her leadership in Data Refuge, an international public archiving project she said began as fears of government data-purging intensified. These fears seemed to resonate with the audience.
Attendees came from colleges all over Massachusetts, according to NULab. For at least one, the message stuck. Kyle Peet, an environmental sustainability professor at Regis College, said that after hearing just the first half of the conference's speakers, he had a new understanding of the environment's relationship with ordinary people.
"Communicating science to the masses is a fundamentally important thing," Peet said, "but also difficult."