An outsider's guide to the 2018-19 NU Huskies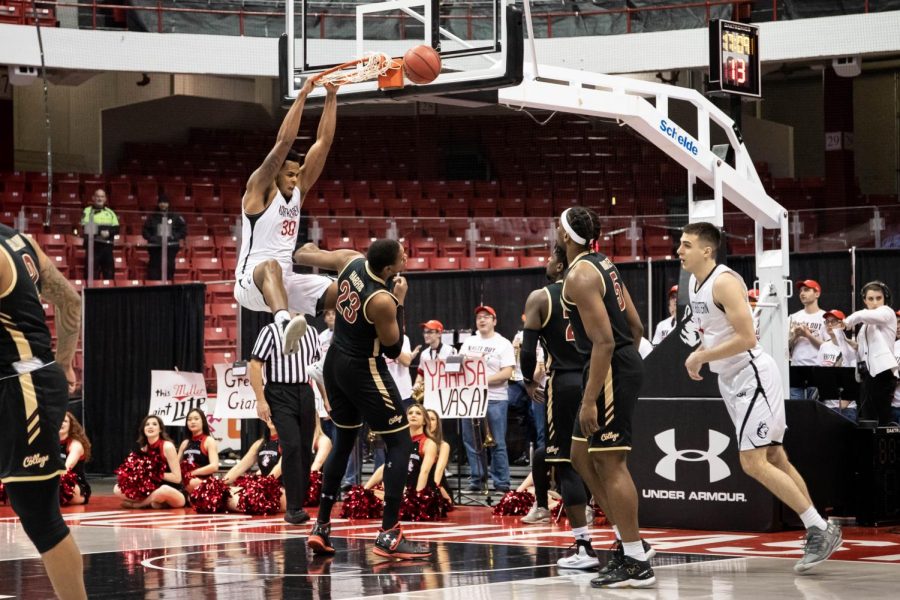 Anything can happen in March. At least that's how the saying goes in college basketball when 68 teams are dropped into one massive bracket and a three-week marathon churns and twists until one winner is spat out in early April. Though the winner is often a nationally-ranked team, mid-major teams make their mark on the bracket every year. Huge upsets have etched the names of certain schools into the mind of the American sports fan. Lehigh, UMBC, Middle Tennessee and Florida Gulf Coast can all have their national notoriety boiled down to one basketball game in March. Teams like George Mason and Loyola-Chicago are remembered for their improbable runs to the later stages of the tournament.
A mid-major team probably won't win the tournament in 2019, but at least one will wreck brackets nationwide. Maybe more than one. Basketball fans everywhere will be wishing they knew more about that one team before the ball tipped and chaos reigned.
We at The Huntington News will try to do our part to educate the American populace on the Northeastern end of this Thursday's Kansas-Northeastern matchup. As the only newspaper to cover Northeastern basketball on a game-by-game basis, we present this scouting report. We recommend reading this before penciling anything into that $5 bracket due Thursday.
The season
NU entered the season with big expectations. After coming up just a couple points short in the CAA title game last year against Charleston with a very young team, they were the consensus pick to win the league this year. They didn't nab the regular season title — they finished 14-4 in the league, a game behind 15-3 Hofstra. But they did capture that elusive CAA tournament title, their first since 2015.
An emotional win over Charleston in the semi-final that avenged the prior year's heartbreak keyed the team up for a pretty commanding win in the final game. Things got tight during the second half, but NU iced it calmly at the end.
The Huskies had an interesting non-conference schedule. They started off with a bizarre loss to an inferior Boston University team at home but beat Harvard on the road three days later. They had a tough slate of Power-5 matchups: A win over Alabama and losses to Virginia Tech and Syracuse were the most high-profile tests. A pair of losses to Davidson and one to Vermont were regrettable, but commanding wins over Eastern Michigan, Oakland and Bucknell gave validity to the preseason predictions.
The starting lineup
Vasa Pusica, 6'5" senior guard
Pusica came to Northeastern last season and quickly became the lynchpin of the offense and a good defensive guard. After an injury that delayed the start to his season, he took his game to a new level and became an even more commanding court presence and efficient offensive player, earning himself All-CAA First Team recognition. When he's on the court, the offense will run through him. He can deliver assists, drive for the reverse layup and shoot the three. His seven 3-pointers in the conference championship game kept a persistent Hofstra team at bay.
Key stats: 34.9 minutes per game, 17.8 points per game, .497 field goal percentage, .401 3-point percentage
Jordan Roland, junior guard
Roland transferred into Northeastern from George Washington this season after redshirting last year, and he turned out to be a key addition to a group that had almost all of its talent returning from last season, earning All-CAA Third Team honors in the process. He made his shooting prowess felt right away in the second game of the season at Harvard when he dropped 35 points on 7-10 3-point shooting and 10-11 free-throw shooting. He canned 97 3s on the year (tied for the program's single-season record) and adds a sharpshooting threat that NU doesn't exactly have otherwise. Several other players can shoot the occasional triple, but nobody is this much of a constant worry for opponents.
Key stats: .903 free-throw percentage, 14.7 points per game, .408 3-point percentage
Bolden Brace, junior guard
Brace won the conference's inaugural Sixth Man of the Year award last season but was ineligible this year because he moved into the starting lineup from day one. He's been efficient from three and is third on the team in assists. At the risk of sounding unscientific, he hustles quite a bit. He's the one flat-out sprinting around the floor when the team is holding the ball on offense, beating opponents to rebounds and making cuts to the rim. His tenacity was on display during the conference championship against Hofstra, where he came up one assist short of a triple-double while playing all 40 minutes.
Key stats: 10 points per game, six rebounds per game, 88 assists, 31.3 minutes per game
Donnell Gresham Jr., junior guard
Gresham is perhaps the most underrated member of the team. He can bring it on defense (he shut down Justin Wright-Foreman in January when Occeus was out with an injury). He pulls down 4.8 rebounds per game. Though not one of the first options, he can bring it on offense when called upon. He's registered double-doubles on four occasions from his position on the wing and dropped 26 in a win over Oakland Dec. 8.
Key stats: .416 field goal percentage, .393 3-point percentage for 55 made shots, 104 assists
Anthony Green, senior center
Green is the traditional big man on a guard-centric roster. He enjoyed career highs in scoring, blocks, rebounding, free-throw efficiency, field goal percentage and minutes. He is an important inside presence when teams go big on the Huskies, and he's a good target for Pusica to send the ball into the paint. His big dunk sare a staple of the Northeastern offense and they certainly get the crowd more involved. He has yet to attempt a 3-pointer in his four years at Northeastern, so the NCAA Tournament will be his last chance to do so.
Key stats: 8.9 points per game, 5.4 rebounds per game, 26 blocks
The reserves
Northeastern's bench is used heavily. Sophomore forward Tomas Murphy frequently gives Green a chance to go to the bench, scoring 8.2 points per game and shooting a surprising 12-26 from 3-point range in 19.2 minutes per game. He scored 21 and added 12 rebounds in a big win over Towson on the final day of the regular season. Shawn Occeus was projected to be a starter this year, but injuries slowed the junior guard and defending CAA Defensive Player of the Year all season. He came off the bench and was a crucial player in the CAA tournament, scoring 17 in the semifinal against Charleston and limiting Hofstra's Justin Wright-Foreman to an eight-point first half in the final. Look for him to get on the court early and often in the NCAAs.
The coach
It's a diverse roster without the traditional roles that make coaches' lives easier at some other schools. Bill Coen, in his 13th season as head coach, has reached the NCAA Tournament for the second time because he's come close to mastering this rotation, making adjustments as players develop skills or go down with injuries. He's done a fine job getting the most out of players like Brace and Gresham and gives Pusica the confidence he needs to steer the whole thing.
"This tournament is all about matchups. I think we've got good point guard play, we share the ball well and make shots. That's team basketball. That translates no matter what level you play," he said on Sunday of his team's chances in this tournament.