Cole's past experience brings success to NU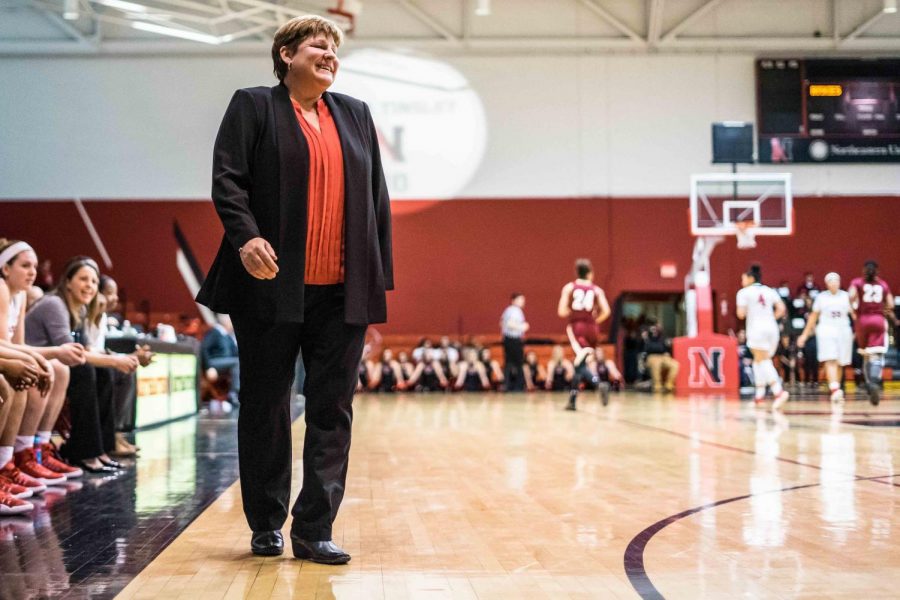 Vincent van Oorschot, news staff
March 19, 2019
Kelly Cole, who was born in Portland, Oregon the daughter of two teachers, Midge and Lloyd Cole, never had much of an opportunity to be involved in sports at a young age. Her elementary school did not offer competitive girls' sports at the time.
But Cole's father Lloyd was a part of the Western Oregon State old men's basketball team, competing against teams across the state. Whenever travel was involved, his daughter Kelly always tagged along. This is how Cole found her love of the game.
Going to practices, going to games and keeping score for her dad's team always kept Cole around the sport but never in it. However, during one game in particular in which her father's team was up by a wide margin in the fourth quarter, he subbed in his daughter.
"Just say your name is George!" he exclaimed as the young girl sat on the sideline. Cole could do nothing but let out a big "Yes!" and run onto the floor to match up on the first man she saw. This was her introduction to competitive sports. Fast forward a few decades, she's in her fifth year as head coach of Northeastern women's basketball, a program she's steered to new levels of success.
Cole has 32 cousins, 28 of whom are boys, which led to an abundance of competition growing up. Her brother was an All-State long-distance runner in college who competed in Olympic trials.
She has personally never verified this claim, but according to officials at the time, she has her name in the Naismith Memorial Basketball Hall of Fame as a result of being the National Champion in the NBA Pepsi Hot-Shot competition while she was in the seventh grade.
Being at the helm of Northeastern's women's basketball program for five seasons certainly enough time for head coach Kelly Cole to have experience some highs and lows during her tenure as a Husky.
"She's a great role model for all of us, and she's just passionate about the game of basketball," said senior guard Jess Genco. "She just keeps pushing us and keeps us accountable, and that makes her teams successful."
Friday night, the Huskies were eliminated from the CAA tournament by Drexel, and true to form they fought to the very end of overtime. This team, the program's best since 1999, will battle at least once more in the WNIT on March 21 against Butler.
Junior guard Shannon Todd admires the togetherness that Cole has facilitated in their group.
"Most of the time the girls don't feel like teammates, they feel like more than that. The bonds we have are really quite special," Todd said.
After graduating from St. Mary's Academy High School in Oregon, Cole received an offer to study and play Division I Basketball at Northwestern in Evanston, Illinois, where she developed under head coach Don Perrelli. During her five years at Northwestern, the Wildcats made it to the NCAA Tournament four times.
It was during her junior and senior years that Cole started to take on leadership roles as captain, and naturally she had back-and-forths with the coaching staff. This is where she started to learn and understand the mental aspects of the game of basketball.
"It's like chess," Cole said. "You have to adapt to what your opponents throw at you. If you get in foul trouble you have to shift the game plan. If your opponents shake up their offense you have to shift the game plan."
A couple years after Cole completed her degree at Northwestern, she needed a job, and after a few unsuccessful applications, she packed her car full of her possessions and drove east.
Upon arriving in Boston, she had interviews set up with St. Augustine's, Boston University and Brown, but those led to dead ends. After a couple of weeks, Perrelli called on Cole to be an assistant coach back at Northwestern, thus starting what has become an extensive coaching career.
After two years by Perrelli's side, a job opening presented itself at Boston College as an assistant coach. After applying for the role, she received an offer and ended up spending nearly a decade alongside Eagles head coach Cathy Inglese.
"It was a great growing experience for me," Cole said. "I got into the program when they were just starting to take off and they hadn't done a lot on a national scale yet."
Inglese and Cole developed a very strong friendship over the seasons they worked together. The coaches were nearly polar opposites in their approach to game preparation, training and tactics. Cole, who knew Cathy's mindset like the back of her hand, would always take a more laid-back and controlled approach, whereas Inglese tended to be more vigorous with her training and strategy in-game. Cole referred to the combination that earned three Sweet Sixteen appearances and a Big East championship as "fire and ice."
"Coach Cole is a phenomenal teacher of the game. She possesses a tremendous work ethic, is a great communicator, has a fun spirit, and has a passion that rubs off on others," said Baptist Bible College head coach Amber Jacobs, who was one of Cole's players during her days at Boston College.
After Cole gave birth to her three children, she left her job at Boston College to spend more time with her family and didn't coach again for approximately six years. But as her kids grew and headed off to school, Cole realized she could start to work again.
Following a conversation with old friend Kathy Delaney-Smith, who still presides as the head coach of Harvard, Cole accepted a job as an assistant coach of the Crimson.
During her time at Harvard, Cole learned an entirely new approach to coaching under Delaney-Smith.
"When I left BC I thought I knew everything," said Cole. "Just taking in a whole new perspective on motivating players, running practices and being a prominent voice from the sideline really did a lot for me in the long-run."
In the months following her second year at Harvard, Cole was alerted to a potential head coaching opening at Northeastern. However, she was hesitant to leave her post for numerous reasons, such as convenience for her family, good salary and job flexibility.
But at the suggestion of many friends and family, Cole was persuaded to check out the campus on Huntington Avenue.
"I fell in love when I got here, it was not the Northeastern I thought it was," Cole said.
On previous occasions when Cole had coached against Northeastern and she always got the vibe that "Northeastern was kind of the ugly step-child of the Boston schools at the time."
Peter Roby, the Northeastern athletic director at the time, was a major influencer in enticing Cole to make the transition back in 2014. What stuck out to Cole since she had last been at Northeastern was the transformation of the campus as a whole, and the improving results in the academic departments.
Ultimately it was the administration's dedication to the students that won Cole over to Northeastern.
"It's the main thing that you look for when you're searching for a head coaching gig," Cole said. "That and being in a competitive conference, and it was the perfect mix here at Northeastern."
Growing up the daughter of two teachers back in Oregon, education has always been a major part of Cole's life and helped her guide her path to where she is today.
"They are the reason I got into basketball and coaching, and I will never forget that," Cole said of her parents.
Kelly Cole will return as head coach for the Huskies in the 2019-20 season.