Women's History Month Symposium raises new ideas on feminist resilience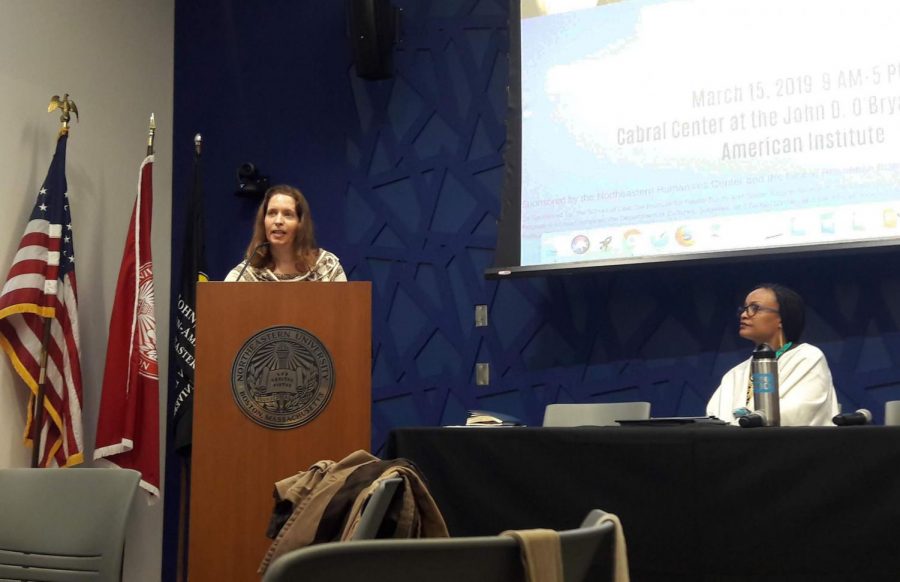 The sixth annual Women's History Month Symposium on Friday brought various scholars, activists and community organizers together to examine the gendered aspects of resilience. They discussed the current limitations of resilience and ways to reimagine it.
The event was organized by Northeastern's Women's, Gender and Sexuality Studies Program, or WGSS, and was sponsored by the school's Global Resilience Institute. More than 60 attendees gathered in the John D. O'Bryant African American Institute for panel sessions throughout the day.
Kiki Samko, the WGSS program coordinator, said this year's theme of feminist resilience was inspired by the recent rise of dialogue surrounding resilience in academia.
"We really wanted to question what it means to be resilient and if it's always a good thing," Samko said. "We wanted to ask if there's a way we can analyze and critique it through a feminist lens and come to a new meaning of what feminist resilience could look like."
Samko also said she and the other organizers brought in people from various fields to promote a broad discussion around how feminist resilience applies to different professions.
Panelists included Stephanie DeCandia, programs director at Boston Area Rape Crisis Center, or BARCC; Shalanda Baker, professor of law, public policy and urban affairs at Northeastern's School of Law and Tania Rosario-Mendez, the executive director of Taller Salud, a non-profit that seeks to improve women's access to health care.
DeCandia, who works closely with survivors of rape and sexual assault, spoke about the challenges both survivors and advocates such as BARCC face with legal systems. She said those systems try to determine how a victim should emotionally respond or act. Survivors are also asked to provide large amounts of personal data, such as clinical records, for cases to even be considered.
"There's no right or wrong way to be in this world as a survivor, to decide what your healing is," DeCandia said. "The definition of justice is as individual as we all are. We really need to remind ourselves of that and that the survivor is the expert in their life and in what they need."
DeCandia also said it's important for advocates to make sure survivors have access to a system that fits their needs and sensitivities. She said they can do this by believing survivors' stories and doing their best to hold offenders accountable.
"The right question is not whether a survivor is resilient," DeCandia said. "It's whether a system is accessible, meaningful and responsive to the survivor. We as advocates should remind ourselves that the outcome may not be the ultimate thing for someone. It may be much more about how empowered the survivor felt throughout the process and how they were treated."
Other panelists raised similar perspectives on resilience in regards to its impact on energy justice. Rosario-Mendez, the executive director of Taller Salud, said Hurricanes Irma and Maria had different gendered impacts on communities in Puerto Rico and that calling them natural disasters placed the responsibility on something that was not a human cause.
Similarly, Baker, a professor at Northeastern's School of Law, spoke about anti-resilience in the context of energy justice. Baker said that Port Arthur, Texas is home to some of the largest oil refineries in the world. She said that pollution from the oil refineries has turned it into a sacrifice zone, an area that has been permanently damaged by environmental destruction.
Baker also said that sacrifice zones like Port Arthur are often low-income minority communities that are devastated when it comes to phenomena like hurricanes.
"Anti-resilience offers a possible framing to avoid replicating the harms of the existing energy system," Baker said. "It is the quality of resisting the obfuscation of systemic violence enacted upon communities of color and the poor in the name of energy. It is the act of engaging in a politics of anti-racism and anti-oppression that exposes the roots of structural inequality and vulnerability and illuminates the path for system transformation."
Many audience members said they gained new perspectives on resilience, which they would apply to their own lives and jobs. Allyson Cartter, who lives in Brookline, said that she came to the symposium to learn how she could apply skills in her field of non-profit communications to political needs and movements.
"One of the questions today was what sort of resources exist for these survivors of trauma themselves, and that seems like a good opportunity to take these communication skills and produce material resources," Cartter said. "It seemed like that might be something that exists or might not exist in various forms, so that was something that certainly got me thinking about what kind of material and actionable items can be produced in terms of framework and guidelines for people who have experienced trauma."
Liz Allen, a Northeastern postdoctoral research associate researching climate change modelling and policy decision making, said she enjoyed hearing the perspectives of the panelists and was looking forward to drawing connections to her own research.
"I think it's good to call into question whether we're just using the word resilience as a blanket term for people who have been systematically oppressed when we have policies that are unfair and dangerous to some people," Allen said. "We should ask ourselves if we're just using the term in a way that says they should just learn to be resilient and bounce back."