James Bay (finally) returns to Orpheum Theatre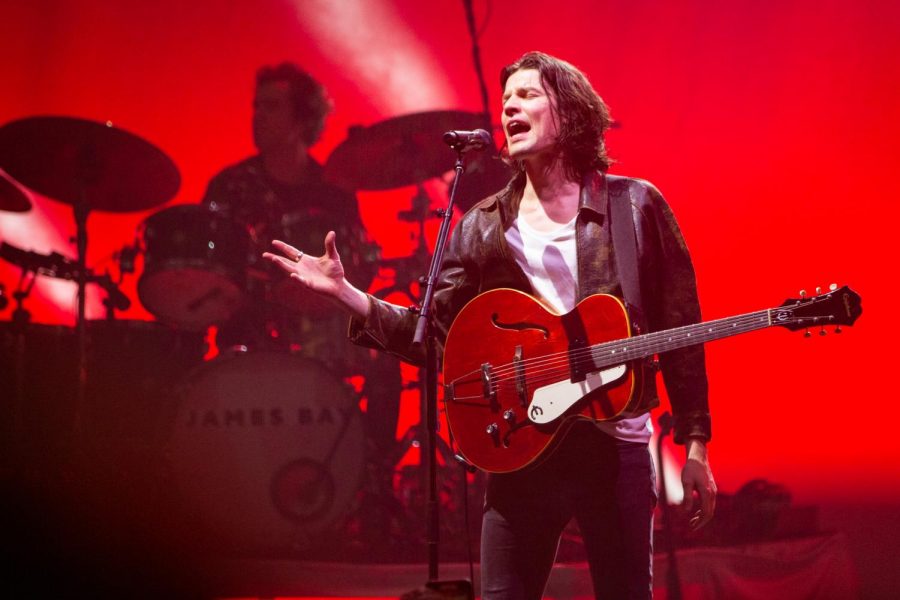 James Bay's Boston fans had waited patiently for this show. After his second studio album, "Electric Light," dropped in May 2018, Bay was scheduled to perform last September at Rockland Trust Bank Pavilion in Boston's Seaport. But in July, he tweeted that 19 United States and Canada tour dates were postponed until this year, writing, "I can't wait to be back with you soon x."
It seemed all was forgiven when Bay stepped onto the Orpheum Theatre stage March 10, greeted by roaring, screaming, stomping (almost entirely millennial) fans.
"2018 was pretty (expletive) wild, so I had to write, I had to get it all out so in 2019 I had new songs for you," Bay said to the audience. His last performance in Boston was April 2018, at Royale.
Bay appeared dressed like an old-school greaser: white T-shirt, jeans, black leather jacket and respectably shaggy hair. A birds-eye view of the theatre, built in 1852, would have shown an odd patchwork of culture chronology: Frescoes of coiffed victorian aristocrats peered down over Bay's onstage rack of electric guitars, all bathed in beams of blue.
A subdued crowd sat in the rows of heavy wood seats and bopped their heads for opener Noah Kahan, the 22-year-old singer-songwriter from Vermont best known for his hit "Hurt Somebody," featuring Julia Michaels. The track went triple platinum in Australia in 2018.
"I used to play open mic nights where it was just my mom and the open mic host," Kahan said. "And they would talk while I played. This is a dream come true."
The audience stood up in a tentative wave when Bay took the stage, opening with "Pink Lemonade" from "Electric Light."
His first album, "Chaos and the Calm," garnered three Grammy nominations for Best New Artist, Best Rock Song and Best Rock Album.
He played a mix of tracks from both albums, backed by four band members under simple strobes — a moody blue for ballads like "Move Together," and flashing pinks for the more fiery "Best Fake Smile." A stagehand swapped out Bay's guitar between nearly every song.
Bay even offered a new, unreleased ballad, prefaced with some self-doubt: "Each time I think, 'Have I really got the (expletive) to do a brand new one?'" Bay said. "The beauty of it though, is that it's new. So if I (expletive) it up, you don't know. The best thing for me though is that it's Boston, and I know they've got my back."
Bay closed the night with his 2015 breakout hit, "Hold Back the River."
"Boston, I mean every word I say," Bay said. "And I'll keep coming back — maybe the rest of my life if you'll let me."