RISE provides students with valuable practice, exposure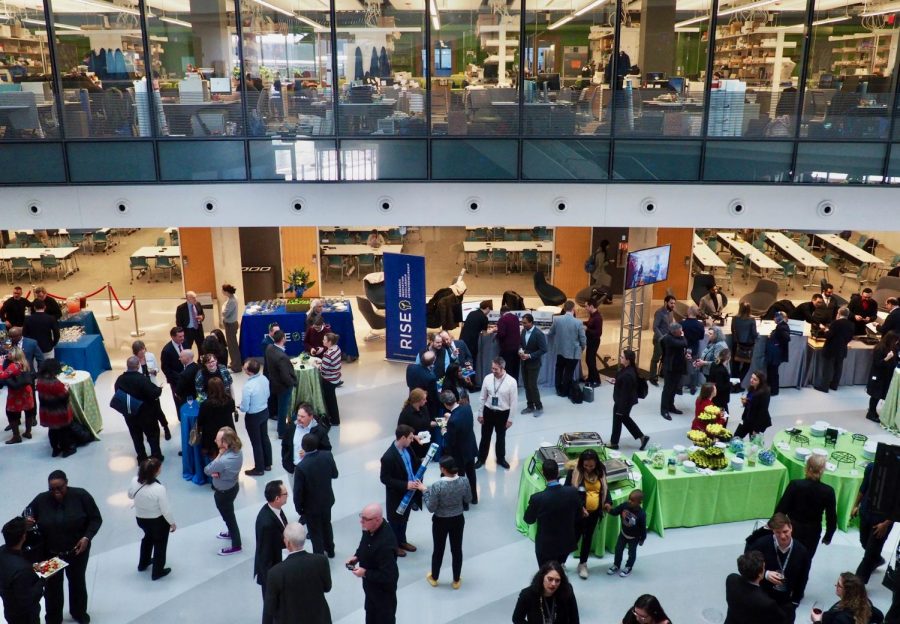 Attendees, judges and investors crowded Cabot Physical Education Center Thursday for the Research, Innovation and Scholarship Expo, or RISE. In its eighth year, RISE spotlights "solution-focused innovations" from Northeastern students and creates opportunities to present in front of a diverse cohort of industry affiliates.
"One of the main research thrusts or cultural thrusts for Northeastern is use-inspired research — research that actually makes a difference," said Brice Tennant, program manager at the Center for Research Innovation and coordinator for RISE. "We take the technology of the labs and we help move it to the living room … we're teaching students how to present their research in a compelling way."
Among this year's 403 presentations, 33 finalist projects moved on to the RISE Awards which were held later the same day at the Interdisciplinary Science and Engineering Complex. The awards ceremony was divided into Focus Awards, Outstanding Student Research Awards and RISE awards.
Zahra Amiji, who took home the Focus Awards Grand Impact Award and a $1,500 scholarship for her research titled "Improving the Consumption of Folic Acid in the Hispanic Population," said she was surprised to win. The Grand Impact Award is given to research that shows the "most judicious means for advancing social, civic and/or environmental equity," according to RISE's website.
"There are so many great projects [at RISE], and there are so many people who are more ahead … I had no expectation to win any awards," said Amiji, a fifth-year health science major. "I thought it was really cool that I did, and I am really happy about it."
After she graduates, Amiji said she will use her award scholarship toward post-undergraduate education.  She will enroll in the George Washington University Physician Assistant and Master of Public Health dual-program.
"I will be taking the knowledge that I learned from RISE and utilizing it to improve preconceptions among minority populations," Amiji said.
Other NU student participants said the event gave them an opportunity to practice their presenting skills.
"I wanted to hear feedback from experienced professionals in different science fields like materials engineers, chemists and biologists, and to that end, it was really successful," said Sebastian Cooper-Hodge, a fourth-year physics and math double major who presented on using weaving patterns and monomers to create structures for multimodal use. "I got a lot of insight from people and new ideas."
Fifth-year pharmaceutical majors Sea Yean and Feisi Huang, who were finalists for their research "A Determining Factor in Colorectal Cancer," said it was important for them to present their ideas to the public.
"I think it's our duty as pharmacists to do some research for not only our careers but show the public the information we know and what we can do as pharmacists to benefit our society," Huang said. "When we find something out, like that a cancer could be preventable or exposure could be reduced, I think it's really important that we are showing and presenting it at any conference that we can."
Yean and Huang also said they used their RISE presentation as practice for the Midyear Clinical Meeting and Exhibition for pharmacy students, which will be held in Las Vegas this December.
Iman Badri, one of 121 RISE judges, said he used the platform within the ceremony to promote his Northeastern-affiliated startup, Deepcharge, which develops wireless charging technologies for phones, laptops and drones mid-flight.
"I think we need more visibility, so we want to present this project to potential investors and even students since it is relevant to the university as well … We are hoping to meet some potential partners to actually share the idea and take the next step," Badri said.
As for the future of the RISE, Tennant said he hopes to expand the program to more humanities majors and to Northeastern's regional campuses in addition to increasing community outreach.
"The other thing I would like to see is community members around Northeastern — literally our neighbors — come to this event and take problems they might be facing and find solutions, find teammates, find collaborators here," Tennant said.