Husky Startup Challenge sees increased diversity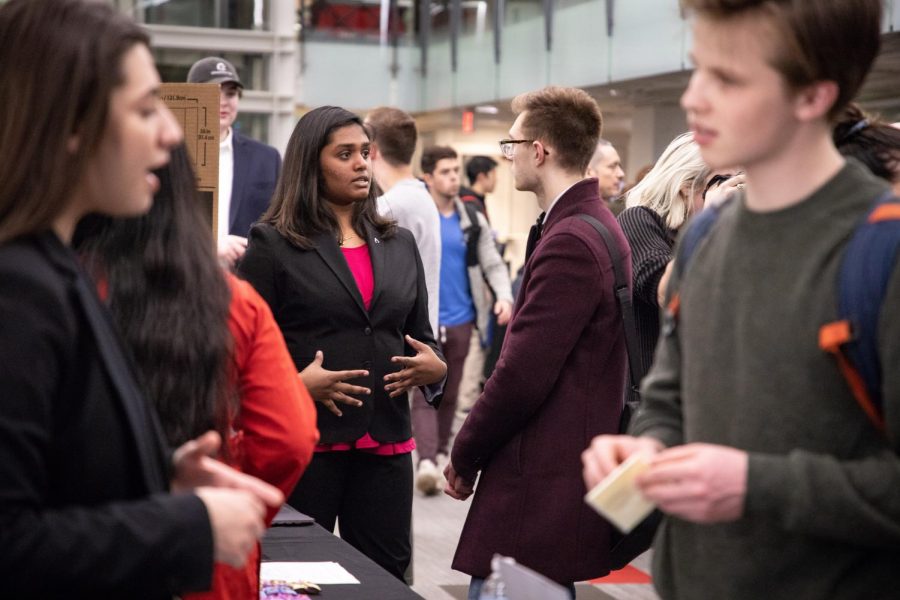 The Husky Startup Challenge, or HSC, held a Demo Day last week, where student-founded entrepreneurial ventures competed for cash prizes. The April 9 event featured over two dozen ventures, ranging from engineering solutions to nostalgia-inducing care packages known as MoodBoxes, in the Curry Student Center ballroom.
Last semester, only a single woman out of 40 finalists presented in Demo Day, a "heartbreaking" statistic for Mia Nguyen, a second-year business administration major.
"I think there was a community that was lacking at Northeastern for strong women to feel comfortable and confident to develop themselves as leaders and entrepreneurs," Nguyen said.
Nguyen is the director of marketing for Northeastern's Entrepreneurs Club and co-founder of the Women's Interdisciplinary Society of Entrepreneurship, or WISE, along with Eliana Berger, a first-year business administration and psychology combined major.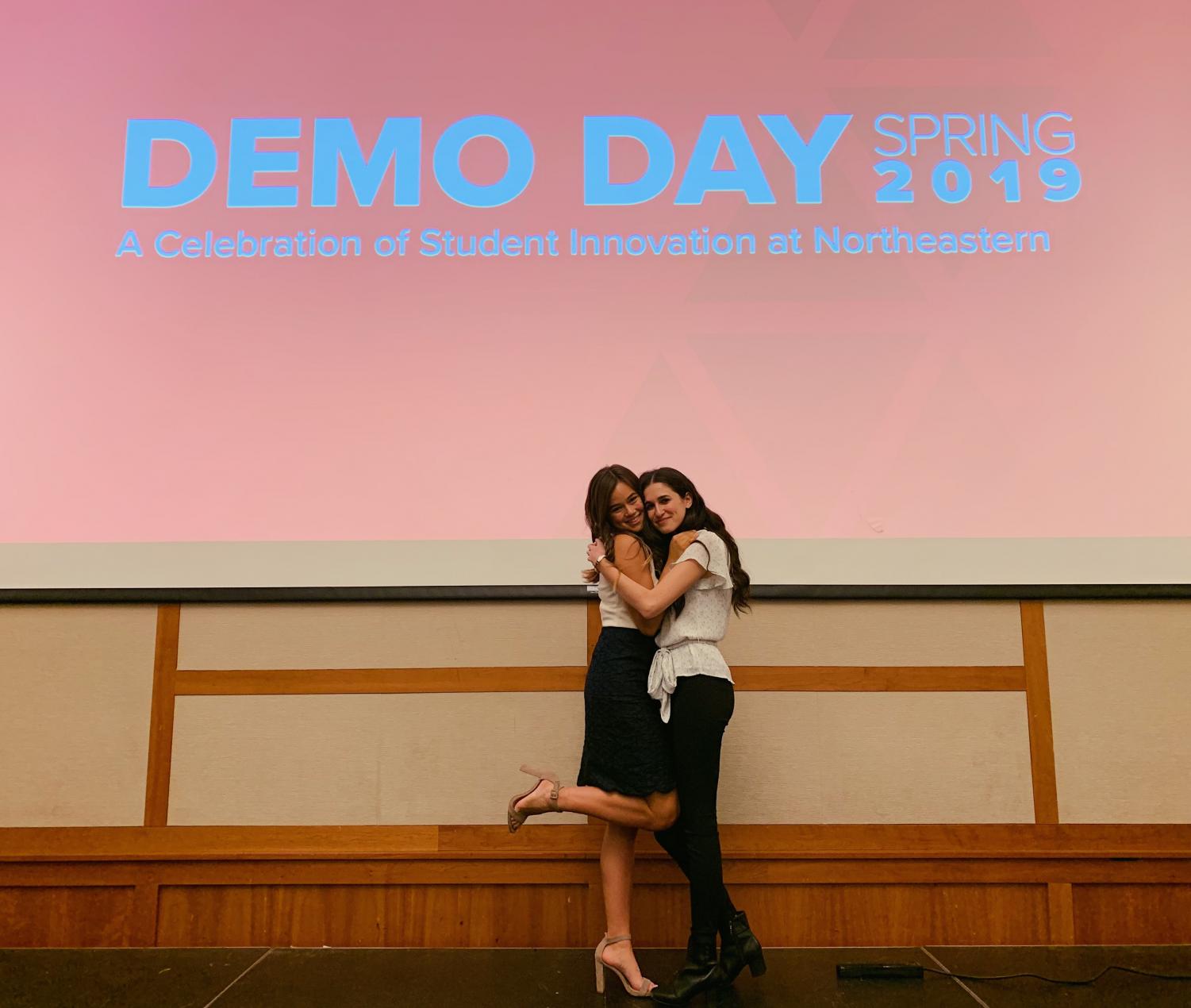 Nguyen said WISE was born out of the need to create a new, cross-disciplinary ecosystem for women entrepreneurs on campus. Nguyen and Berger intend to build a support system for women entrepreneurs and connect them to resources available on campus.
Berger said she experienced discomfort and felt "delegitimized" while serving in leadership positions in high school and that this inspired her to create a place where women like her could form an interdisciplinary community and seek opportunities on campus.
"Because we knew that if we were able to unite all these women that were interested, that needed that extra push, that our community could be a place where everybody gathered, and then felt more comfortable exploring the other resources on campus," Berger said.
This semester, six out of the 12 live-pitched ventures had women in their groups, a fact that Berger and Nguyen see as representative of a broad initiative to make HSC a more communal and empowering process.
"I think a lot of the steps forward this semester is due to the entire pivot the entrepreneurship club made as a whole, and that can be accredited a lot to the co-presidents Keith Corso and Spencer Singer," Nguyen said.
Fluxxio, Melodize and Temp-Z won first, second and third place, along with an audience favorite and social media challenge winner, RejUvenate, an all-women team, and HOMEDOT. 35 ventures started the challenge, 27 auditioned and 12 were selected to participate in live pitching on Demo Day. Prior to the event, a tabling session open to any venture was held for founders to talk with attendees about their companies.
Rebecca Lvov, a second-year business administration major, presented her company 'ButterSlice', that sells butter in a similar way to Kraft cheese singles.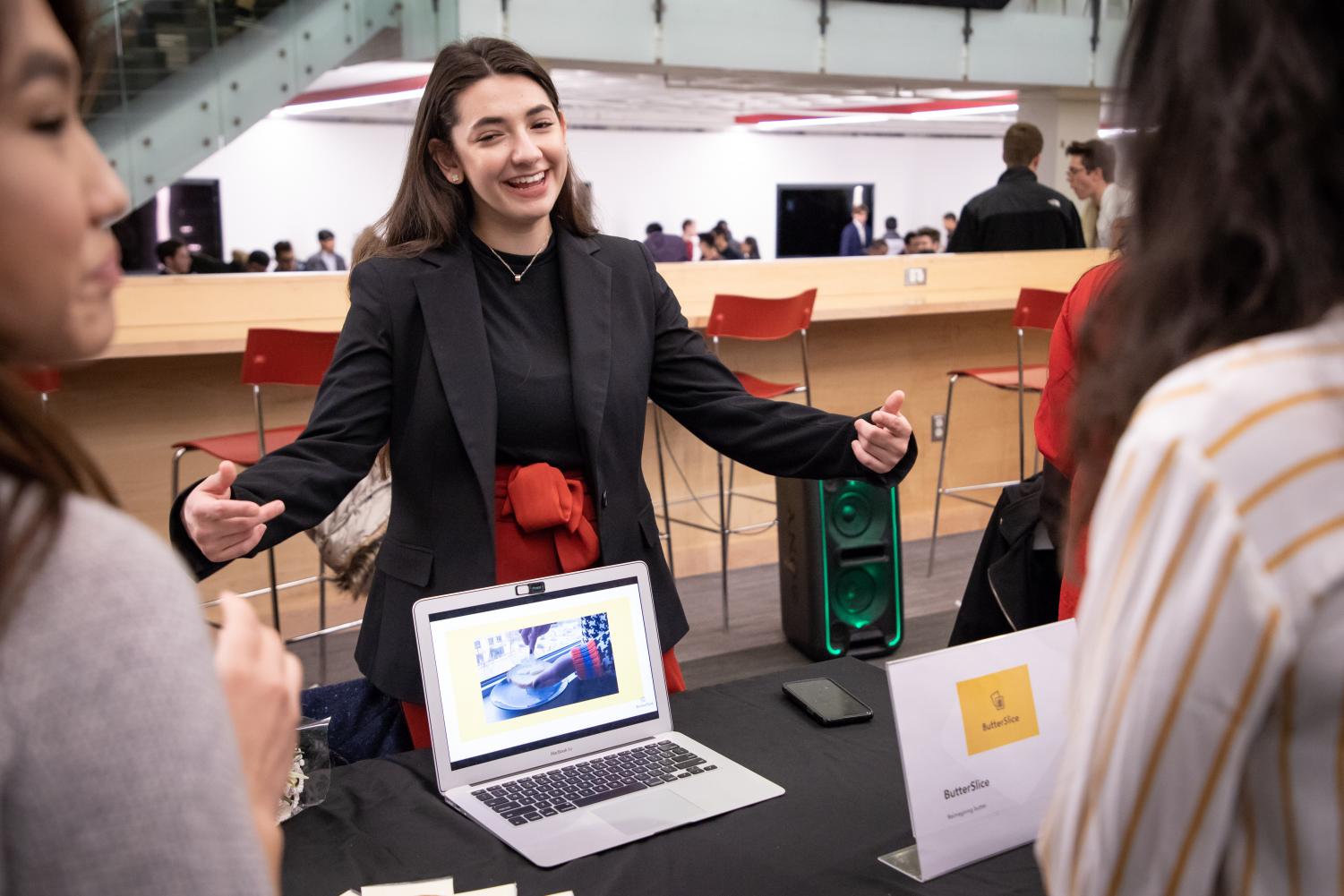 "I started with the idea in high school. I was taking an entrepreneurship class, and I was encountering this problem of putting butter on toast, but the butter was really solid and the toast was so crunchy, and the toast kept on breaking and it wasn't spreading efficiently," Lvov said.
Berger, the vice president of NU's Entrepreneurs Club, said the increase in community through policies like one-on-one mentoring, coaching and office hours was essential to the growth in the HSC.
Fernanda Lopez, a second-year business administration and behavioral neuroscience combined major, and Lucas Espada, a first-year business administration major, worked as directors for the HSC. They created workshops, sourced speakers and guided ventures through the entire process through more programs.
"The other co-director and I gave the focus on making it more human-centric designed so basically, for every boot camp and every workshop, we implemented a value that we wanted to give to this event so whether it was empathy, whether it was courage, whether it was preparation, determination, we always try to add a sense of community and human aspect to every business lesson," Lopez said.
Berger also emphasized the increase on building community and said that marketing HSC to WISE members was an important priority.
"I think it was because Lucas and Fernanda were focusing so much on community. And I think we also made sure that we were marketing Husky Startup lab from the beginning," Berger said.
Lopez said she believes the formation of clubs such as WISE is a great accomplishment but that it should also serve as a starting point for more diversity initiatives by clubs on campus.
"It's very important for all organizations on campus to realize that the fact that an organization focused on women had to emerge is something amazing, but it also is a call for action for all organizations on campus," Lopez said. "It's a great way to understand that we need to build diversity, it's a value that we want to show to people that clubs are taking the matter seriously."
Nguyen said WISE intends to further expand encouragement of female-driven entrepreneurship.
"We're here to let women know that it's okay to fail, it's inevitable," Nguyen said. "We're here to increase their confidence, hype them up, help them connect with other strong women and get them ready to utilize all the amazing resources on campus."