Schedule preview: Brutally difficult start to men's hockey season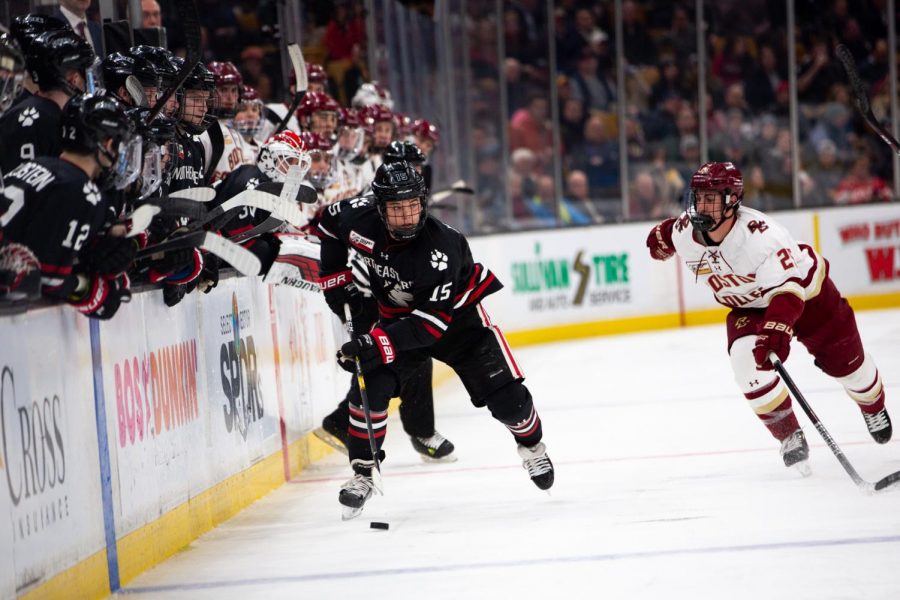 The Northeastern men's hockey schedule is all set, aside from game times and a couple in-season tournaments. The slate is finalized and the team can see who they'll need to beat to  repeat as Hockey East champions and, for a third straight year, win the Beanpot and qualify for the NCAA Tournament — all three of which would be unprecedented. Here are a few things to note about the Huskies' 2019-20 schedule.
Brutal start:
The beginning of the Huskies' schedule will be a massive test for the team:
The Huskies open with a pair on the road at Union College. The Dutchmen were 20-13-6 last year, including 12-3-3 at home. Their road record wasn't as strong, but they went into Matthews Arena and won two against NU, so that's little comfort. 

They get to come home after the tough Union trip… and face last year's national championship runner-up, UMass-Amherst. Yes, the Huskies did beat them at Matthews last year, and the Minutemen graduated the incredible defender Cale Makar. But that win Jan. 19 saw the Minutemen badly outshoot NU, who survived thanks in large part to goalie Cayden Primeau, who left the school to begin his professional career with the Montreal Canadiens.

After a home date with Holy Cross, the Huskies go back on the road for two at St. Cloud State, who only went 30-6-3 last year, 17-0-1 at home.

The early onslaught ends Nov. 1 and 2 with a home-and-home with UMass (see above)
A few things could come of this October slate. NU could more or less tread water, which would be pretty impressive and set them up nicely to move into a good position against the rest of their opponents. They could suffer a bad record to open, which would set them in a pretty deep hole and put an early damper on NCAA chances. Or they could post a winning record in October and jump out as a top team in the country despite their offseason departures. A good record would be hard to deny as an indicator of the team's strength, but a poor one could be taken with a grain of salt (at least if you're an optimist).
Not your average road trip:
Though their strength of schedule softens up after October, fatigue could continue to be a factor thanks to a trip across the ocean at the end of November for the Friendship Four series in Belfast, Northern Ireland. They'll play a pair of games against New Hampshire and either Colgate or Princeton, but the excitement and strain of trans-Atlantic travel could affect the Huskies in some fashion moving past that weekend. 
More Beanpot-week travel:
The most awkward thing in college hockey might be the game played in the six days between Beanpot Mondays. All four Beanpot teams get amped up for the opening-round game, and then sights are set on the championship round a week later. Except there's a random other game to be played between Beanpot games, and as it's late in the season, it's probably pretty important.
Last year NU had to travel to Providence, which has always been a tough place for them to play, especially after an exciting overtime win over BU at the Garden with a championship matchup against BC looming. They lost to the Friars, which hurt their Hockey East and NCAA chances (though that didn't end up mattering).
This year NU travels even further — up to Orono, Maine. If they can beat Harvard in the Beanpot opener, they'll be staring at a chance for a third consecutive Beanpot win, which would be unprecedented for the program. Somehow, head coach Jim Madigan would have to get his team to focus on the Maine game, which will likely be important in the race for the Hockey East title.
BC and BU:
Games against Boston College and Boston University are traditionally the most anticipated for NU fans. They play just two against each this year (outside the Beanpot), both for home-and-home series. Furthermore, the home game with BC is on a Thursday, and both BU games take place while NU students are on spring break. 
These games could be season-changers as they all come in the last two weeks of the season, but they'll probably lack the typical electricity that come with those matchups.