Men's hockey sweeps at Union to start season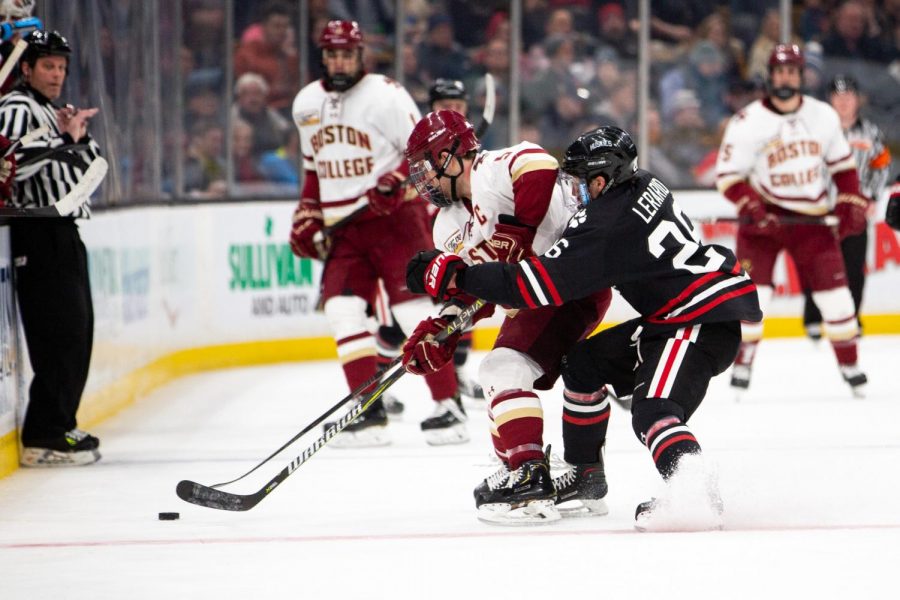 It was about as encouraging an opening weekend as Northeastern men's hockey could draw up. The Huskies completed a two-game sweep of Union College Saturday afternoon by posting a 2-1 comeback win for the second consecutive game. Senior forward Biagio Lerario scored the winner at 11:42 of the third, and graduate transfer goalie Craig Pantano saved 20 of 21 shots.
"Happy with the weekend, any time you can get two wins in a weekend and sweep, particularly against a [coach] Ricky Bennett Union team that's good," said NU head coach Jim Madigan.
Freshman defender Jeremie Bucheler shined Friday night, and Saturday it was freshman forward Riley Hughes' turn to make an impression. Four minutes after Union's Sam Morton opened the scoring in the third, the 6-foot-2 winger from Westwood, Massachusetts made a nifty move on a breakaway to tie it at one apiece.
Three minutes later, Union goalie Darion Hansen misplayed a shoot-in and Lerario found the puck with plenty of space to deposit it into the goal.
"The goalie kind of misplaced the puck, and I was just first on the puck and I put it in," Lerario said. "I was lucky to get the game-winner."
Northeastern has to be encouraged by Pantano's play all weekend. After entering the season with no goalies who started a game for them last year, the transfer from Merrimack College stopped 38 of 40 shots across the two games and looked steady doing it. It's unclear how coach Jim Madigan will distribute playing time among the goalies, but after this weekend it seems likely the veteran will start the home opener Tuesday.
Both teams combined to go 0-15 on the power play this weekend. After a quiet night Friday, sophomore center Tyler Madden had an eventful night Saturday without getting on the scoresheet — he put five shots on goal, went 4-0 in the face-off circle and led the team with three blocks.
NU has a quick turnaround before opening its home schedule Tuesday night, when the team will unveil a Hockey East championship banner before hosting No. 4 UMass at 7 p.m.