NU student Maya Mudgal takes a hands-on role in addressing climate change
In her Introduction to Global Health class last semester, Maya Mudgal casually decided to write her final paper on the health impacts of the Green New Deal, which had just been introduced into the U.S. House and the Senate.
She had no idea that a few months later, she would be rubbing shoulders with some of her political heroes, like Boston City Councilor Michelle Wu, while working to advance the goals of the Green New Deal. 
Mudgal, a second-year biology and political science combined major, got to this point by getting involved with the Sunrise Movement, an organization "building an army of young people to make climate change an urgent priority across America, end the corrupting influence of fossil fuel executives on our politics, and elect leaders who stand up for the health and wellbeing of all people," according to their website. 
Mudgal first came in contact with Sunrise after her global health professor recommended she attend the Road To A Green New Deal Tour as research for her paper. Mudgal was inspired by Sunrise's work at the event and signed up for their orientation program.
"I went to a training that weekend. The next week, I went to the hub meeting," she said. "From there, I just really dove in." 
Although it is a relatively new passion for Mudgal, she said she believes she has found her place within the world of activism in climate change.
"I've just always been interested in the history of movements, especially the women's [liberation] movement, the gay rights movement, the civil rights movement … I guess I've kind of been looking for one of those of my own," she said. "It just felt like Sunrise and what this new movement is doing is something that matters so much to me and affects me and every single person I know."
Mudgal said Sunrise's approach to activism makes it stand out from the pack. Rather than simply pushing policy goals, they choose to focus on getting candidates in office who have pledged to pass legislation furthering the ideas of the Green New Deal and have pledged to not take large donations from anyone connected to fossil fuel interests.
Sunrise decides which candidates to endorse by asking candidates to fill out a survey on their policy. After they make their first round of cuts, they interview and evaluate the remaining candidates based on a set of criteria. Sunrise is endorsing seven candidates this election cycle.
"So now that we've endorsed them, we're basically doing everything in our power to get them elected," Mudgal said.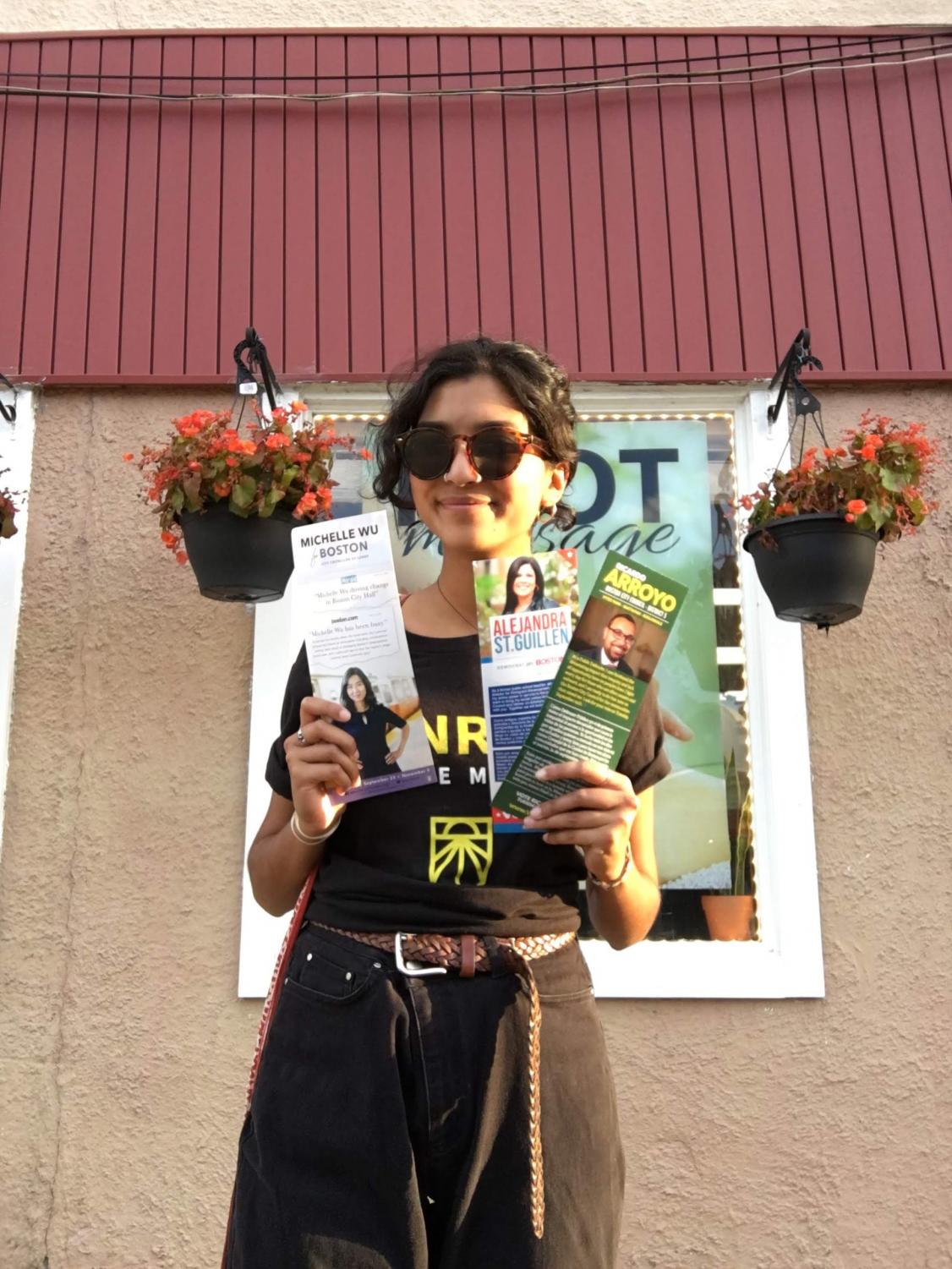 Mudgal's work is centered on local government. She believes, at this time, it is the most effective way to work toward Sunrise's goals. 
"It seems like it's not going to happen on a federal level given our current president, but we can at least do it on a city level because the power of the city council, especially in the greater Boston area, is a lot bigger than people think," she said. 
Local politicians actively seek out Sunrise's support because of their influential work, and getting the Sunrise "stamp of approval" is a competitive process, Mudgal said.
The city council candidates all pursued the organization's endorsement, Mudgal said. "We didn't actually approach them. And a prerequisite to filling out [the survey to receive endorsement consideration] was signing both of those pledges and publicizing it on their social media."
Because many of Mudgal's coworkers had traditional 9-to-5 jobs while she was on summer break and living at home in Lexington, Massachusetts, she took on a central role in selecting Sunrise's "climate champions."
"I ended up interviewing most of these people and getting to speak to actual elected officials and getting to meet them in various capacities, going out to these canvases," she said. "The fact that I was interviewing these people — I feel like I don't have the authority. Through this process, I've been able to do that, and it just made me a lot more confident in my own abilities."
Mudgal said she finds the decentralized structure of Sunrise complementary to Northeastern's unconventional curriculum. This spring, Mudgal will be starting a co-op on Capitol Hill with Massachusetts Rep. Seth Moulton. While she does not know anyone in the area, she will be able to connect with the Washington, D.C., Sunrise hub. 
"Everybody knows each other, they've met up at these national or these regional summits that we've had," she said. "So I'm sure someone in Boston knows someone in D.C. and I can just go there and plug into their meetings. And I know that it's a group of people who are passionate about the same things that I am." 
As Mudgal begins to see the impact of her and other climate change activists' work, she is both proud and hopeful for her generation's future. 
"At the climate strike I was in tears, like I was choked up, because I saw how many thousands of people had come out for this issue that wasn't even in the international conversation a couple of years ago," she said. "And the fact that we did that and I'm a part of this movement that's bringing that to the forefront, it's the coolest thing ever … I can't wait to see what happens in the years to come."