Slow starts, good goaltending, 4 wins for men's hockey through 6 games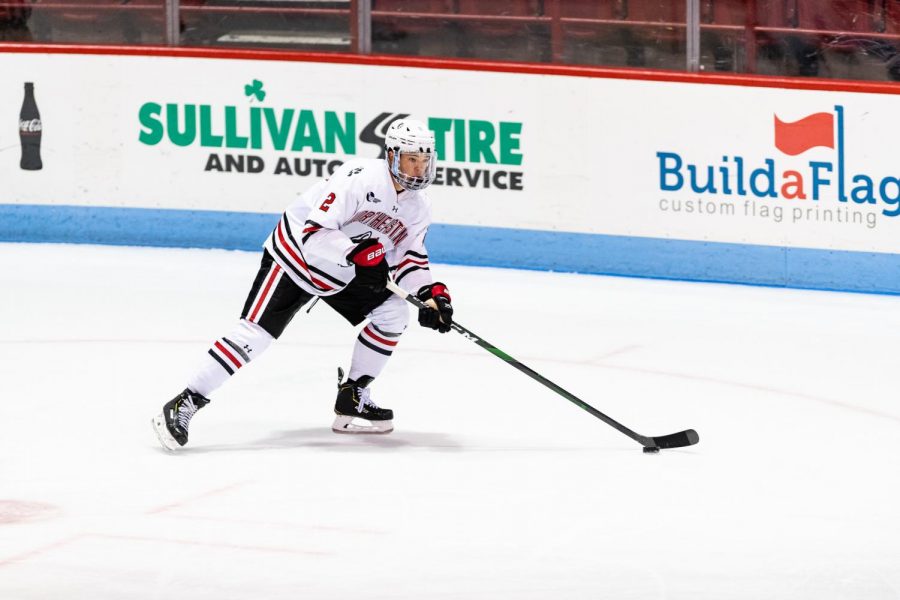 Through six games, Northeastern has improved its USCHO ranking (currently 10th after starting the season at 15), posted a 4-1-1 record and defeated the highest-ranked Hockey East team (UMass Amherst).
The opening stretch has answered several questions. Senior transfer Craig Pantano has filled  the goaltending void that existed prior to the season. NU's defense looks as dynamic and talented as expected. Star sophomore center Tyler Madden has made a decent start during an encore to his impressive freshman performance. The team's only loss came against a top-20 team on St. Cloud's remarkably tough home ice.
But there have been alarming occurrences, too. The team has averaged just 6.66 shots in first periods. On the whole, NU and its opponents are each averaging about 25 shots per game, so the 4-1-1 record may be a bit fortunate based on shot volume. The opponent shooting rate isn't likely to stay at 5.3 percent. Special teams are another area of concern. Northeastern is just 2-for-27 on the power play this season. They've averaged 4.2 penalties taken per game, though their penalty kill has been excellent (22-for-23). In the faceoff circle, NU is just .483.
Pantano's early statement
To start the season, all eyes were on the NU crease and how NU's four options would end up filling the gap left by Cayden Primeau when he opted to go pro last spring.
Prior to the season, head coach Jim Madigan and Pantano, a senior transfer from Merrimack, both indicated there were no firm plans to install Pantano as the full-time starter.
"All the goalies are all competing right now," Pantano said a few days before the season opener. "That's a good thing because we're all pushing each other and it's kind of like tryouts."
Madigan was even more cryptic on the subject, but did indicate that Pantano had the edge heading into October.
"It's a competitive situation," Madigan said. "[Pantano's] had a good preseason. Curtis Frye has had one, and Connor Murphy has gotten better, Nick Scarpa is challenging. All four are in the mix. Certainly, Pantano is ahead because he's played more games and [has] more experience."
Any notion that Pantano would cede some significant playing time to freshman Connor Murphy or anyone else has been squashed. Pantano has played all six games in impressive fashion, stopping 144 of 152 shots for a .947 save percentage and 1.32 GAA.
Most of the opponents he's shut down have been formidable, too. He stopped 34 of 35 shots against No. 4 UMass for a win Oct. 15, and performed admirably on the road at No. 16 St. Cloud State, stopping 31 of 33 in a loss Oct. 26.
Defense leads the way
As long as Pantano remains consistent in net, NU's defense will be the difference between a middling season and an excellent one.
There isn't a ton of high-quality finishing capability at forward this season. Tyler Madden looks like a true scorer, and he reeled off a couple two-goal games this past week. Only two other players have more than one goal: senior forward Biagio Lerario and sophomore defender Jordan Harris. Senior forward Zach Solow can likely be counted on to score double-digit goals and freshman winger Riley Hughes looks to be a potential scoring threat moving forward. But beyond that, they'll have to piece it together with fair, but not outstanding, outputs from the likes of senior forward Grant Jozefek, Lerario and senior forward Matt Filipe.
Yes, NU will have to rely on its defense this year. Luckily for the Huskies, this is perhaps the best defensive group the team has featured since Madigan took over as coach nine years ago.
Senior captain Ryan Shea is the anchor, and will hit 100 career games if he stays healthy this season. That level of experience makes him a good leader to insert some organization into this fast, skilled defensive corps.
"I just think we're a structured team," Shea said. "We focus on our systems and make sure that everyone on our team sticks to them. It's just buying into the little things whether it's blocking shots or making sure our bench is loud at all times."
The task at hand for Shea is to integrate a trio of supremely talented freshman defenders (Jayden Struble, Jeremie Bucheler and Mike Kesselring) with a couple of strong sophomores (Jordan Harris and Julian Kislin) to meld into a cohesive group.
"That's the job of myself and the leadership corps," Shea said. "That's why we have one captain and three assistant captains. We all can grab two or three freshmen ourselves and kind of show them the ropes, whether it's on the ice, off the ice, in school."
Shea said he's extremely encouraged by this group, in terms of raw capability.
"I think we have a perfect balance between skill and defense," he said. "Whether it's height, muscle, I think this is the strongest and most skilled D corps we've ever had. It's just everyone finding their role and what they do best and bringing that."
Whether or not the group can settle into their roles and perform at optimum levels will determine how far NU goes this year. The offense led by Madden doesn't have a sky-high ceiling, and the defense will have to simultaneously shut down opponents and jump-start the attack.
UMass comes back to Matthews Arena this Friday less than three weeks after losing there. There's no doubt the Minutemen's head coach, Greg Carvel, has overseen improvements since then. The key for Northeastern to match that will be avoiding another sluggish first period.
"It's about starting on time," Madigan said after a game in which the Huskies certainly didn't, a 2-2 tie with Holy Cross on Oct. 19.