Men's hockey bounces back with 3-1 win over Merrimack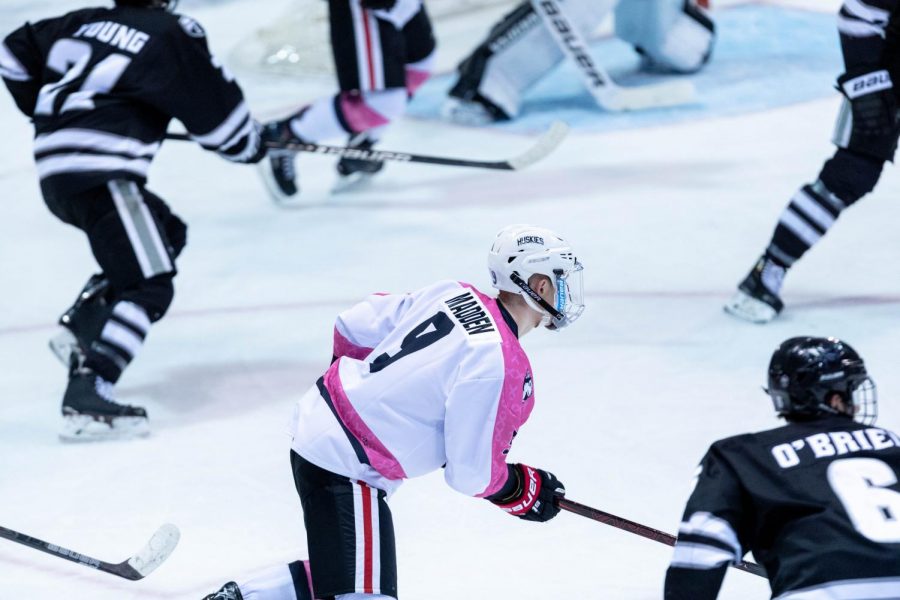 A night after Northeastern was badly outplayed and barely escaped North Andover with a tie, the Huskies rebounded by soundly defeating Merrimack College in the second leg of the home-and-home series, 3-1. NU outshot the Warriors, converted on three power-play opportunities and generally shook off the look of the preceding 0-3-1 stretch.
After a dreadful tie Friday (outshot 38-20 by an inferior team), the team sat down together Saturday morning and hashed out what was going wrong, said senior defender and captain Ryan Shea.
"We made a commitment to get back to our identity," Shea said, "and play with that culture that's made us win over the years."
NU head coach Jim Madigan said he was pleased with the way the team rallied to turn things around after Friday.
"We needed a bounce back game after last night," said NU head coach Jim Madigan. "I think the older guys, our leaders in the room, really stepped up."
Sophomore center Tyler Madden opened the scoring, on his birthday, with one of the most beautiful goals of his young career — and there are quite a few nice ones to choose from. He held the puck above the left circle on the power play, deked a defender into falling down, then took the puck down to the side of the net before going to his backhand to roof it over Warriors goalie Jere Huhtamaa.
The other two goals were scored by freshman winger Aidan McDonough, the second and third goals (and points) of his career. The first finished off a nice passing play from Shea and Madden with a one-timer from the right circle. The second came on a rebound — McDonough barely got anything on his shot, but it floated into the open cage nonetheless.
Northeastern (5-3-2, 2-2-1 Hockey East) was swept last weekend by UMass, and following the disappointing tie Friday, needed a clean result Saturday. They certainly got it, holding Merrimack to just 20 shots. Graduate transfer goalie Craig Pantano stopped them all.
Pantano transferred from these very same Merrimack Warriors, and his final line from this weekend's series is a rock-solid 56-for-58 on shots faced.
"I'm happy for Craig Pantano who played really well over the weekend," Madigan said. "I wish he could've gotten the shutout, but we're thrilled for him and obviously it meant a lot to him."