Freshman defenders help NU take down No. 10 Providence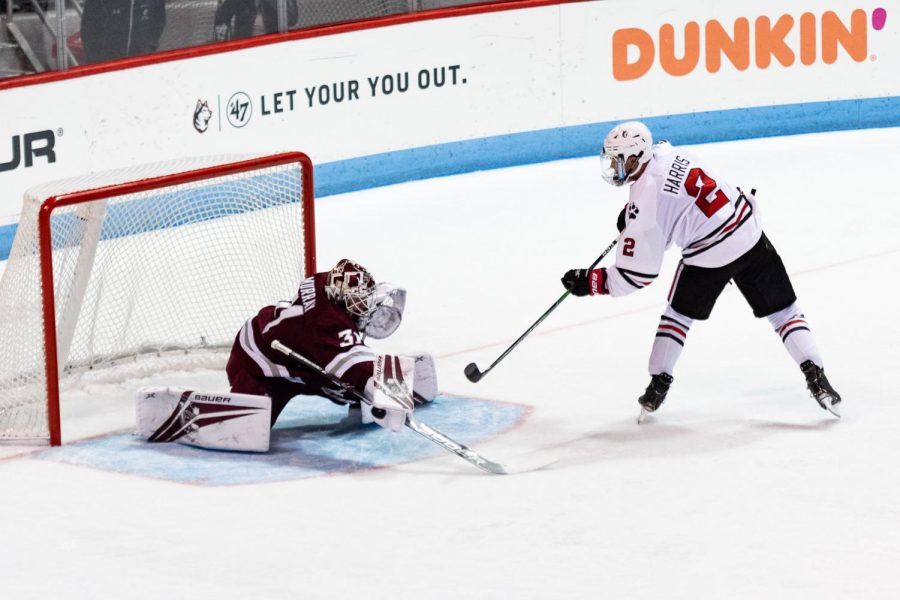 Three Northeastern freshmen achieved career firsts Saturday night, NU defensemen combined for six points and the Huskies rode a monster second period to a 7-2 win over a strong Providence College team at Matthews Arena. The win over the 10th team in the USCHO rankings moved NU to 6-4-2 (3-3-1 Hockey East), and kept them in the upper-middle class of the league standings.
The victory came a day after a loss at PC that was close on the scoreboard (3-2) but not in shots (38-23).
"I commend our guys for responding tonight," NU coach Jim Madigan said. "Last night we let Providence dictate … One of the things we said here tonight was let's punch them in the mouth before they punch us in the mouth."
NU landed a clean punch early in the second, reeling off four goals in the first seven minutes.
The defensive corps for NU led the way at both ends of the rink — something that's becoming a trend for the team. Not only did the group figure in on all five goals, they clamped down in their own zone and held Providence to just 19 shots to NU's 21.
The defensive unit has looked strong all season, but Saturday's win took on an even more encouraging feel with three defenders entering the scoresheet for the first time in their careers.
"We work in practice a lot on getting our D involved on the offense," said NU senior winger Matt Filipe. "Young guys getting their first goals is huge for their confidence, but we practice that stuff a lot, so it's really no surprise to see them on the scoresheet that much."
Mike Kesselring tied the score late in the first with his first collegiate goal by faking out a winger at the blue line and skating in on PC goalie Michael Lackey. Jayden Struble recorded an assist in the second period for his first NCAA point by setting up a Matt Filipe breakaway with a splitting pass down the ice. And Jeremie Bucheler scored his first career goal on a slap shot to stretch NU's lead to three to end the second.
Sophomore Jordan Harris and senior captain Ryan Shea added to the blueline onslaught. Harris assisted on Grant Jozefek's go-ahead score early in the second and scored a goal himself with a wrister about a minute later. Shea assisted on Kesselring's marker.
The last 30 minutes of the game were played with NU firmly ahead, but the result was very much in doubt before the Huskies overwhelmed the Friars at the beginning of the second.
In fact, PC opened the scoring. Junior center Jason O'Neill scored unassisted at 17:16 of the first. Kesselring's nifty goal tied things up heading into the break, though, and NU came out of the locker room for the second at a dead sprint.
Sophomore center Tyler Madden and Filipe collected empty netters to seal the game. Next weekend NU hosts Maine for a pair of games before going to Belfast, Northern Ireland for the Friendship Four series Nov. 29 and 30. NU has one game left against Providence, a home game Jan. 31.
Post-game notes
— PC coach Nate Leaman was brief in his post-game press availability. He opened his session by saying "We got our butts kicked," before taking two questions from the media.
— Northeastern's penalty kill is now 44-for-47 on the season, well over 90 percent. It was 4-for-4 Saturday.
"We've tried to build an identity around our PK," Filipe said. "Paying a lot of attention to details, and [assistant coach Mike McLaughlin] has done a great job preparing for every team we play. We've got a lot of guys who want to be out there on the PK, which is important."
— NU put up five goals through just 40 minutes, making Saturday just the second time this season Providence allowed five goals. Of course NU got to seven after the full 60 minutes. NU's goals-per-game, previously just 2.27, was certainly jolted by Saturday's proceedings.
— This is the first time NU has defeated PC since Nov. 18, 2016.