Madden downs Maine with hat trick, 4 points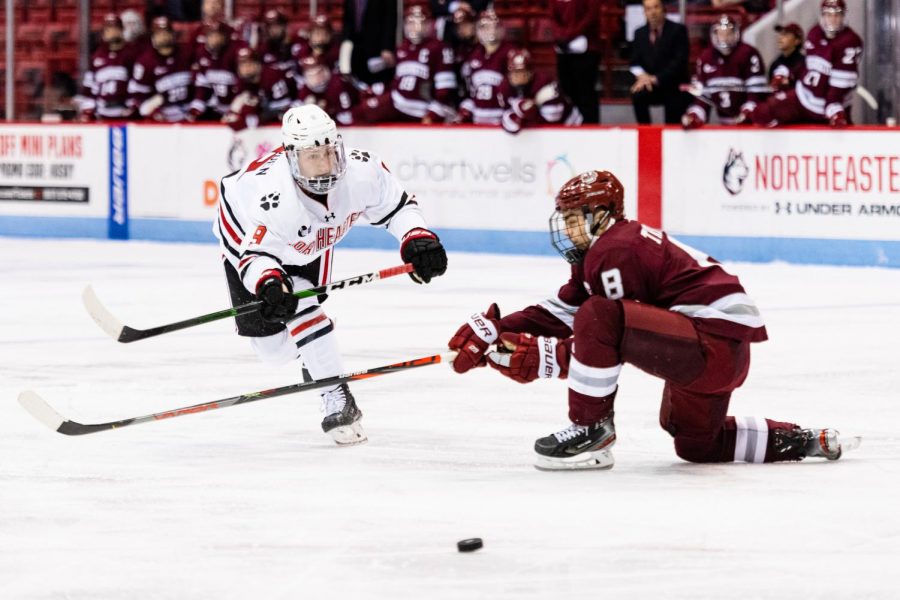 Friday night's series opener between Northeastern and Maine was played fairly evenly. NU led in shots, 27-24, and in shot attempts, 32-26. The Huskies took six penalties to Maine's five. The teams entered the game close in the Hockey East standings, Maine at third and NU at fifth.
The score did not finish even, though. The Huskies won, 5-2, and sophomore center Tyler Madden was virtually the only difference-maker on the ice at Matthews Arena. His hat trick and assist allowed the home team to seize early control on the scoreboard, get some breathing room late in the second period and put the game away in the third.
"I'm starting to feel the puck better, being able to have time and space," Madden said postgame. "I'm creating a little bit more."
Northeastern improved to 7-4-2 (4-3-1 Hockey East) and has won back-to-back games for the first time since winning the first three games of the season Oct. 11, 12 and 15.
Madden started things off only 69 seconds into the contest. He and his linemate, junior right wing Grant Jozefek, skated in on a 2-on-1, and after a series of slick passes, Madden cut across the goal and slid the puck past Maine goalie Jeremy Swayman.
His second came just a few minutes later at 5:33 of the opening frame, again on a 2-on-1. This time, his running mate was left winger Aidan McDonough. The freshman held onto the puck until late in the play, and slid it over to Madden who banged it in from the left side of the goal.
"It was a good start for our club … our first shift of the game really set us up well," said NU head coach Jim Madigan. "The gentleman to my left [Madden] took over there and we just continued feeding off each other."
The Black Bears (7-4-2, 4-3-2 Hockey East) showed some resilience and didn't let the Huskies bury them. They pushed back after the early pair of Madden goals, and their junior winger Eduards Tralmaks got them on the board before the intermission.
After junior center Zach Solow gave NU a 3-1 lead with a power-play goal early in the second, Madden finished his hat trick at 7:52 of the middle period off another assist from Jozefek on an odd-man rush.
It was the sophomore sniper's first career hat trick, and the first for NU since Liam Pecararo at New Hampshire on Feb. 22, 2019.
McDonough put the Huskies' lead up to a comfortable three at 1:13 of the third, and Madden made his mark on this tally as well with a nice behind-the-back pass out of the corner for the secondary assist.
Northeastern graduate starter Craig Pantano stopped 22 of 24 shots, while Swayman saved just 22 of 27.
NU's power play unit got off to a slow start this season, but was 2-for-3 Friday. The Huskies entered Friday with a pristine 91 percent penalty-killing rate, and improved on that by killing all four of the Black Bears' advantages Friday.
Postgame notes
— Maine coach Red Gendron struck a balance between complimenting Madden and criticizing his Black Bears for their play early in the first period.
"He's a terrific player and he played real well tonight, full marks to him," Gendron said. "We didn't take care of the puck particularly well and made some ill advised decisions with the puck, didn't come back hard enough in transition situations, so that helped him get the first couple of goals … We turned one over for the third one, too."
— NU center Biagio Lerario missed the game with a lower body injury, Madigan said, so Madden put in some work double-shifting as the fourth line center, as well as penalty killing. The PK unit (which is still well over 90 percent with a 4-for-4 night) had a couple shorthanded scoring chances on Madden-led rushes Friday.
— Madden secured his first hat trick and his second career four-point game. The only other NU player with a four-point game this year is Matt Filipe (Nov. 16 vs. Providence). Madden's only other four-point outing came in last season's 7-2 victory at Merrimack on Dec. 8.
— Madden took over the NCAA goal-scoring lead (11).
— Zach Solow has quietly amassed 60 career points with a goal and an assist Friday (90 games).
— Aidan McDonough leads the NU freshman group with four goals and four assists for eight points (one and one Friday).