Solow caps comeback, NU sweeps Maine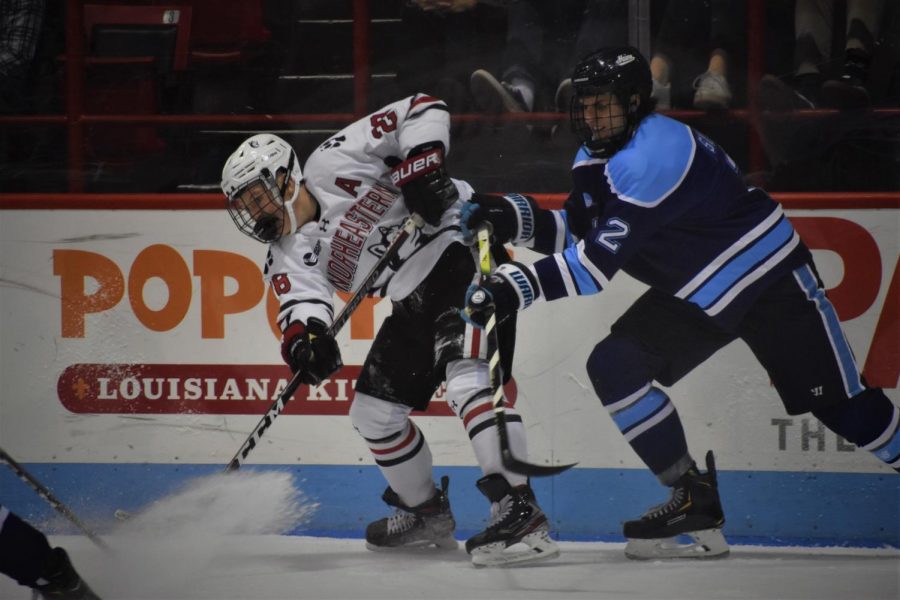 A night after Tyler Madden carried Northeastern men's hockey to victory over Maine, the Huskies' other dynamic center did the honors. Zach Solow scored the winning goal late in the third period to cap off a minor comeback, and Northeastern won 3-2 to sweep the Black Bears on the weekend.
NU moved to 8-4-2 (5-3-1 Hockey East) and has three straight wins for the first time since the first three games of the season.
"We were inconsistent through the course of the game," said NU head coach Jim Madigan, likely referring to his team giving up two quick goals late in the second period to leave them with an intermission deficit.
"In between the second and third period we talked to the group about, 'Hey, we win one period we win the game,'" he said. "Credit to the guys for coming back … We're never going to apologize for wins in this league, particularly a sweep."
Northeastern opened the scoring in the first period on a milestone goal. Jayden Struble, the much-heralded Montreal Canadiens prospect, scored his first NCAA goal on a slap shot from the left point.
"Strubes, that first goal was a really good shot jumping in on the play," Madigan said. "He missed some of training camp so it took him a while to get going, but he's been really good the last three or four weekends."
After Maine took the lead late in the second, NU tied it in the third off a flukey bounce. Freshman winger Neil Shea scored his first collegiate goal and point by whipping the puck at Maine goalie Jeremy Swayman from below the goal line. Swayman had plenty of time to set up, but it found its way off his leg and in.
Solow scored the winner off a much prettier sequence. Senior captain and defender Ryan Shea received the puck at the blue line, shook his man, skated in and dished it laterally to Solow who deflected it top-shelf over Swayman.
"We had a good offensive-zone shift there," Solow said. "It was a great individual effort by Sheazo, beat his guy. I got lost and Sheazo put it right on my tape."
It's becoming clear that Northeastern's offense is predicated on its top two centers, Madden and Solow. Madden's contribution is mostly on offense with his dazzling stick skills and nation-leading goal scoring. Solow, Madigan said, is a 200-foot player who finds the net a decent amount and plays a good defensive center.
"You track his progression from his freshman, sophomore, junior year, you'll notice he's an offensive type player who really rounded out his game," Madigan said. "Last year he was really good, 15 goals, and big goals. This year early he was a little snake-bitten but now he's getting rewarded for being around the net."
"Him and Madden are our two catalysts offensively. As they go, we go."
Postgame notes
— Madigan pointed out that Struble has played well of late, which may well be true by the eye test. His numbers on the season aren't inspiring. He's a minus-four and has a team leading eight penalties for 24 penalty minutes. He has a miniscule .067 shooting percentage, which figures to go up at least a tad.
— Maine head coach Red Gendron didn't have much to say post-game after watching his team get swept.
"It stings, it should sting," he said. "We were a much better version of ourselves tonight than we were last night. It shows that our execution has to get better. So that's that."
— NU goalie Craig Pantano made 26 saves on 28 shots. He stuffed Maine winger Eduards Tralmaks on a breakaway shortly before Solow scored his winner, potentially altering the game's result.
— NU doesn't play another game at Matthews Arena until Dec. 14. They will now set out on a trip to Belfast, Northern Ireland, for the Friendship Four series. There, they'll face New Hampshire on Nov. 29 and either Colgate or Princeton on Nov. 30. Their next game on American soil is Dec. 7 across town at Boston University.
— With an assist on Struble's goal, Tyler Madden moved into a tie for fourth in the NCAA scoring race with 19 points (11 goals, eight assists).