Men's hockey brings two wins home from Belfast during 'Belpot'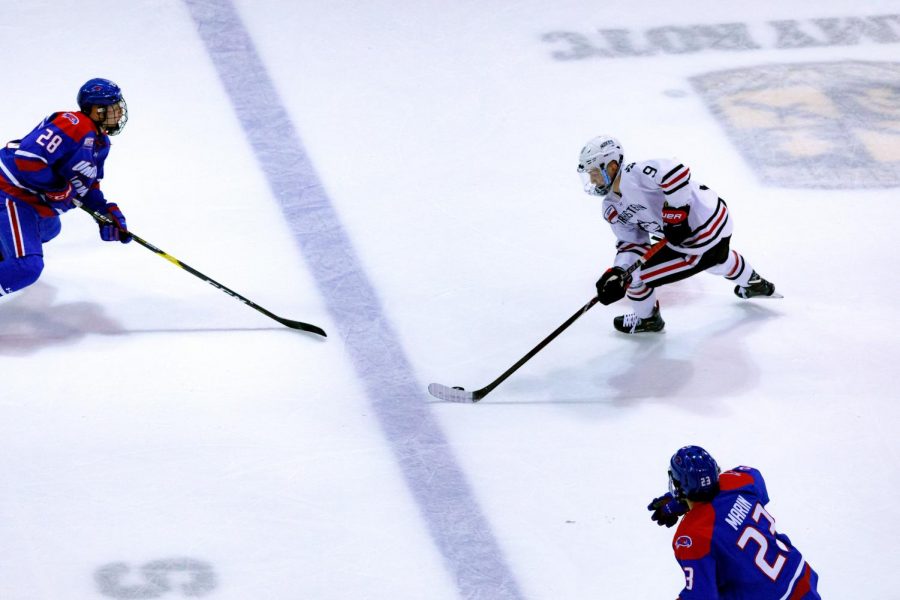 Northeastern men's hockey had a brutal schedule to open the season. Encounters with tough Hockey East teams like UMass Amherst and Connecticut, a road trip to St. Cloud State, and playing seven of the first 11 games on the road put the Huskies through a grueling early test. The team emerged from that stretch with a respectable 5-4-2 record.
But all of those games were played in North America. 
Friday and Saturday, the team found a new test when they played a pair of games in Belfast, Northern Ireland, in the Friendship Four tournament. After defeating New Hampshire 4-0 in Hockey East play and beating Colgate 4-3, the Huskies returned carrying a 10-4-2 record (6-3-1 Hockey East) and a five-game winning streak. 
One game short of the halfway point, the Huskies are alone in first place in Hockey East.
Weekend observations
—Senior defender and captain Ryan Shea recorded a goal and two assists against UNH, as well as a goal and an assist against Colgate to bring a five-point weekend home from the British Isles. The experienced leader of an otherwise young defense corps, Shea is up to 15 points on the season — just two off his career high of 17, set in 2017-2018.
He has just two minor penalties all season playing on the top defensive pairing.
—NU finished tied with UNH in the shot column, 25-25. The team was outshot by Colgate, 27-19. 
—Colgate, a member of ECAC Hockey, is 5-7-4 and its only truly impressive win was at UMass Lowell, 4-3 in overtime. Two of Colgate's  ties are relatively impressive, 0-0 with UMass Lowell and 3-3 at Providence. Overall this is not a resume-building win for NU.
UNH is 7-6-1 with wins over Boston College, UMass Amherst and Michigan. It's not a powerhouse team, but as NU coach Jim Madigan often says, Northeastern won't apologize for a Hockey East win. The UNH victory brings us to the most important takeaway of the weekend: 
Northeastern now stands alone atop the Hockey East standings with 13 points, one ahead of Providence. The Huskies are four points clear of UMass Amherst despite dropping two of three to the Minutemen. They're just three points clear of Boston University, and the Huskies and Terriers will meet for the first time this season Saturday at Agganis Arena. That game will be pivotal. NU's lead could be five points or one point at the conclusion of that game.
—The NU penalty kill continued its dominant season with a 9-for-9 weekend. The group has killed 92.6 percent of penalties, fourth-best in the country.
The power-play unit was 2-for-11, and is clipping at 17.8 percent. That's 34th in the country, almost dead in the middle of the 60 Division I programs. UMass Lowell, BU, UNH, Maine and Providence are all Hockey East teams with more proficient power-play units than NU. Yes, NU is atop the standings at this juncture, but in postseason tournaments, special teams can decide games in key moments.
—With a goal over the weekend, sophomore center Tyler Madden stayed at the top of the national goal-scoring race. He's now tied with Providence's Tyce Thompson and Northern Michigan's Griffin Loughran with 12 goals.
Madden is tied for third nationally in points with 22. He's even with North Dakota's Jordan Kawaguchi and trails Thompson (24) and Providence's Jack Dugan (31). 
He's tied for second in shots with 67, even with Miami's Karch Bachman and just behind Lake Superior's Max Humitz (70). 
—Only nine goalies have a higher save percentage than Craig Pantano's .927 (minimum 10 appearances).