Northeastern falls to BU for the second time in 7 years, ending win streak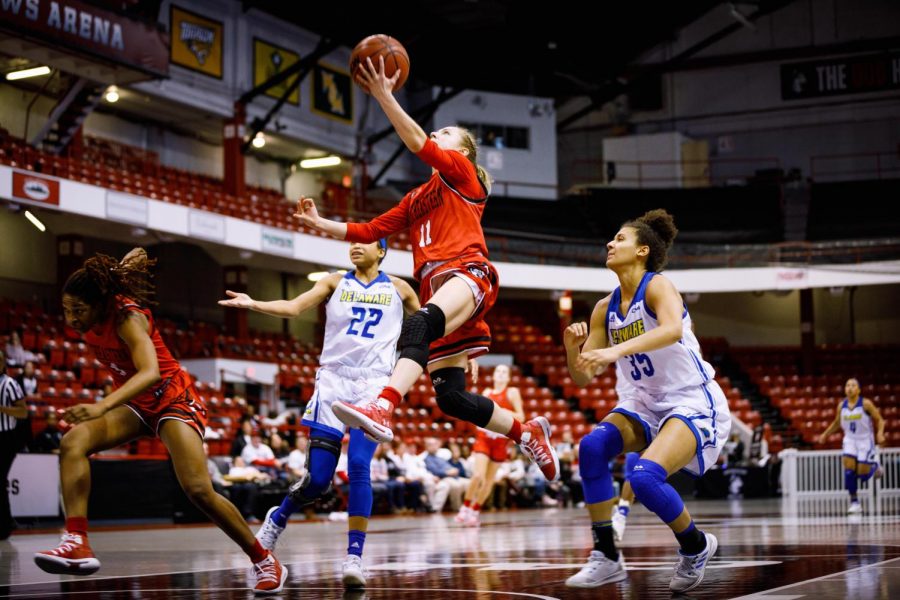 Defense has continuously been the Northeastern women's basketball team's forte this season, but they fell short Sunday as they lost to Boston University, 72-56. 
Northeastern (4-7) had one of their worst shooting performances of the season at 35.6 percent for field goals and 26.1 percent for triples. The loss ended a season-long four-game win streak for the Huskies. 
The first quarter was riddled with turnovers by the Boston University Terriers (5-6), with them turning it over five times compared to NU's single. However, back-to-back three's by the BU offense after a strategic timeout saw the Huskies down at the end of the first quarter, 17-14. 
It seemed to be a three-point night for BU as they were consistent beyond the arch making 9-19 while NU lagged behind at 6-23. The BU defense shut down power-player sophomore forward Alexis Hill as she had no points on five shots during the contest. 
In turn after the half, NU had to shut down BU junior guard Katie Nelson. The Huskies were  unsuccessful as she had a career-high game for points (29) and went 6-9 from beyond the arch, having played one of the best games of her career. 
BU won each quarter and ran away with the lead, eventually having 17 points over the Huskies. NU stuck around, but the lead proved to be too much to battle as BU's offense was on fire the entire night. 
Double digit scorers for the Huskies were sophomore guard Kendall Currence (13) and senior guard Shannon Todd (11). Todd and senior forward Ayanna Dublin were tied at 6 rebounds apiece. 
NU now begins their CAA play on Jan. 5 as it hosts Hofstra at Matthews Arena at 2 p.m.