Beanpot MVP Chloé Aurard, a natural-born hockey player
Growing up with two parents who played professional hockey in Europe, a brother who currently plays professional hockey in Europe, a sister who conveniently plays goalie and an ice pond to practice on, it was only natural for French-born Chloé Aurard to become one of the top 10 leading scorers in women's college hockey.
Like many success stories, Aurard's started with a unique and unforecasted opportunity.
"I never thought about playing in the U.S.," Aurard recalled. "I play for my national team back home and we had the world championship in Germany. Apparently, Northeastern coaches were there and they said they wanted me."
Hailing from Villard-de-Lans, France, coming to Northeastern would be a big change for Aurard. To help her with this transition, the coaches at Northeastern recommended a path that would ease her into American life.
"They knew a high school, Vermont Academy," Aurard said. "They told me if I wanted to go to school in the U.S., I could go to that high school and then take a couple of years to learn English, learn the American ways and go to Northeastern after that."
When Aurard started high school in the United States, she came over with her twin sister, Anais.
"In high school we needed each other because we were still young and we were just learning the American life," Aurard said. "When she moved, it was a little hard at first, but instead of growing as twins, I was growing up as myself and she was growing up as herself. We needed to each have our own path to complete our own goals."
Although she grew up playing hockey with her sister and her family, in her first two seasons at Northeastern, Aurard has been finding success on her own.
The statistics speak for themselves. With 20 goals, three of which came short-handed and four on the power play, 23 assists and an average of 1.34 points per game so far this season, Aurard rightfully earns her spot as the number 10 scorer in collegiate women's hockey.
"It's always good when you work hard and you accomplish things, like the Beanpot," Aurard said.
In addition to being one of the top players in the country during the regular season, Aurard earned the Most Valuable Player award for the Beanpot tournament after contributing four goals during the team's first Beanpot win in years.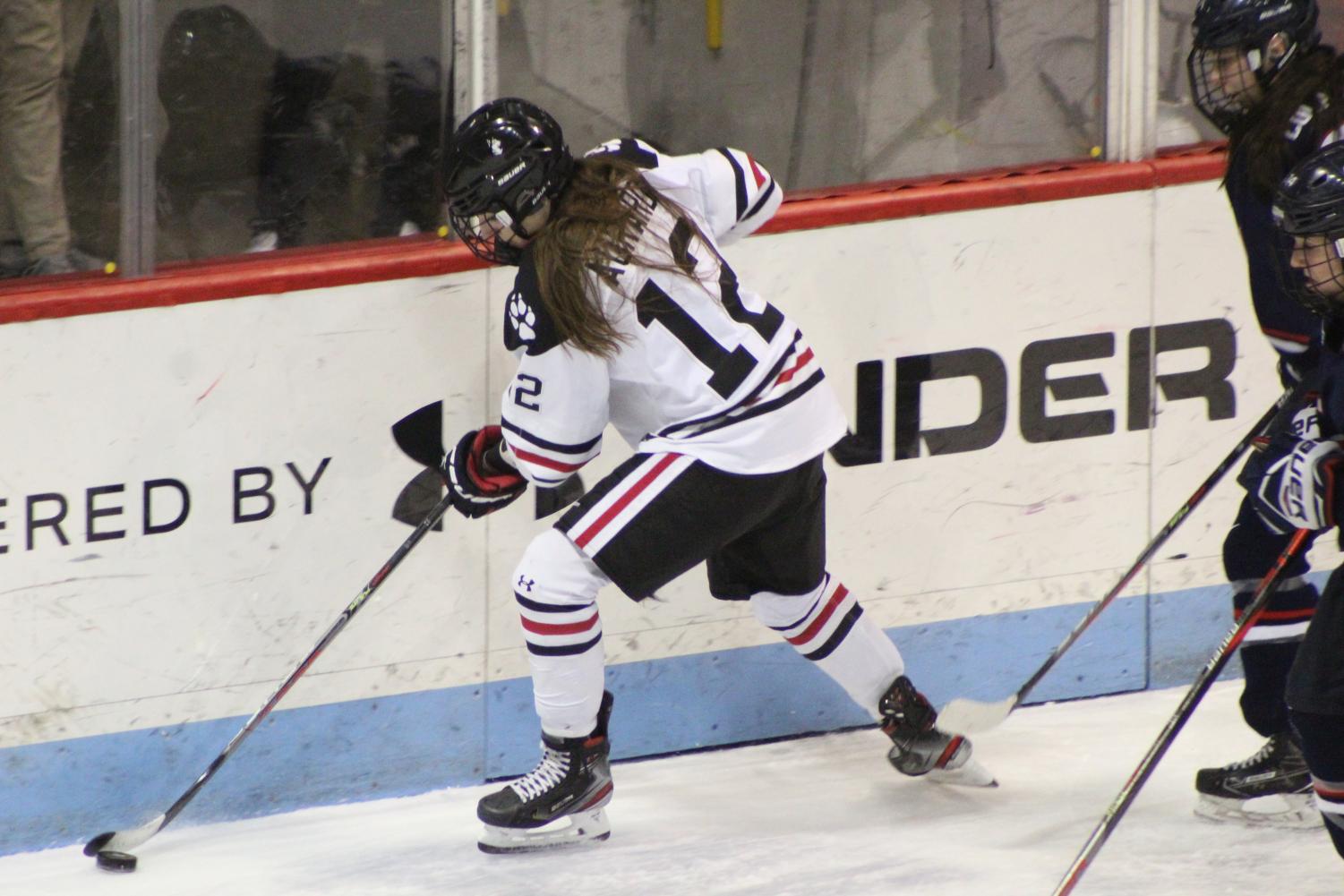 When asked about how it felt to be named the Beanpot MVP, Aurard said, "They asked me that question right after the game and I couldn't answer because I was just so proud of my teammates. I still can't answer it because it's such a big team accomplishment."
For Aurard, overcoming the Beanpot drought and playing for her teammates brought her more drive than the individual accolade.
"We haven't won it since 2013 and as a team, emotions were all over the place. You can't think about yourself," she said. "It's like, 'I want to do that for the team, I want to play my hardest for the team,' especially for the seniors — it's their last Beanpot. Of course, it's a great individual accomplishment, but the Beanpot I will always remember as being a team win."
Aurard acknowledges that her opportunity to play in the U.S. has been monumental in her development as a player, and she sees that some of those opportunities are starting to find their way back into her home country.
"It's getting better and better, but women's hockey is still not recognized as much as we want it to be, but there's starting to be more French women on international teams," Aurard said. "It's better, but we still have some work to do."
Outside of hockey, Aurard has many artistic outlets. In her free time, she takes pictures and videos while walking around Boston. She also plays the guitar and uses music as a way to relax and calm down after a busy day.
The team has been a big support with Aurard's adjustment to college and her caring attitude showcases her gratitude. On and off the ice, Aurard trusts them.
"I trust every single one of my teammates so I'm never worried about losing a game or something," she said. "I just think, 'We can do it.'"
That trust has reaped rewards for Aurard and her teammates, as they head into the Hockey East playoffs as the number one seed, and look to make their mark in the NCAA tournament later this year. Already, Aurard has brought home the beans.