Kuznetsova, Opet elected to head 2020-2021 SGA
Kate Kuznetsova and Billy Opet have been elected president and executive vice president of the Student Government Association, or SGA, as announced at Monday night's SGA Senate teleconference. The pair won more than 71 percent of votes cast.
The PILOT referendum, which advocated for the university to fulfill Boston's requested monies for Payments in Lieu of Taxes, or PILOT, also passed, carrying more than 80 percent of the vote.
Formerly a candidate for executive vice president, Kuznetsova, a second-year business administration and political science major, took charge of an uncontested campaign for the presidency when the former nominee, Erykah Kangbeya, withdrew. Kuznetsova chose Opet as her running mate just hours before the beginning of SGA's statutory campaign period and after thoroughly vetting a shortlist of five candidates, said Gabby Paese Nobile, SGA's current executive vice president.
The vote share draws a striking contrast between this year's SGA election and last year's, in which 39 percent of voters articulated "no confidence" in the slate. While only 28 percent voted no confidence this year, Kuznetsova and Opet fought an entirely different battle than the 2019 candidates: This year, only 3869 students cast their ballot in the presidential election, only marginally fulfilling SGA's 20-percent turnout requirement. The election period coincided with a frantic exodus of Northeastern students following the university's mid-pandemic decision to close its residence halls.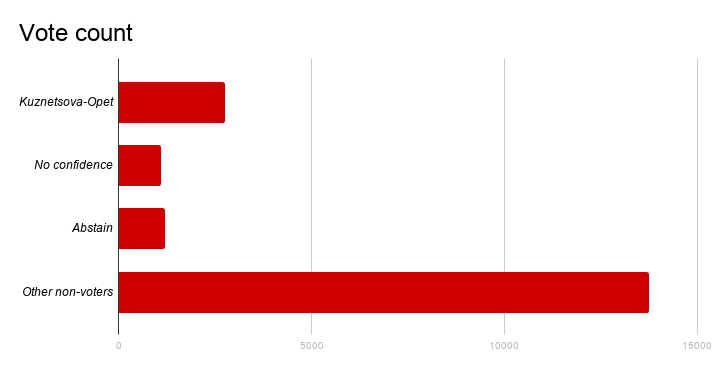 Kuznetsova and Opet stressed in their platform that they want to make academic advising more accessible to students and expand resources across individual colleges. 
"I would continue my work on trying to improve access to academic advising through instituting a peer advising program that operates in conjunction and under the supervision of academic advisors and also by expanding the hours of advisors to be more inclusive of students studying abroad and on co-op," Kuznetsova said in an email to The News, drawing on her experience as SGA's assistant vice president for academic affairs. "I also want to work to ensure greater equity between colleges in terms of resources and opportunities including international and experiential education."
Opet, a second-year electrical and mechanical engineering major and former SGA vice president of sustainability, is looking specifically to advocate for expanding sustainable practices on campus. 
"I believe that environmental degradation and climate change are two of the biggest issues facing the global community. As such, I want to make sure that the university is doing its part to mitigate its environmental impact by instituting composting in residence halls," Opet said. "I will continue to partner with the Office of Sustainability to explore other opportunities to reduce our university's carbon footprint."
Additionally, Opet wants to further develop resources in the University Health and Counseling Services, or UHCS.
"I would want to continue the work that I have been doing to improve physical and mental health resources on campus," Opet said. "My committee has been meeting with members of administration who oversee UHCS — a relationship that I would like to continue to develop as we mutually come up with solutions to make proper healthcare more accessible to all on campus."
Asked about Kuznetsova's preparedness for the job — one that can demand upwards of 40 hours, depending on the week — Nobile emphasized her confidence in the incoming leadership.
"[Kuznetsova] had a choice to walk away or to become president and find a vice president, and she chose to step into that role," Nobile said. "I think that that says a lot about her ability to put the association's needs before her own desires."
Kuznetsova says she ran for president to serve as a voice for students and as a liaison to communicate student's concerns to the university administration. She says she aims to create positive change while fighting for her constituents.
"Students and their ideas for making change is something that has inspired me to run for this position […] during my time at Northeastern I have heard students voicing their concerns about missed experiences and about issues that were never addressed," Kuznetsova said. "Starting in N.U.in Italy, students were not able to reach their advisors with questions about their classes next semester. Here on campus students take on multiple jobs to be able to afford housing, while sacrificing their attendance to club meetings, not being able to access their culture center due to the hours of operations."
Overall, the pair wants to unite students as a community, citing the organization's tailgates throughout the year for men and women's athletic events as ways in which they bring together students. Additionally, they strive to be more communicative and open with students about what SGA is accomplishing. 
"We would also like to continue previous efforts to increase transparency. To do this, we will continue to offer town halls where members of the student body can voice their concerns to members of SGA leadership," the pair said. "We also plan on attending the meetings of four to six student organizations each month in order to form a more direct line of communication between us and the student body."
Kuznetsova and Opet will take office July 1, 2020 and will serve a one-year term.
Editor's note: The graphic in this story previously reflected an incorrect number of nonvoters. It has been updated to show the correct number of nonvoting, non-abstaining full-time undergraduate students.