Boston theater embraces change with new platforms, conversations about race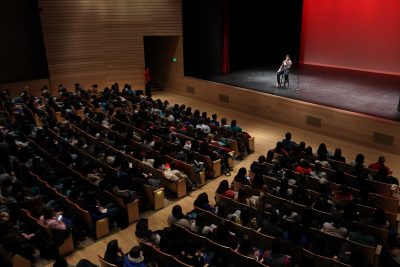 In the theater community, COVID-19 has become the catalyst for change in an industry that has held fast to tradition since its inception. Despite the current limitations, theater companies here in Boston are continually finding new ways to perform. 
Prior to March, suggesting digital performance to many theater practitioners would have been met with hostility. When most people envision theater, they think of the typical stage and audience setup. Now, the Boston theater community must push its own boundaries to stay alive.
With masks and social distancing guidelines, it is nearly impossible to make theater the way it has been in the past. The house cannot be packed with cheering audience members, and actors cannot be in close contact with one another.
Gabby Hernandez, a third-year biochemistry major and the producer of Acting Out, a student-run, activist theater company here at Northeastern, described her initial feelings about the theatrical shutdown as ones of "complete devastation." 
"We don't know anything, any direction we can go in," Hernandez said. "It's frustrating to me because the whole role of the producer is to plan ahead. My job was obsolete at that point."
Luckily for Hernandez, Acting Out has found ways to perform. They will present "Six Characters in Search of an Author" on Zoom, featuring some staged "Zoombombs," in which random people join Zooms they are not invited to. Acting Out is also testing out a radio play format with the "Twisted Tales of Poe," a fitting show for the Halloween season. Both production teams have turned to digital means as a new way to perform. 
According to Hernandez, the best part is that she gets to see people connecting again. She had the opportunity to sit in on the first rehearsals this week, where people finally had the chance to connect. 
"People were happy to be with each other, and they were happy to be reading a script and having fun and making characters," Hernandez said. "It was really exciting to see that spark of theater still existed, despite the fact that we weren't in a physical space."
At the Huntington Theatre Company, the staff is embracing the audio-only format as well and implemented a one-on-one monologue performance series at the beginning of shutdown. People were able to sign themselves or their loved ones up for a personal call from a Huntington artist, who would read a monologue over the phone. This initial idea gave way to their current program: "Dream Boston." 
Melinda Lopez, playwright-in-residence at the Huntington and a professor in the Northeastern Department of Theatre, co-created this new program. Lopez said the Huntington staff wanted to give playwrights the opportunity to produce new work, and this resulted in a series of six- to eight-minute plays made for listening only. The plays focus on what Boston could look like in the future after the pandemic is over. 
This is one of the many ways in which the theater community is fighting to maintain relevance, despite the current circumstances. 
"You know when your mission is to bring people together, and you can't do that, how do you stay true to your mission and keep working?" Lopez said. 
New Repertory Theatre, or New Rep, is taking a different approach to the situation. The Watertown-based company is producing a "moving play," in which one actor leads a group of 15 audience members outdoors in Watertown. Their current play focuses on Charles W. Lenox, a Black Watertown-based barber who enlisted as a private during the Civil War. The actor playing Lenox leads audiences around historical sites in Watertown while wearing a clear, FDA-approved mask. 
Jaclyn Dentino, communications director at New Rep, said this idea was the product of a deep examination of the company's past. Recently, with the rise of the Black Lives Matter movement, theaters have been called out as sources of systemic racism, as discussed in  "BIPOC Demands for White American Theatre" of the #WeSeeYou movement. 
"In theaters, it's really easy just to kind of keep doing things how you've been doing them," Dentino said. "It's easier to not make changes, but we had an opportunity to make a lot of change." 
Centering their newest play on the life of a Black local is one of the many steps New Rep is taking toward change, she said. Without the pandemic, these conversations about change may not have happened, since they require companies to pause and take the time to have them. 
Change has also become possible due to new digital formats, said Antonio Ocampo-Guzman, chair of the Northeastern Department of Theatre. Previously, theater has been limited in accessibility due to its market-driven need for ticket sales that some cannot afford. 
"I think that these new hybrid or digital models may allow us to be much more accessible and much more sustainable as artists," said Ocampo-Guzman. "There are many things that we as theater artists were doing wrong. We're not being just and fair, and I think that this allows us to look for ways to do better." 
For the theater community to continue to evolve and thrive during a global pandemic, it needs all the support it can get. Dentino shared that support encompasses a wide variety of things, including joining email lists, sharing social media promotions and seeing shows. In her eyes, theaters are not in competition against one another, but they are in competition with other forms of entertainment like sports games or Netflix. 
Though COVID-19 has hindered theater's usual methods, theater is still alive and well. 
"This is the world we're living in. If you can't adapt, then you're just gonna sit there all day long," Hernandez said. "That's pretty much what living in a pandemic is teaching all of us. You have to grow with the times."
Rachel Erwin can be reached at [email protected].