University-wide email mistake creates tensions with Jewish community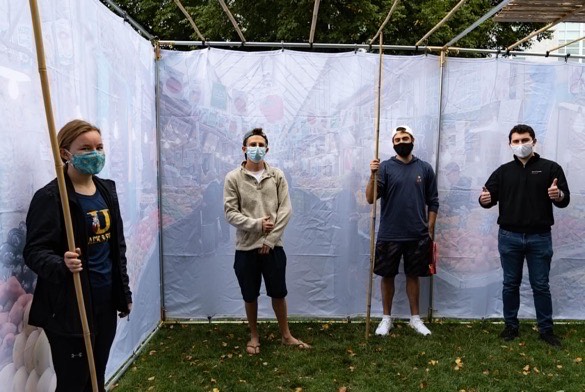 On Sept. 8, Northeastern's Office of the Provost sent out an email with the intention of notifying the Northeastern community about two then-upcoming Jewish holidays, Rosh Hashanah and Yom Kippur. The email included a significant typo, referencing the upcoming holidays as "Passover," a different Jewish holiday in the spring. This began the tumultuous weeks of communication, some Jewish students said, between the Jewish student community and Northeastern administration. 
Fourth-year environmental science and media and screen studies major, and President of Hillel's student board, Avital Brodski, said the Jewish community was frustrated by the errors in the initial email but became more upset by a perceived unwillingness to issue a correction.
"A lot of students contacted the university just asking for a correction or an apology, nothing too complicated, nothing too hard to do, they do them all the time. When they make a typo, they usually fix it in a follow-up email," Brodski said. "The university was making excuses, there wasn't anything actually being done and it just felt like Jews were sort of an afterthought to Northeastern, where they didn't even care enough to write a two-sentence correction to a mistake that they made."
Brodski also pointed out that the initial email only specified that Orthodox Jewish students would be impacted by the holidays and failed to mention its effect on other Jewish students, regardless of how they choose to observe Judaism. 
Third-year theater and business administration major Sydney Fells was one of several students to respond to the initial email, pointing out the mistake and asking for a correction. She was later contacted by Northeastern's Center for Spirituality, Dialogue and Service, or CSDS, for a larger conversation about her experience as a Jewish student. 
"It turned into a much bigger conversation than I wanted to have or was willing to have with this random person who I had never heard of before, let alone wanted to have this heart-to-heart with," Fells said. 
On Sept. 15, Debra Franko, the senior vice provost for academic affairs, sent out a second email to students, explaining that a template email normally used for the spring had been sent out accidentally in the fall.
"In both the fall and spring semester each year, the Provost's office sends a reminder to the university community about policies regarding religious observances. We regret that in sending this semester's communication, we inadvertently used last spring's template," the email read. "Many thanks to those who have brought this to our attention. We apologize for any confusion or offense this has caused … To those observing Rosh Hashanah beginning Friday, we wish you Shanah Tovah (a good New Year)."
While some Jewish students were thankful for the clarification, others felt like it was not enough. 
 "I think it's great that they're trying to send out emails about the Jewish holidays of significance that could impact class attendance, but I think they really should be sending them out about every [religious] holiday that could impact attendance or participation," Fells said.
Tensions were also heightened, since the leaders of Hillel and Chabad, the two most prominent on-campus Jewish organizations, found difficulty communicating with the university in regards to organizing socially-distanced holiday services and activities. After weeks of attempting to converse with the administration about the matter, arrangements were made the day before Rosh Hashanah, the Jewish new year, to hold a service. 
Elie Codron, president of Chabad and third-year international affairs major, explained that while he acknowledges the challenges imposed by COVID-19, the process was unnecessarily difficult due to inconsistent communications from the university. 
"The past two or three months have been a bit challenging. Obviously, we understand that with [the] coronavirus there's a lot of other priorities before the concerns of the Jewish community," Codron said. "But we were able to put a little pressure on the administration a few weeks ago, and just last week we were able to celebrate the Jewish holidays on campus." 
In addition to collaborating on these socially-distanced services, Hillel and Chabad also work together to distribute Shabbat dinner boxes every Friday, a team effort that has not been seen at Northeastern until this year. 
Although there were tensions this fall, Codron expressed that generally, Northeastern has a strong Jewish community and an accommodating administration.
"I'm very involved in the Jewish community at Northeastern, and I'm very involved in student Jewish communities around the country," Codron said. "And it's in my very unbiased opinion, that Northeastern has one of the best Jewish communities in the country. I truly believe Northeastern is a great place for Jewish students."