UHCS, OPEN partner with student organizations to provide resources for students' sexual health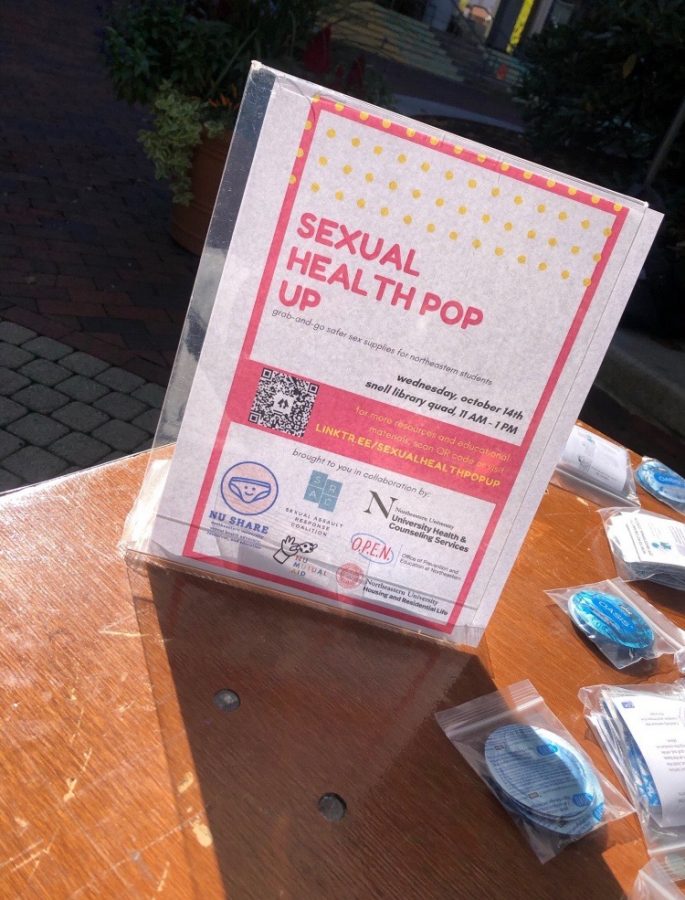 Northeastern University Health and Counseling Services, or UHCS, has partnered with the Office of Prevention and Education, or OPEN, along with Reslife and three student organizations, to launch a series of pop-up events and online resources for students' sexual health throughout COVID-19.
"With the pandemic, we've shifted our in-person availability a bit, so we no longer have walk-ins," said Christine Civiletto, the interim executive director of UHCS since last April. "We came up with this idea to have sexual health pop-up events where we could have packages of sexual health supplies that we could lay out on a table that students could come by and grab at their leisure."
The pop-up events provide students with an array of sexual health supplies — including internal condoms, external condoms, dental dams and lubricant — in the interest of making safe sex possible for everyone.
"One thing that we as students wanted to make sure of was that there were safe sex items for all communities, not just the typical heterosexual [community]," said Sara Flynn, a fifth-year human services major and vice president of external affairs for NU Sexual Assault Response Coalition, or SARC. SARC, NU Mutual Aid and NU Sexual Health Advocacy, Resources and Education, or SHARE, are the three student organizations working on these initiatives.
The pop-up events' goodie bags include a QR code that directs students to a Linktree page with several websites covering a breadth of sexual health topics such as consent, sexually transmitted infections, or STIs, and resources for sexual violence. 
Featured on both the Linktree and NU Mutual Aid's webpage is an anonymous form that allows students to submit any questions or comments they have on sexual health, all of which will be answered anonymously on NU Mutual Aid's website and NU SHARE's Instagram.
According to SHARE's resource document on sexual violence, Northeastern's Office for University Equity and Compliance has provided a guarantee that a student who reports an instance of sexual assault that involves a violation of the university's COVID-19 regulations will not be subject to disciplinary action — though this amnesty has yet to become an official policy.
"A really important thing that SARC just advocated for is that if you are a victim of sexual violence and you've broken COVID guidelines, you have amnesty," said Allyson Lowitz, a fourth-year psychology major and co-president of SHARE.
Lowitz also emphasized SHARE's mission of raising awareness for sexual health and STI testing, and explained how the pandemic could break down stigmas surrounding getting tested for STIs.
"We're in the interest of expanding accessibility to get testing and removing the stigma because it's something that everybody should be doing," Lowitz said. "While the pandemic adds a new dimension to physical boundaries, I think it's hopefully also promoting a little bit more discussion because you do have to talk about those things to be safe."
Given the increased feelings of stress and isolation caused by the pandemic, UHCS has expressed a focus on providing mental health resources for students.
"Mental health is a topic worth a lot of attention given all of the stressors in the world today, but then with the pandemic on top of it, I think it's been particularly challenging and we're really wanting to get that message out that support is available," Civiletto said. "We have [email protected], which is a [collection] of mental health programs that offers 24/7 support to students who are in the US as well as international."
Since stepping into the role of interim executive director of UHCS, Civiletto has reached out to student organizations to build a positive relationship with students.
"It's been truly and genuinely a pleasure to work with students and hear ways that we can together meet the needs of the larger student body," Civiletto said. "I've really enjoyed the energy, the excitement, the feedback that we've heard — it's been really helpful in thinking about how we structure our services."
In the past, many students have felt that UHCS did not adequately fulfill the needs of the student body.
"A broad population of the campus community has felt that [UHCS's] resources weren't as accessible as they needed to be and capacity was more limited than the Northeastern community that needed them," Flynn said.
The steps Civiletto has taken to foster a positive relationship between UHCS and the student body have been well received among students, and could be a turning point for the university.
"I think it's so amazing with this new leadership how collaborative they're being and how they want to hear the student needs and figure out how to work with students to address them," Allocco said.
UHCS's collaboration with student groups aims to ensure that the proper resources and support are available to students in times of need.
"Help is available, support is available," Civiletto said. "We're here for you."