Women's basketball loses home-opener to UMass Lowell, 59-69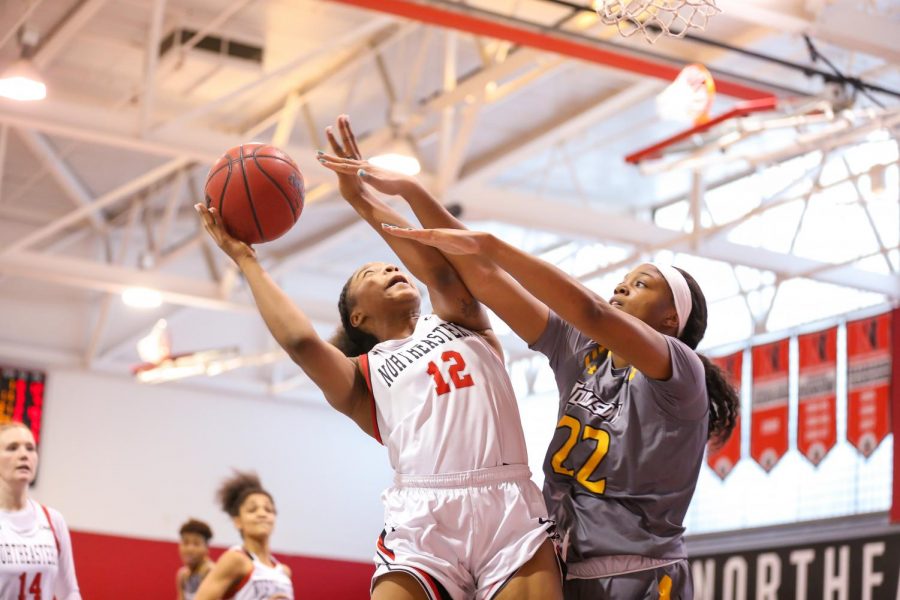 Despite the valiant effort by junior guard Kendall Currence, who dropped a game-high 19 points, the Huskies could not overcome the prowess of the University of Massachusetts Lowell River Hawks, ending their first game of the season at 69-59
Although this is the second year in a row that the team has lost its home opener, they still have their eyes set on a ring at the end.
"The first one is always going to be ugly. It was sloppy, there was fatigue, we're getting back at it because we've been out two weeks… We let them get the better of us," head coach Kelly Cole said. 
The game truly could have gone either way with both teams going on 11-point runs. UMass struck first in the opening quarter, but NU responded in the second. These runs were coupled with multiple lead changes, four of the five being in the first half of the game, and the last one ultimately being the nail in the coffin for the Huskies in this matchup. 
The Huskies had a tough field day beyond the arc, going 1-11 on three-point attempts, scoring 40 of their 59 points in the paint. Even with sophomore guard Mossi Staples' game-tying full-court bucket in the third quarter, the Huskies ultimately fell just short of the win. 
Arguably the MVP for NU, Currence also tallied a rebound, an assist and a pair of forced turnovers. Rookie debuts were punched in for freshmen forwards Leyla Öztürk and Izzy Larsen and guard Maddie Vizza. Larsen and Öztürk also scored for the first time as freshly minted Huskies.
It's clear to see early on that Öztürk will be a force to be reckoned with this season as she tallied five rebounds, a turnover and a pair of blocks and assists each. 
The Huskies (0-1) continue their non-conference play against the University of Maine (2-0) at Cabot Center Sunday at 12 p.m. followed by a game at Marist College (4-0) Tuesday at 1 p.m.