No. 14 Northeastern men's hockey heavily outplayed in 4-1 loss to UConn
The No. 14 Northeastern men's hockey team (6-5-2, 6-5-2 HEA) entered Friday's matchup against the University of Connecticut looking to avenge their loss to No. 1 Boston College  Tuesday. Instead, they were heavily outplayed by UConn, falling 4-1. 
"Not much to say. We got beat by a better team. They were more physical, heavier on pucks, wanted it more," Huskies head coach Jim Madigan said. "We turned over the puck a couple of times on the first two goals. Bad turnovers and they took advantage of it. They deserve the win. They were the much better team. We've got to decide if we want to compete hard enough. If we don't start competing harder, battling and winning more puck battles, then we're not going to advance anywhere. To be honest, we were just too soft tonight."
The Huskies opened up the first period with some solid play from their top line. However, sophomore forward Aidan McDonough took a goaltender interference penalty at 6:02, giving UConn a power play opportunity. 
Shortly after NU killed the penalty, they were awarded a power play of their own when UConn freshman forward Ryan Tverberg was sent off for hooking at 9:51. Senior forward and team captain Zach Solow cashed in on NU's first power play of the night at 10:10 to give the Huskies a 1-0 lead. 
NU made a strong push to add to their lead with seconds winding down in the first period, but the score held as the Huskies went to the locker room up 1-0.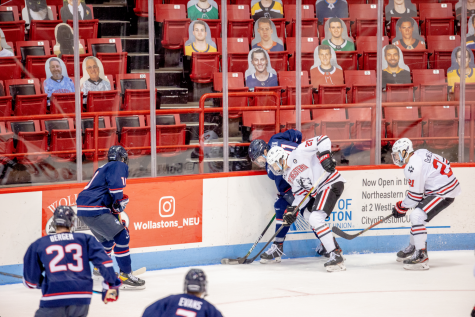 The second period got off to a relatively slow start, but things heated up quickly. At 4:52, both NU redshirt senior forward Grant Jozefek and UConn sophomore defenseman Harrison Rees received matching penalties. Jozefek was sent off for unsportsmanlike conduct, while Rees received a penalty for holding.
Neither team was able to score during 4-on-4 action. However, UConn freshman forward Artem Shlaine scored his first collegiate goal to tie the game 1-1 at 7:55. Shlaine beat the NU defense and fired one through sophomore goaltender Connor Murphy's five-hole. 
During Tuesday's game against BC, NU had difficulty after the opposing team scored a goal, allowing the Eagles to notch consecutive goals in a matter of minutes. Those struggles continued Friday as Shlaine's goal turned the tide in UConn's favor. At 10:04, junior forward Jonny Evans scored his 12th of the season to give UConn a 2-1 lead. 
The Huskies had the opportunity to tie the game and build momentum before the end of the second period after UConn was called for a too many men penalty at 18:35. But they could not capitalize, allowing UConn to head down the tunnel with a 2-1 lead entering the third period. 
With a rather lackluster performance from NU to begin the period, UConn junior defenseman Ryan Wheeler scored his second goal of the season to put his squad up 3-1 at 5:54.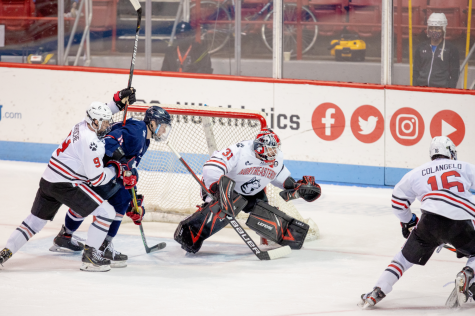 The Huskies struggled mightily throughout the third period, failing to do much, if anything, on offense. NU pulled Connor Murphy at 18:08 for the extra attacker, but UConn junior forward Kale Howarth scored on the empty net to make it 4-1 at 18:21 to hand the Huskies their second consecutive loss. 
"You just have to go compete, battle and have a will and want the puck," Madigan said. "We didn't demonstrate those elements enough tonight. We're an easy team to play against right now." 
Madigan would like to see his team show more determination when they hit the ice again against No. 9 Umass Amherst Feb. 9 at Matthews Arena. 
"There weren't many good things out of tonight's game that you can take towards getting ready for UMass," Madigan said. "It's not x's and o's. It's a determination. It's a will. It's a conviction. We've got to play much harder. We've got to battle much harder. We've got to compete harder. That has nothing to do with x's and o's or strategy. It's will, and it comes from inside."