Huskies tie team three-point record in win against Hofstra, 68-39
The Northeastern women's basketball team has been on a hot streak, winning their last three games. They extended that streak with a win Sunday, 68-39, against Hofstra University in their second home-and-home series against them this season. This series replaced the previously scheduled home series against William & Mary, who opted out of the remainder of the 2020-21 season. 
The Huskies continue to bring awareness to racism and police brutality, as this home game was dedicated to Ahmaud Arbery and Rayshard Brooks. This game also served as the #BlackoutForBlackHistory Game, which aims to celebrate not just Black History Month, but Northeastern's very own Black student-athletes and staff. The Huskies suited up in their all-black jerseys to commemorate the day.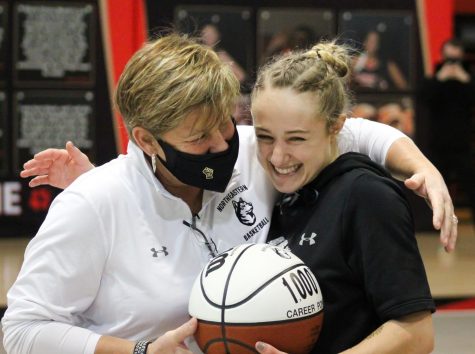 Prior to the start of the game, senior guard Stella Clark was honored for scoring her 1000th point. She became the 23rd member of the coveted club in the Huskies' win Feb. 14 against Towson University.
NU had an explosive opening quarter riding their continued high of coming off three wins. Freshman guard Maddie Vizza found graduate student Ayanna Dublin for the starting Husky bucket. 
Great defense by the Huskies forced back-to-back offensive fouls in their paint by Hofstra. Coupled with their intense offense, NU went on a 13-2 run over three minutes, forcing four turnovers. NU ended the quarter in the green, 20-11. 
"We anticipated their feistiness coming in, Hofstra is a team that likes to get the ball in and up the floor quick," head coach Kelly Cole said. "We stepped in early and took away those drives and got those charges early and helped to slow them down."
NU had another explosive quarter in the second, outscoring the Pride 16-10 during the frame that all started with a deep triple by junior guard Kendall Currence. A poor pass to no one by Hofstra was easily snatched up by the quick hands of Clark as she made a breakaway layup uncontested, 33-19, forcing a long scoring drought for the Pride.
An around-the-horn play found Currence who scored a three, adding onto the Huskies' scoring run, going 8-0 over four minutes. The Huskies went 6-for-10 on field goals and 3-for-5 on triple attempts during the frame. NU found their footing in the contest early on as they ended the opening half 36-21 and proved that tonight, the bite of a Husky was worse than that of the Pride.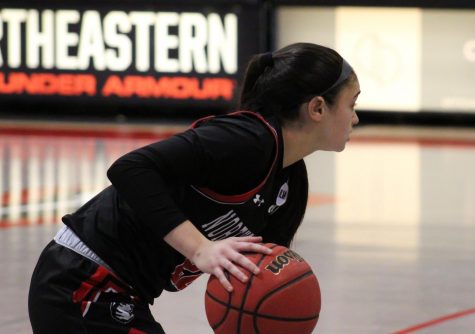 After three missed attempts for Hofstra in a single possession, including being blocked by freshman forward Leyla Öztürk, Vizza scored a triple, prompting the Pride to expend an early quarter timeout. The Huskies then hit a plateau, where they went 0-for-5 on field-goal attempts and had a scoring drought lasting a little under five minutes. Vizza's nickname "three-za" has stuck as she connected for two more triples during the frame, helping the Huskies pad the 50-32 lead into the final 10 minutes. 
"A huge shoutout to my teammates because they keep finding me and our posts set up amazing screens, so all credit to them because they're creating for me and allowing me to get those in-rhythm shots," Vizza said. 
Uncharacteristically, sophomore forward Mide Oriyomi scored her first points during the final frame but still earned herself 14 rebounds for the game, leaving her just one point shy of another double-double. 
"Points and rebounds are great but there are so many other little things that have to go into it. Everyone's had a couple of big nights and any given Sunday someone's going to be hot and we're going to keep feeding them but that doesn't mean everyone doesn't have to do their part," Cole said. "I think that's one of the biggest areas of growth this season — their acceptance of, 'Even if I don't score much I had a lot of other great things.' [Oriyomi] contributed in so many ways but just didn't show up on the stat line as much today."
Another triple by Vizza gives the Huskies a 7-0 run with a little over two minutes left to play. For the first time this season, walk-on freshman guard Amy Sarpenter took her first steps onto the court.
"Amy is a great kid, she works her tail off every day in practice. She's a huge asset to the whole of the team and kills us in practice every time we scrimmage. That was the first time of me coaching here that I got to clear off my bench," Cole said. "It shows a lot of the respect that our starters have for our nonstarters in the fact that they couldn't be any more excited to see others play."
In a storybook start for Sarpenter, going 1-for-1 in career shot attempts, a triple for her helped tie the team record for three-pointers (15). A strong overall effort by the Huskies contained the Pride to their lowest scoring game this season, 68-39. 
"From an outsider's perspective, [Sapenter is] just one of the hardest workers I've ever seen and to see that pay off and see her step on the court and hit her first-ever career shot was a big deal," Vizza said. 
Key players for the Huskies included Clark with 11 points and five assists, Currence with 12 points and Vizza who scored 21 points, going 6-for-8 on triples. 
Northeastern (7-11, 6-9 CAA) faces Hofstra (6-11, 4-7 CAA) again Tuesday at 7 p.m. as they hit the road for one final regular-season game in Hempstead before embarking on tournament play. A win on Tuesday would clinch a spot in the CAA quarterfinals, as they have already guaranteed a position no lower than the No. 8 seed.