Column: Lil Nas X embraces queerness in new single "MONTERO (Call Me By Your Name)"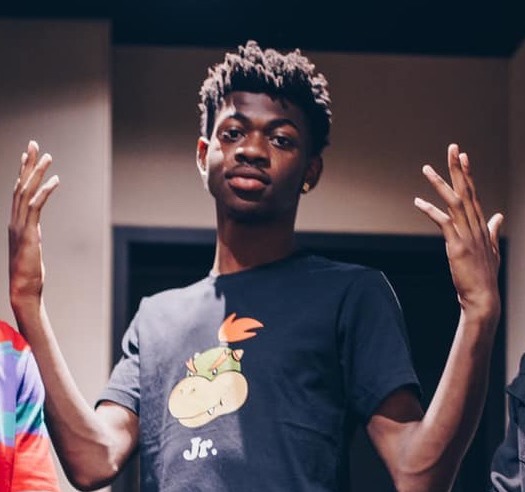 Lil Nas X released his highly anticipated single "MONTERO (Call Me By Your Name)," Friday, March 26. Since July 2020, the artist has been teasing his fans with snippets of the catchy song, so it's no surprise that the music video reeled in almost 40 million views on YouTube in just a few days. 
"MONTERO" is infused with deeply personal meaning for Lil Nas X, and he envisions the song holding significance within the LGBTQ+ community. 
"It was the most real and the most vulnerable …  I've ever been on a song," he told Genius, a media company that posts videos of artists explaining the meaning of their lyrics. "[The song] is going to be super important for me and for a lot of other people." 
Lil Nas X, or Montero Lamar Hill, publicly embraced his sexuality in June 2019. Since then, he has served as a public figure representing the LGBTQ+ community with other celebrities like Miley Cyrus and Halsey. But, his music career first gained momentum when his hit single "Old Town Road" brought him into the limelight. On March 29, it became the first song to ever accumulate 3 billion on-demand streams in the U.S. 
"Old Town Road" was very popular among younger audiences. Sporting a sparkling cowboy suit, the artist once conducted a sing-along of "Old Town Road" at an Ohio elementary school. Because of performances like that, Lil Nas X is often associated with an innocent image, making "MONTERO" particularly shocking to parents who recognized him for his child-oriented performances. 
As the title of the song suggests, "MONTERO (Call Me By Your Name)" refers to the 2017  romance film "Call Me By Your Name," starring Timothée Chalamet and Armie Hammer. Queer elements of the song are conveyed through the lyrics' double meanings, innuendos and suggestive scenes in the song's music video, most memorably the one where Lil Nas X slides down a stripper pole and sensually dances on Satan's lap in Hell. 
In the pre-chorus of his song, for instance, Lil Nas X sings "Cocaine and drinkin' with your friends, you live in the dark, boy, I cannot pretend." In the interview with Genius, he explained the idea behind these lyrics.
"This is kinda like a double entendre kind of thing, 'cause it's like 'you live in the dark', as in your life is not in a happy spot," he said. "And it's also with these eyes that you're makin' at me like you live in the dark – in the closet."
Lil Nas X directly embraces his identity at the outset of his music video.
"In life, we hide the parts of ourselves we don't want the world to see. We lock them away. We tell them no. We bash them. But here, we don't. Welcome to Montero," he said.
The music video continues with an allusion to a futuristic and glamorous version of the Garden of Eden, matching the song's lyrics "If Eve ain't in your garden you know that you can call me when you want." Until the object of his affection is willing to reject conventional heterosexuality and accept his queer identity, Lil Nas X implies he'll be waiting. 
By openly embracing his identity, Lil Nas X is a trailblazer. 
On a public stage, he fights the hypermasculinity and homophobia often perpetuated in Black culture and the world of hip-hop and rap. For example, in rapper J.Cole's song "Villuminati," homophobic slurs are used on three separate occasions. 
Elijah Ward, an academic scholar who earned a doctorate of philosophy from Northwestern University, wrote a short report on this cultural phenomenon called "Homophobia, Hypermasculinity and the US Black Church." 
"Black churches in the USA constitute a significant source of the homophobia that pervades black communities," Ward wrote. "This theologically-driven homophobia is reinforced by the anti-homosexual rhetoric of black nationalism."
Within the religiously and historically significant settings of his music video, Lil Nas X blatantly rejects traditional Christian conventions to represent his acceptance of his sexuality. 
"I grew up in a pretty religious kind of home — and for me, it was fear-based," he told Time Magazine March 29. "I want kids growing up feeling these feelings, knowing they're a part of the LGBTQ community, to feel like they're O.K. and they don't have to hate themselves."
The LGBTQ+ community continues to fight for acceptance and normalization in society, so, unfortunately, the controversy that surrounds "MONTERO (Call Me By Your Name)" was predictable. Like all things controversial, "MONTERO" garnered a mix of extreme love and hate. People have taken to Twitter to express their thoughts. 
"'Call Me By Your Name'" is one of the best new songs I've heard in 2021 and I'm not arguing about it," tweeted @imajamerican. 
The subject of countless enthusiastic tweets, TikToks and YouTube comments, it is rapidly showing signs of becoming a fan-favorite.
"Call me by your name really is that song of the summer," tweeted @jakegyllengal. 
However, "MONTERO" hasn't received all positive feedback. Lil Nas X has battled particularly harsh criticism from conservative and religious audiences. Most notably, the artist was wrapped up in a Twitter feud with conservative social media personality Kaitlin Bennett, better known as the "Kent State gun girl." 
In reference to the release of "MONTERO," Bennett, @KaitMarieox, tweeted that she was grateful to be blocked by Lil Nas X on the social media platform. 
"It's weeks like these that I'm thankful to be blocked by Lil Nas X," she tweeted.
Lil Nas X clapped back by recalling a viral rumor of Bennet defecating herself at a college party.
"I still see your tweets sh**ty pants," he tweeted.
In reaction to the harsh criticism, Lil Nas X rolled out several humorous tweets like, "my bad bro @god," and, "omg if you roll down your window at chic fil a playing call me by your name they give u a free sandwich and a lemonade," in reference to the fast-food chain's homophobia allegations. Lil Nas Xlater admitted that his sense of humor served as a coping mechanism.
"I'll be honest all this backlash is putting an emotional toll on me. I try to cover it with humor but it's getting hard," he wrote. "My anxiety is higher than ever and stream call me by your name on all platforms now!"
Regardless of the controversy, criticism and claims that Lil Nas X perpetuates Satanism, "MONTERO (Call Me By Your Name)" has managed to catch the attention of listeners across the world. Since its release, it has been streamed over 35 million times on Spotify.