Stella Clark ends her career as a Husky with the ultimate achievement
Scoring 1,000 points once is an astonishing accolade but to do it twice during one's basketball career is monumental, and senior guard Stella Clark ended her Northeastern career with an extra cherry on top. Having accomplished this milestone once in high school, she also became the 23rd member of the Northeastern University women's basketball 1,000-point club.
The precise moment of her collegiate 1,000th point couldn't have been written better for Clark. With less than a second left in the contest against Towson University, Clark was sent to the charity stripe just two points shy of 1,000. 
"I never thought I'd get it at my senior night, especially with 0.4 seconds left on the clock and the possibility that the refs might not have given the ball to me," Clark said. "I would have much rather done this accomplishment in Cabot [Physical Education Center] rather than on the road because Cabot has been home for the last 4 years."
Scoring her 1,000th point in high school was a much different situation. She was facing Wall High School, a team consisting of players she went to middle school with. She knew that she was going to achieve the feat during the game and did just that on a three-pointer, which also happened to be the 100th three-pointer she had made in her high school career. 
"I think it's a bigger achievement and more meaningful to me in college because it's a much harder feat because there are fewer games and a more competitive style of play especially with how this year went with COVID and cancellations," Clark said. "I think it was just meant to be, especially since that game was my 100th appearance wearing the Northeastern jersey."
Since her time playing AAU basketball, Clark has held the number 11 jersey. Dichotomy, resilient and competitive are some of the attributes Clark used to describe herself. 
"I liked the two one's [on my jersey], two ones add up to two and I'm the second born in my family, I'm a Gemini so there are two sides to me, hence dichotomy being a word I'd use to describe myself," she said. 
In terms of being resilient, Clark was the first CAA player to bring a career with three consecutive Rookie of the Week awards and was named to the All-Rookie Team. 
"I didn't even know there were awards, I was just playing my best game and it just happened. You get out what you put in," Clark said.
Clark knew she wanted to play college basketball despite how large of a commitment it was. She received a letter from Northeastern that invited her to a camp in the summer of her junior year of high school. For her, Northeastern was a really great overall choice in regards to both academics and location. 
"I guess I just really impressed the coaches and committed the summer of my junior year of high school, and the second out of my class," she said. 
Clark has been competitive. She hails from Sea Girt, New Jersey, which has always had a stockpile of great basketball competition.
"I grew up watching all these great people in years above me and watching them growing up and seeing women's basketball flourish there is what got the ball in my hand," Clark said. 
Another big inspiration for her growing up was her cousins, Addie and Faith Masonius. Clark would watch them play basketball and even asked their coach at an AAU tournament to let her play when she wasn't even on the team. Not only were they the reason for her inception into basketball, but she also followed Addie to join the surf team at Manasquan High School where they went on to win the state championship.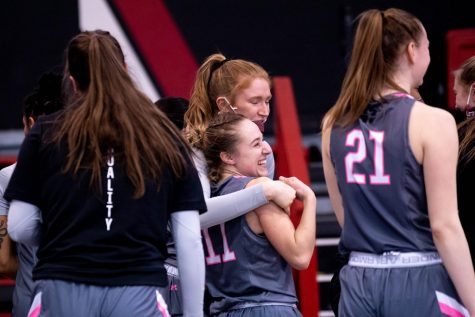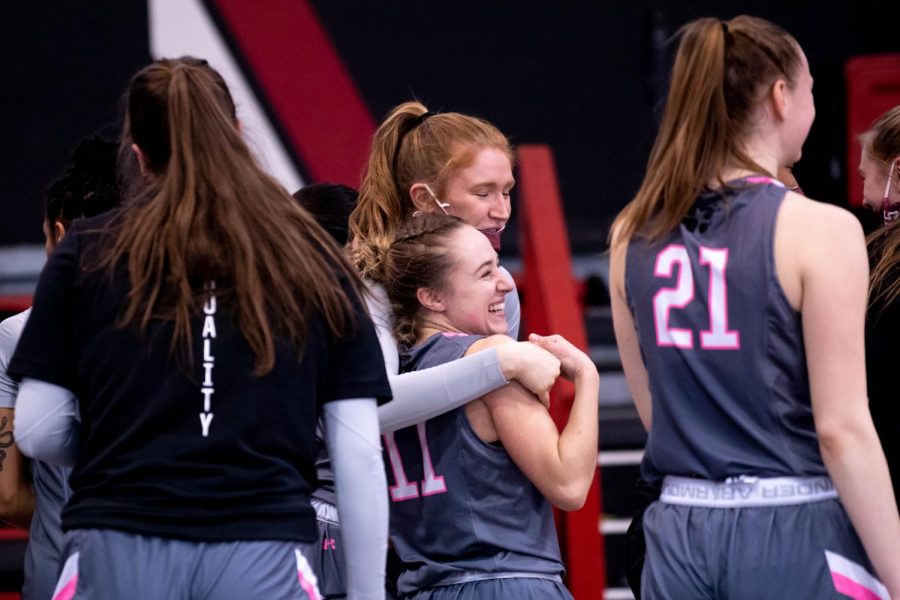 Family has always been important to Clark. While Sea Girt was a huge part of her life, she lived back and forth between there and Spring Lake, New Jersey. Family has even played a role in her academic career decisions here at Northeastern. Clark is an information and graphic design major, a choice she made after she took a graphic design course her senior year of high school and one that followed a similar route to that of her family. 
"I wanted to pick a major that I could really see myself doing something with, and it's a really growing and up-and-coming thing," Clark said. "A lot of my family is artistic and entrepreneurs and created their own businesses so I've definitely been influenced by having a creative mind and the determination of doing things on my own."
Being a graphic design major, it naturally makes sense that she loves art and expressing herself through art. Clark's favorite tattoo is one she shares with her mother: a sunflower. 
Despite leaving behind the Huskies upon graduation, Clark is not ready to give the rock up yet, as she has committed to play her graduate year in her home state while completing her master's degree in design at Monmouth University.