'No Time to Die' team discuss impact, representation within James Bond franchise
"No Time to Die," the newest installment in the James Bond franchise, goes where no film in the historic franchise has ever dared to go. This film is the last for actor Daniel Craig, who has played the character since "Casino Royale" in 2006. In a virtual roundtable with college publications, director Cary Joji Fukunaga and actress Lashana Lynch discussed the film's impact in a post-COVID-19 world. 
"No Time to Die" meets the iconic secret agent James Bond (Daniel Craig) enjoying life in retirement from active service when a mission to rescue a kidnapped scientist ends up placing Bond face to face with new evils. Fukunaga noted it was important to ground this film in the current social moment from the earliest stages of development.
"We had early conversations in the script development stages about 'How do we make this film post-#MeToo? And what are the acknowledgments there?'" Fukunaga said.
While James Bond films change across eras, Fukunaga mentioned that the one constant within them is the character himself.
"Every Bond film sort of reflects the era it's in, in some way or another. It's important the films themselves continue to reflect that world, but also Bond is not going to change." Fukunaga said. "Every film has to kind of be consistent with the character that's been established." 
"No Time to Die" introduces the character of Nomi (Lashana Lynch), a Black female agent who has taken on the mantle of 007 in Bond's absence. Nomi is more than a "Bond girl" within the film 一 her actions are central to the plot, not to the development of male characters. Lynch noted the lasting impact of her character in this franchise historically dominated by white males.
"I knew that she would help facilitate ushering in this new era that I think the franchise has done really well in, in reshaping how women are viewed and represented within the franchise," Lynch said.
Lynch said that she hopes that her character will inspire viewers, especially Black women, to be authentically themselves. 
"I think that it's important to teach young Black girls to really appreciate both sides of them that just because they feel confident in a moment, it doesn't mean that them feeling vulnerable, or questioning themselves, or questioning what they should do is a weakness," Lynch said. 
Lynch said that this basis in reality drove her acting process throughout the film's large-scale production.
"I didn't want my character to be larger than life or to be unrealistic. … I didn't want to look at [the film] as a franchise. I wanted to look at it as a massive piece of art, where we get to throw everything at the wall and see what sticks," Lynch said.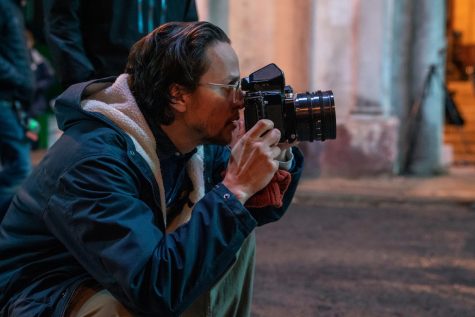 "No Time to Die" was the first major studio film postponed by the pandemic. The film was originally supposed to be released in April 2020 and was rescheduled two additional times. Fukunaga said that this uncertainty conflicted with the vision he originally had for the film. 
"With any kind of movie meant for the big screen, the idea that audiences won't be able to experience it is probably the worst feeling because it's not experienced as it was intended to be," Fukunaga said. 
After over a year, the film's release was finally greenlit. "No Time to Die" is due for a theatres-only release Oct. 8. 
"The fact that it's finally out now, I've been trying to figure out the right word to describe it. And I don't know if I have a word yet because it's mainly just relief and gratitude," Fukunaga said.
The extended college roundtable can be found here.
This article was updated Oct. 6 at 11:25 a.m. to correct the spelling of Fukunaga's surname.