Cast of 'Dune' brings modern take to timeless story
"Dune" is a film of epic proportions. An accomplished cast, an action-packed plot and a rich source material creates a large-scale adventure that promises to be one of the most popular films of 2021. The film marks the second adaptation of Frank Herbert's beloved 1965 novel of the same name. 
In a virtual roundtable with college publications, "Dune" stars Timothée Chalamet and Zendaya analyzed the film's deeper impact beyond the blockbuster. 
"Dune" centers around the story of Paul Atreides (Chalamet), a brilliant teenager with a birthright beyond his understanding. Paul and his powerful family travel to Arrakis, a dangerous desert planet they have recently been given control over. Arrakis holds the most precious resource in the galaxy 一 spice. As forces begin to clash over spice supply, Paul must grapple with political and environmental conflicts to ensure the survival of his race.
While the film itself is a sci-fi spectacle, Chalamet and Zendaya, who plays Arrakis native Chani, focused instead on the emotional journey that their characters face. Both Paul and Chani represent the youth of their people thrust into a conflict spanning generations.
"This is a coming of age story, a bigger metaphor for something that we've all kind of experienced, which is just what it's like to grow up and feel all these pressures and these ideas of the things that you should be," Zendaya said.
This vast undertaking was a welcome challenge for Chalamet, who is stepping into a franchise of this scale for the first time.
"The journey Paul's on is much greater and more significant than any journey I've ever been on. But the ability to grow not only as a young man but also to face his prophecy was incredibly exciting as an actor," Chalamet said.
"
If young people can relate to what Chani or Paul are going through at the center of it and can also intake the themes that sometimes fly above my head, then we really succeeded."
— Timothée Chalamet
Both actors praised the vision of their director, Denis Villeneuve. Villeneuve's previous work includes sci-fi epics "Arrival" (2016) and "Blade Runner 2049" (2017). "Dune" is a passion project for Villeneuve, who has wanted to adapt the film since he was a teenager. Zendaya noted that Villeneuve was able to grow up with "Dune," giving him a strong respect for the original source material.
"What's so important is having that right director, that person who connects with the material in a different way. I think that is a greater emotional connection to the piece that he's creating. I don't think there's anyone better for the job," Zendaya said.
Chalamet said that Villeneuve's guidance allowed him to find the humanity within this geopolitical epic, saying that he felt "lucky" to be able to work with the director. 
"If you've seen [Villeneuve's] earlier films, you know they're behavioral. They're about the characters at the center of it. And I think he didn't lose sight of that," Chalamet said.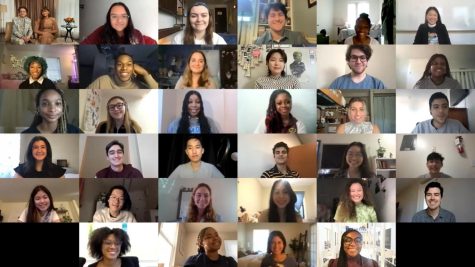 "Dune" takes place on several otherworldly planets, taking the viewer from barren desert landscapes to bustling utopias. To accurately portray these environments, Villeneuve forgoed the traditional green screen of modern science fiction films, insisting on shooting on location across the world. 
Zendaya said this worldliness created reverence for the project throughout the cast and crew and that it "makes you feel very small in the best kind of way." Chalamet echoed this, saying that it added to his performance.
"Whether it was in Jordan or Abu Dhabi [or] Norway, it felt like a constant process of being inspired by everything that was happening around [me]," Chalamet said.
While the book was originally published in 1965, the themes of "Dune" remain all too relevant today: Colonialism, environmentalism and equality outlast the more unrealistic elements of the narrative. 
"​Its themes remain really relevant about fighting for what's right socially, fighting for what's right environmentally, standing up for groups that are easily oppressed or that don't have the agency to fight back," Chalamet said.
Chalamet and Zendaya, who both have young fanbases, hope that these audiences will connect with the material. Zendaya said that she sees a commonality in youth across generations.
"I think a lot of people, especially young people such as ourselves, feel this impending doom. That's a common feeling, and I think sometimes it feels a little bit helpless. It's like, 'How do I live and enjoy things and have fun but also care? How do I care and enjoy life because if I care too much it's impossible to enjoy anything?'" Zendaya said.
While the characters of Paul and Chani are from two completely different upbringings, they both carry the weight of responsibility. Chalamet said this is a universal feeling and hoped that it would resonate with a modern audience. 
"If young people can relate to what Chani or Paul are going through at the center of it and can also intake the themes that sometimes fly above my head, then we really succeeded. It would mean transposing a story from the sixties, and by way of Denis' vision, have it be accessible to a generation that relates in many ways to the qualities of the story," Chalamet said.
Both actors pointed out that "Dune" does not complete the story of Paul and Chani. The film's title screen conspicuously reads "Dune: Part One," echoing Villeneuve's statement to CNET that it is "just half a movie." A "Dune" sequel has not officially been announced, but Chalamet and Zendaya are hopeful that they will be able to complete their character's arcs, doing justice to the first book in the original "Dune" series.
"This was a total dream come true, something I would do again in a heartbeat and [something] I hope we get another chance to do," Chalamet said.
"Dune" will be released on HBO Max Oct. 21 and in theatres Oct. 22.