The Disco Ball drag show takes a bow on campus
The Disco Ball drag show was a night of excitement, entertainment and shimmering, colorful glamour. Hosted by Northeastern's Live Music Association, or LMA, in collaboration with the Council for University Programs Sept. 21, Disco Ball brought three talented and acclaimed drag performers to the Curry Student Center Ballroom's stage.
Joshie Antony, a third-year health science major, is the vice president of LMA and one of the primary event organizers for Disco Ball. Antony said he had wanted to put on a drag show at Northeastern since his freshman year. Once he discovered LMA could provide the funds to put on a show, he got to work right away.    
Antony partnered with LMA Special Events Chair Liza Granoe, a third-year mechanical engineering and design combined major, to make their vision for the event a reality. 
Both Antony and Granoe emphasized LMA's commitment to diversifying the artists it brings to Northeastern's stage. For this event, it was important to LMA to bring in Black and queer artists who are, as they said, at the forefront of drag and pop culture. 
The night began with local New England drag artist Arabella LaDessé, who filled the room with laughs and energy with their charisma and witty commentary. Antony explained that having a local artist featured in the show was important to LMA, as the club tries to sustain the university's relationship with the communities around Boston by bringing local voices to the Northeastern stage. 
LaDessé is also a model, advocate, public speaker and the 2019 winner of Boston Drag Idol. They didn't have their own college stories to share with the audience, but emphasized the importance of taking risks in pursuit of your dreams. 
"My first risk was letting everyone know that I was queer," LaDessé said to the crowd. "Then, I took even more risks, and now, I'm a famous queer. So, follow your dreams. Do the big things. Do the gay things."  
LaDessé introduced the first performer of the night, CoCo Montrese, who competed on the fifth season of "RuPaul's Drag Race" and the second season of "RuPaul's Drag Race All-Stars." Montrese's appearance on stage brought cheers from the crowd as she stepped onto the runway in a hot pink outfit, while a medley of Ariana Grande songs boomed through the loudspeakers.  
After her performance, Montrese took the mic to share about her own experiences in college. She started school on a pre-law track but then pivoted when she decided to pursue a degree in theatre instead. She attributed her success as a performer in part to letting her dreams guide her academic life and learning as much as she could in college.  
After Montrese, LaDessé took to the stage themselves and gave an energetic performance full of strutting, hair swinging, voguing and — of course — a death drop. Their performance prompted roaring cheers and joyful screams from the crowd.  
Northeastern's Council for University Programs, or CUP, president MaHong Bloom, a fourth-year business administration and communications combined major, said one of her favorite parts of the night was looking out into the audience and seeing everyone's jaw drop as they watched the performers in awe.  
Jillian Mills, a first-year criminal justice and political science combined major, said she is a passionate fan of drag and was excited to be able to see a drag show on Northeastern's campus, especially one that highlighted Black and queer artists.  
"I like drag because it's inspiring to see how people so willingly and freely express themselves," Mills said. "It's an art form."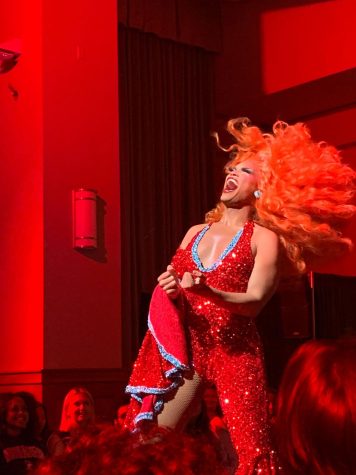 The third performer of the night was Olivia Lux, who appeared on the thirteenth season of "RuPaul's Drag Race." Coming out in a shiny ruby-red leotard and a ginormous orange wig, it seemed impossible for the crowd to not be entranced by Lux's every move on stage.
After her performance, she spoke to the crowd and chatted with an audience member when she heard him cheer especially loud for her. She asked what his major was, to which he replied that he was pursuing his master's degree in artificial intelligence.  
Lux replied, "Well, that's great because I'm definitely intelligent and definitely artificial."
At this, booming laughter broke out across the crowd.  
Annie Kelley, a second-year public health major who attended the event, said she was happy the audience was reacting well to the performances.  
"In the environment where queer individuals are performing, the audience can go either way. Sometimes the audience is respectful and sometimes it's not," Kelley said. "I was happy to see the support and good energy from the crowd." 
Montrese then performed a second time, in a chic black outfit with shiny silver polka dots and a matching bejeweled silver hair piece. She emulated the image of a disco ball in her own way, and the audience showed their appreciation for her sparkle with claps and hoots.  
For Lux's second performance following Montrese, she performed to a medley of songs from the musical-turned-movie "Dreamgirls," ending beautifully with Jennifer Hudson's iconic song, "And I Am Telling You I'm Not Going."
After her dazzling performance, she returned to the mic and addressed the crowd again. She shared that while she found her education played an important role in getting her to where she is today, some of her biggest rewards came from taking big risks, echoing LaDessé's message.  
Lux ended her stage time by daring the audience to take risks for their dreams too.
"I challenge you all to be dreamgirls with me," Lux said.  
The night ended with a standing ovation and thundering applause for the performers. The event goers filed slowly out of the room, chatting to friends in elevated spirits, possibly infused with even more excitement for drag than when they came in.  
Although Antony, who helped organize the event through LMA, is on track to work as a medical doctor, he believes that the arts are also healing and extremely important to showcase on campus.  
"Arts give people a reason for living," Antony said. "Arts are what pulled people through the pandemic while we were waiting for science to catch up." 
Editor's Note: This story was updated (5:45), (10/12) to accurately reflect the date of the event.