The News presents 'Lifestyle Wrapped 2022'
In 2022, Lifestyle had a lot to write about. The writers and staff that contributed to this section commented on prominent moments in pop culture, covered local art and music events and reviewed countless films, TV shows and albums. In December, the Lifestyle editors asked The News to send in their favorites of the year. Here are the top responses, as well as a recommendation from each Lifestyle editor: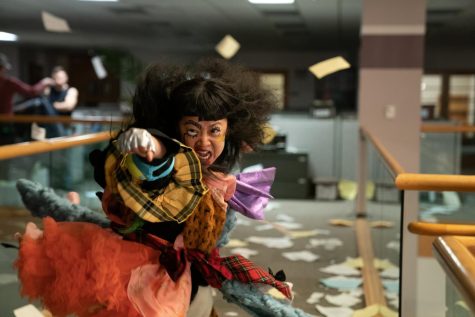 Best film of 2022: "Everything Everywhere All At Once"
Set over the course of one chaotic day in the life of laundromat owner Evelyn Wang (Michelle Yeoh), "Everything Everywhere All At Once" is a delightfully wacky and heart-wrenching film that uses surreal science fiction to tell a story of immigration and generational trauma. Evelyn discovers that there are infinite universes in which choosing to remain in China grants her success, making her life at the laundromat unglamorous in contrast. Her disappointed and nihilistic attitude towards life passes on to her daughter Joy (Stephanie Hsu) who becomes an evil force called Jobu Tupaki, determined to wreak havoc throughout the universes. In order to stop Jobu, Evelyn must come to terms with the hardships she experienced as a result of her immigration. Witty, ridiculous and sob-worthy, "Everything Everywhere All At Once" manages to attack issues that a huge swath of the population faces while still being spectacularly unpredictable.
Juliana's pick: "Bodies Bodies Bodies"
With biting contemporary satire and a pointless internet controversy to match, "Bodies Bodies Bodies" was undoubtedly the film of the summer. Sophie (Amandla Stenberg) and her girlfriend Bee (Maria Bakalova) drive to a "hurricane party" at a mansion in upstate New York hosted and attended by Sophie's wealthy friends. During a game of Bodies Bodies Bodies, in which players attempt to escape a "killer" in a darkened house, one of the partygoers is found dead — literally. The friends start pointing fingers, and more and more unspoken resentments are revealed as their numbers dwindle. "Bodies Bodies Bodies" is a hilarious and gripping mockery of a new generation of self-obsessed, frivolous trust fund babies who use politically correct buzzwords and host their own podcasts. With a hysterically comedic ensemble cast, and a particularly fantastic performance by relative newcomer Rachel Sennott, "Bodies Bodies Bodies" is well worth the watch. 
Cathy's pick: "Where the Crawdads Sing"
Adapted from Delia Owens' novel, "Where the Crawdads Sing" stars Daisy Edgar-Jones as Kya, or "Marsh Girl," the main protagonist in a murder mystery set from the '50s to the '70s. As an abandoned child, Kya fights to survive in the marshes of Barkley Cove, North Carolina. As an adult, Kya finds herself tried for the first-degree murder of Chase Andrews, a man she was having an affair with. "Where the Crawdads Sing" leaves room for the audience to decide whether they agree or disagree with the biased town gossip that makes Kya an outcast, and whether she is capable of murder. Edgar-Jones' performance effortlessly proves to the audience that Kya is simply misunderstood. Director Olivia Newman brilliantly focuses a majority of the movie on flashbacks of Kya's mistreatment as a child and teenager, rather than the murder trial itself, to shock viewers with the plot twist revealed decades later at the end of the movie. 
Jake's pick: "Aftersun"
It is incredibly rare for a director's debut feature to meet — let alone surpass — the quality of those crafted by industry veterans. With "Aftersun," though, writer-director Charlotte Wells has done just that. The film follows 11-year-old Sophie (Frankie Corio) as she vacations with her father Calum (Paul Mescal) at a Turkish resort in the early 2000s. Despite forming bonds with fellow vacationers and enjoying the locale's many amenities and activities, Sophie can't help but notice that her father is exhibiting a series of troubling traits — traits that, as an adult (Celia Rowlson-Howe), she realizes are indicative of depression. Featuring striking cinematography from Gregory Oke and meticulous editing from Blair McClendon, "Aftersun" is a nuanced account of deteriorating mental health and a poignant exploration of the challenge that comes with attempting to reconcile childhood naivete with knowledge ascertained in adulthood.
Honorable Mentions: "Nope," "She Said," "Turning Red"
Best TV series of 2022: "Severance" 
Through the efforts of creator and showrunner Dan Erickson and directors Ben Stiller and Aoife McArdle, "Severance" has firmly left its mark as a deeply unsettling yet gripping science fiction series. The show follows Mark (Adam Scott), an employee at Lumon Industries who underwent a medical procedure known as "severance" to split his consciousness in half, thus forcing his work self, or innie, to be unaware of who he is or what he does outside of the office. Through the assistance of a new employee named Helly (Britt Lower), Mark and his co-workers begin to uncover the truth about their employer. Joining Scott and Lower in the show's impressive ensemble cast are Zach Cherry, John Turturro, Christopher Walken and Patricia Arquette. Featuring an engaging core mystery and a plethora of twists and turns, "Severance" is a macabre and chilling streaming offering — albeit one with a healthy dose of humor — that is impossible to look away from.
Juliana's pick: "A League of Their Own"
Amazon Prime's "A League of Their Own" TV series premiered 30 years after the 1992 sports comedy film of the same name, with a fresh story and more diverse representation. In 1943, the All-American Girls Professional Baseball League formed in response to a shortage of male players during the war. Nervous housewife Carson Shaw (Abbi Jacobson) travels from Idaho to try out and is drafted to the Rockford Peaches, where she meets glamorous teammate Greta Gill (D'Arcy Carden) and begins her first lesbian relationship. Meanwhile, ambitious Black pitcher Max Chapman (Chanté Adams) is turned away at tryouts and spends the rest of the series finding herself and working twice as hard as the Peaches for the chance to play. With a diverse cast of underdogs, "A League of Their Own" is a heartwarming and funny series that explores self-discovery, female camaraderie and giving up everything for a dream. 
Cathy's pick: "Never Have I Ever" 
Mindy Kaling's "Never Have I Ever" returned to Netflix this August to showcase the character development of the (debatably) lovable Devi Vishwakumar. Devi (Maitreyi Ramakrishnan) is a high school student who goes through an unbreakable cycle of making (indubitably) horrible decisions in her relationships, usually justifying her actions with her teenage angst and her father's death. Although many audience members may criticize — or love — Devi for her mistakes, she clearly learns from her past and develops into someone more mature — well, as mature as a high school teenager could get. Season three is a whirlwind of Devi's seemingly upward journey in love, lust and confidence. Through satire and comedy, Kaling finds a way to make season three relatable, hilarious and enjoyable for all viewers.
Jake's pick: "Barry" 
In the latest season of Alec Berg and Bill Hader's "Barry" — a dark comedy series that, with each passing episode, grows closer to becoming an outright drama — hitman-turned-actor Barry Berkman (Hader) has returned to contract killing following the events of the show's second season. In addition, he faces tense relationships with his girlfriend Sally Reed (Sarah Goldberg), former acting teacher Gene Cousineau (Harry Winkler) and past handler Monroe Fuches (Stephen Root). Despite the considerable star power in front of the camera, it is the efforts of those behind it that elevate this season to new heights. Hader's Emmy-nominated direction of the episode "710N" is particularly strong, featuring a thrilling highway chase executed with a proficiency rarely observed on television. Through smart scripts, perfect on-screen performances and jaw-dropping craftsmanship, "Barry" successfully balances and blends genres in an utterly remarkable manner.
Honorable Mentions: "The Rehearsal," "The White Lotus," "Atlanta" 
Best album of 2022: Midnights by Taylor Swift
Taylor Swift said, "Meet me at midnight," and her fans listened. Within 24 hours of Swift's release of her 10th studio album, fans crowned Swift the Spotify artist with the most streamed album in a day, with 184.6 million streams. Swift also became the first artist in history to occupy the top 10 spots on the Billboard Hot 100 songs chart. Breaking countless previously-thought-impossible records, Swift explores themes of love, independence and struggles in between the lines of the lyrical masterpiece that is Midnights. The Nashville artist has proven herself worthy of being at the forefront of the music industry as she incorporates various styles in her newest discography, ensuring there is something about Midnights that anyone can adore.
Juliana's pick: De Todas Las Flores by Natalia Lafourcade
Natalia Lafourcade released De Todas Las Flores seven years after her last full album of original songs, and the record is full of all the longing and nostalgia her previous work embodies. The Mexican folk singer described the album as "an extremely personal music diary," and in each song, her hauntingly beautiful vocals take listeners through heartbreak, death and rebirth. The titular flowers Lafourcade sings about can represent love, mourning or springtime, giving the entire album a bittersweet ambiguity that speaks to her nuance as an artist. As with her past music, Lafourcade takes inspiration from influential Latin genres such as son jarocho, bossa nova and boleros, and each masterful song is rich with history. The 38-year-old singer has won 14 Latin Grammys and continues to produce intimate, gorgeous original music, and De Todas Las Flores is a testament to her talent and artistic vulnerability. 
Cathy's pick: Ivory by Omar Apollo
Indiana's beloved Omar Apollo will rise to the challenge time and time again when it comes to creating fun and fresh music. Apollo's release of Ivory in April cumulated genres of rock, R&B and alternative music, creating timeless songs that caught the attention of former President Barack Obama — hit single "Tamagotchi" made its way onto Obama's annual "Favorite Music of 2022" list. Having only been in the music industry for about four years, Apollo has certainly made a name for himself, earning a "Best New Artist" nomination for the 65th Annual Grammy Awards. It is definite that the artist who lived on his friends' couches at the beginning of his career will no longer be needing to couch surf. Instead, Apollo will be crowd surfing (this is highly unlikely) as he plays as the opener for SZA's SOS tour in 2023.
Jake's pick: Preacher's Daughter by Ethel Cain
In 2022, Ethel Cain clapped back at Drake's assertion that Megan Thee Stallion lied about being shot by Tory Lanez, found her endlessly catchy single "American Teenager" amongst others on former president Barack Obama's annual list of favorite music and, most importantly, released her debut studio album to widespread acclaim. This last feat is especially remarkable given that Preacher's Daughter, a concept album, features a shocking central narrative focused on a teenage girl who, after running away from her conservative hometown, is murdered by a cannibal. Despite — or, perhaps, because of — its provocative subject matter, the album is fully engrossing for its entire 75-minute runtime. Cain's lyricism, which tackles lofty themes related to organized religion and family trauma, further contributes to this, as her haunting verses are difficult to shake after the album closes. Though its subject matter may appear intimidating, those willing to traverse Cain's ingenious, if frequently petrifying, album will be greeted with a wholly unique auditory experience.
Honorable Mentions: SOS by SZA, Gemini Rights by Steve Lacy, Being Funny in a Foreign Language by The 1975